Ocean Rover was one of Asia's most famous diving liveboards, and in 2015 rebranded to the Raja Ampat Aggressor in association with Aggressor Fleet. Here's my review of being on the Raja Ampat Aggressor when it was still the Ocean Rover back in 2008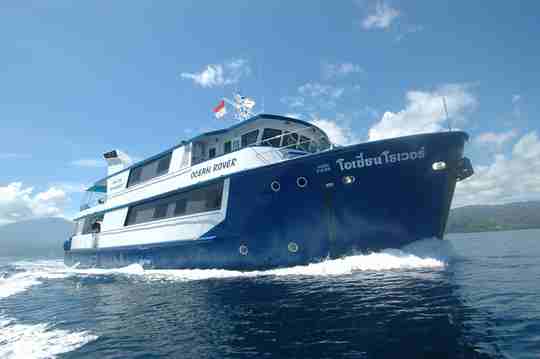 Ocean Rover was built in 2000 in Thailand specifically for scuba diving and is widely considered as one of the best liveaboards in Asian waters. In 2015, Ocean Rover became the Raja Ampat Aggressor, operating solely in Indonesia and now as a franchisee of the Aggressor Fleet.
If you're looking to book a trip on the Raja Ampat Aggressor, you can view current schedules, prices and book online at Liveaboard.com
I haven't been back on the boat since I wrote this report in 2008, but it might help give you a sense of what to expect.
On this page I'll give a rundown about the Ocean Rover liveaboard boat itself. For photos of the critters you can encounter while diving around north Sulawesi, see Parts 2 to 7 of this Trip Report.
The Ocean Rover is quite a unique looking ship – from the water it looks tall and boxy and lacks the romance of its wooden pinisi schooner peers, as it's built entirely from steel. However, once you get onto the boat, it's easy to see why this liveaboard has such a good reputation – what it lacks in romance it more than makes up with in practicality. This has to be the easiest liveaboard I have dived from, with the attention to detail on lots of little things making it a real pleasure to spend time on.
Boat Layout
Eating Area: The main mess is inside, with four tables with comfortable cushioned benches and air conditioning. Food is served buffet style. There is also a plasma widescreen, internet radio with many stations, and sofas in this area too, making it a pleasant recreational area. There is a fairly spacious sundeck upstairs which is covered but not fully protective from UV rays, so you need sunscreen while there. The sundeck has loungers and big comfy sofa-style cushions.
Dive Deck: The Ocean Rover has a huge gearing up area at the back of the boat, with four rows of tank stations and gear boxes underneath each one for storage. There is room for 16 guests to gear up very comfortably. The deck drops down by 3 wide steps so that the back of the boat is almost level with the water, making it very easy to get in and out of the dinghy.
The boat boys are excellent at helping you and in out and retrieving all your gear – they ensure your fins and any other items are returned to you gear box and that your wetsuit is hung up to dry almost before you've got it off! You literally have to do nothing besides put your scuba gear on and take it off – the staff handle everything else. I had a big rip in my old wetsuit after concluding one particular day's diving and took it off the hanger the next morning to find it had been carefully stitched and glued back together by the boat boys – without me even asking.
Sleeping quarters: Maximum of 16 guests. There are four cabins on the lower and upper deck, with a mix of twin beds and double beds with a single bunk above. All cabins are ensuite, with a powerful hot shower. There is good storage space too.
Safety: The Ocean Rover is one of the few liveaboards in Asia to have the stringent IMO (International Maritime Organisation) safety certification – the liveaboard has not one but three engines along with backup navigation and steering systems too, along with certified staff training.
Food And Drink
Ocean Rover has great food, a mixture of International and Indonesian served buffet style. Orders for eggs for breakfast are taken the night before and waiting for you after the first dive. Beer is $3 US a can, wine $35 US a can, soft drinks are free. There are biscuits and Pringles, along with coffee and tea, available all the time. The Ocean Rover has a proper espresso coffee maker which adds a real zing to the morning.
Dive Routine
Up to 5 dives a day, with night dives available most nights. Dives are restricted to 60 minutes long as there are so many each day. Backroll entry from the two dinghies. The Ocean Rover charges extra for Nitrox – $15 US per day, I think.
Roman keeps the dive schedule tight, with briefings happening punctually and the dive deck being a great help at letting everyone gear up easily and simultaneously without having to negotiate around each other. The clanging of the dive bell is the most frequently heard sound on the boat.
On my trip, there were four guides for 8 people, which was a real plus. The guides, all Indonesian and highly experienced at critter spotting, were excellent – almost as soon as they'd found one thing, they were finding another. Admittedly in Sulawesi there is a much higher critter count than in other dive areas but even so, they have a real eye for locating marine life.
Photography Setup
The Ocean Rover has the most comprehensive photography setup I've seen on any liveaboard so far. It's been purpose built with photographers in mind rather than jerry-rigged as an afterthought. Two rinse tanks are located at the back of the boat for equipment to be placed in as soon as divers return. Two outside tables provide pre-dive equipment check areas, while two large photo setup areas just inside the main cabin, equipped with 10 power sockets each, let divers power up their gear and change over ports etc with plenty of space and away from the elements. Roman is a keen photographer himself so this also helps. The boat boys and dive guides are also well versed in how to handle expensive photographic gear and handling it and out of the tenders.
Fuel Surcharge
The Ocean Rover does not currently charge a fuel surcharge.
View Larger Map
Lembeh, Bunaken and Sangihe location:
use the + and – buttons to zoom in and out to see more
Arriving and Departing From Ocean Rover
For Sulawesi trips, the Ocean Rover departs from Lembeh, which is a one and half hour drive from Manado airport. Manado's airport code is MDC. For Raja Ampat trips, the Ocean Rover departs from Sorong. They can arrange airport pickups. See Kayak.com for flight comparisons. SilkAir fly to Manado from Singapore and Garuda from Jakarta.
Liveaboard Conclusion
I have been on quite a few liveaboards in the last 5 years, from humble Thai converted fishing boats to super luxury Pinisi schooners. The Ocean Rover to my mind is certainly the easiest liveaboard I've been on in terms of gearing up and dealing with camera gear and everyone having room to get their dive gear on. What it lacks in romance it makes up for in practicality and comfort, and Roman seems determined to continue the ship's exemplary safety standards. Three of the guests on board during my trip had been on the Ocean Rover before Roman took it over, and they all reckoned the ship was as tightly run as before. How well the Ocean Rover will fare as it begins its new chapter in Indonesia remains to be seen, but it's certainly a promising start.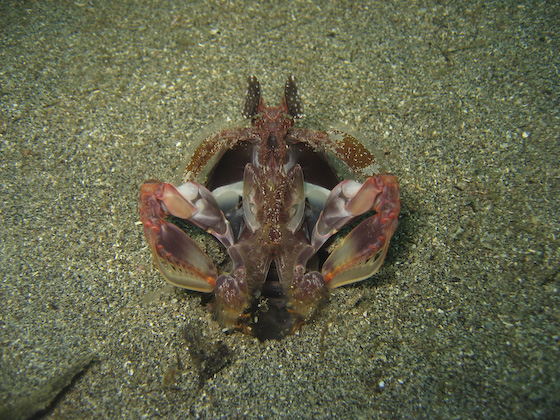 Sulawesi Diving from the Ocean Rover
Onto the exciting part – the diving! Our itinerary for this trip was originally to explore a little of Lembeh and Bangka before heading further up the Sangihe archipelago to dive some of the more remote islands to the north of Sulawesi. Unfortunately the weather did not co-operate and Bangka was the furthest north that we got, with more time spent in Lembeh, Bunaken and along the northern coast of Sulawesi too. Despite the initial disappointment of the weather, we had some truly spectacular diving, especially around Bangka. My underwater photos on the following pages hopefully give some idea of the sheer abundance of life in these waters.