Indonesia's Lembeh Strait is renown for its amazing marine life, with a welter of rare and unusual underwater creatures on its black sand dive sites. It's also remarkably scenic above land and easily affordable – there's no reason not to go!
Two things you always hear about Lembeh Strait, located at the northern tip of Sulawesi in Indonesia – 1) it's got an abundance of weird and wonderful critters underwater that make it a macro diving paradise, and 2) its black volcanic sand makes for easier creature spotting but fairly ugly aquatic scenery.
What isn't apparent from this often repeated shorthand summary is that Lembeh Strait itself is really quite beautiful, with tall, verdant mountains rising either side of the water giving a protected feel with their cloud catching peaks. Surrounded on all sides by the dense green foliage of the hills and the blue of the sun and sky, it's an idyllic spot complete with white sand beaches. Not even the presence of the deep water port at Bitung further down the Strait can spoil the sense of scenery. The various dive resorts located at Lembeh – 9 in all, I think – are not cheek by jowl along one stretch of beach, either – each inhabits its own secluded bay along the craggy coastline, and even those next door to one another seem in a world of their own. In short, Lembeh is very easy on the eyes above the surface.
A Lot Of Different Dive Sites
The Strait's 12 km length provides nearly 50 dive sites, and while black volcanic sand is certainly what you'll see on the majority of dives in the area, there are plenty of white and grey sand sites too, some with big pinnacles covered in soft and hard corals, rather than just the black sand slopes which have become an icon of Lembeh. These coral sites have plenty of the usual tropical fish suspects, from sweetlips to angelfish to the omipresent clownfish. By crisscrossing back and forth from dive sites along the Sulawesi mainland and those scattered along Lembeh island itself, there is a good variety of dive environments which helps keep the black sand monotony at bay. To be sure, there are quintessential muck diving sites, trash-strewn with flat black sand, but they only make up a small part of Lembeh's big choice of dives.
More Critters Than You Can Fit On Your Memory Card
What could never be called monotonous is the sheer variety of underwater creatures that call Lembeh home. It's quite easy to reel off a wishlist of seemingly preposterous demands to the dive guides for impossibly exotic creatures you want to see – mimic octopus, hairy frogfish, blue ribbon eel, ornate ghostpipefish, pgymy seahorse, clown frogfish etc etc – and within a couple of days have seen all of them plus several species you didn't even know existed. It's a marine biologist's wet dream, a living, breathing education in just how incredibly inventive evolution can be. Every dive is a constant demand on your attention, because as soon as your eagle eyed guides have found you one creature, they'll already be banging their tank to show you another. If you take photos, bring very big memory cards. My hapless dive buddy spent a lot of time reviewing and deleting due to the lack of an extra card.
Lembeh Really Does Live Up To The Hype
You can find hundreds of trip reports and articles about Lembeh's marine life online already, so I won't rehash it here, except to say that it is pretty much all true. Diving in Lembeh really is as good as everyone says it is – if you are fond of seeing small and unusual creatures, you are going to be in hog heaven. Indeed, it might make future diving a bit disappointing because few other places can match the sheer abundance of what you can find here.
Here is a rundown of some of the photos I took over my 5 days at NAD Lembeh resort – these are just a handful of the critters I saw and of which I managed to get a half decent photo: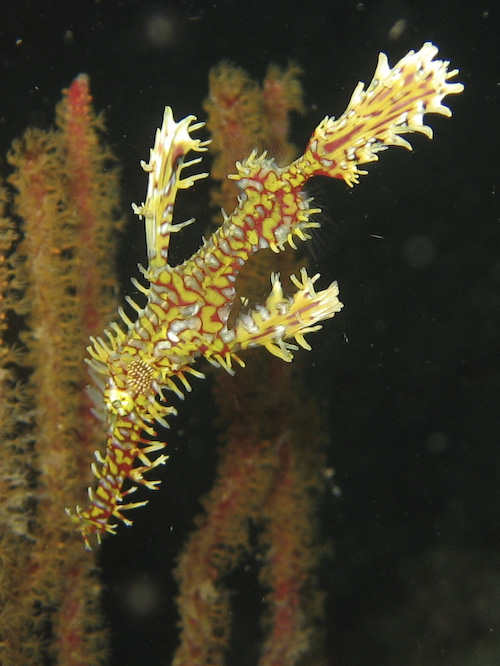 Ornate ghost pipefish

Leaf Fish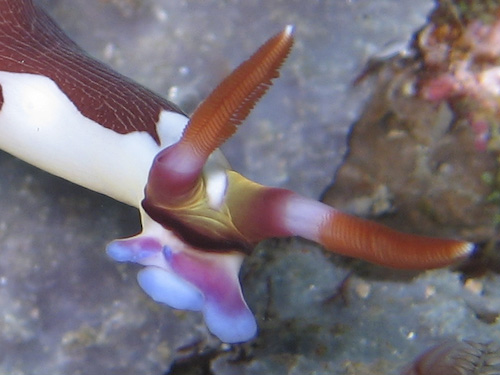 Nudibranch closeup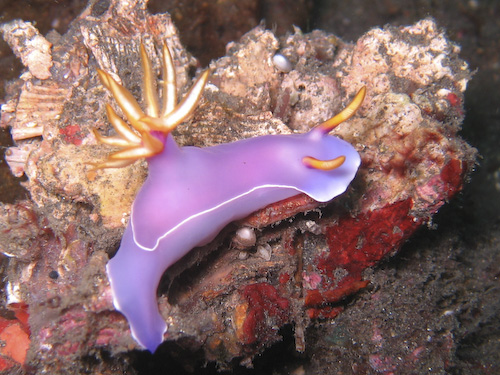 Nudi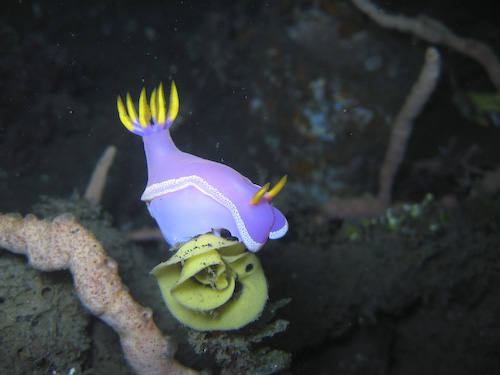 Nudi with egg ribbon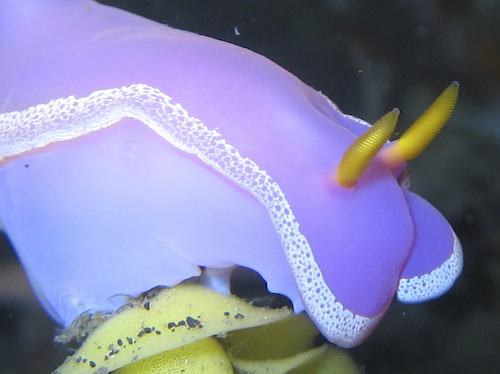 Nudi closeup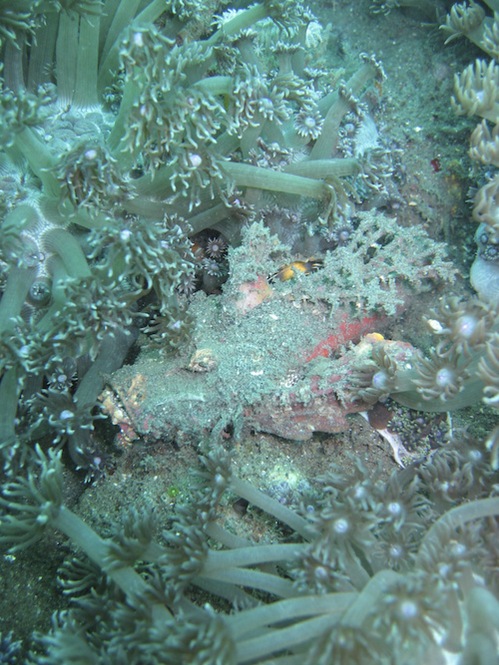 Well disguised demon stinger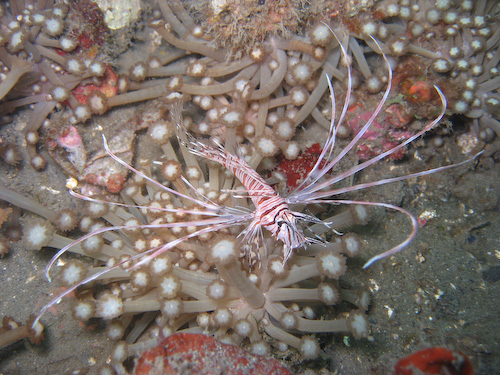 Small lionfish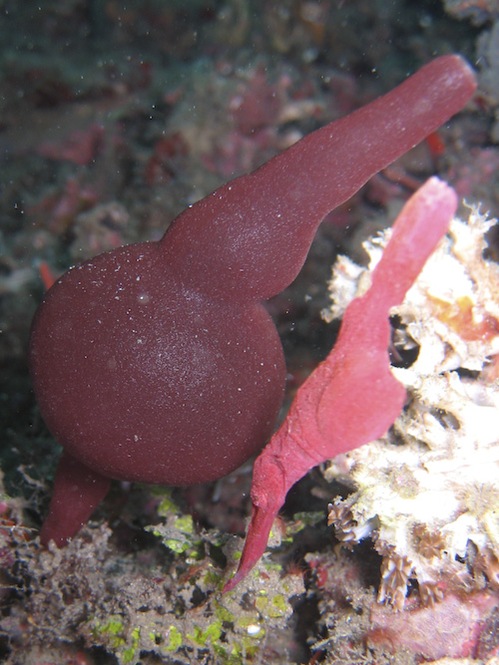 Ghostpipefish mimicing its surroundings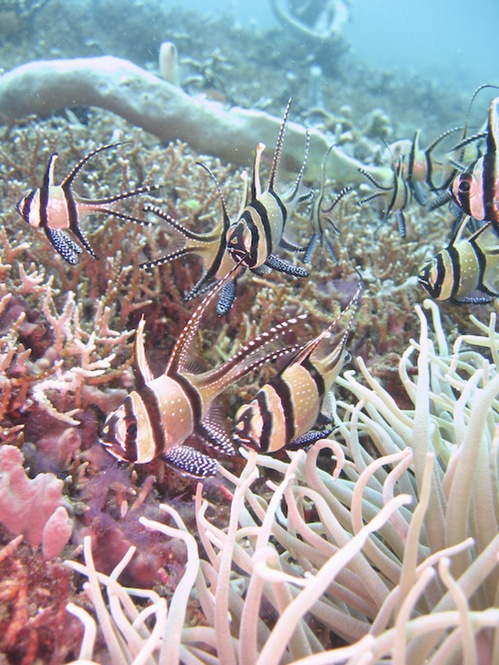 Banggai cardinalfish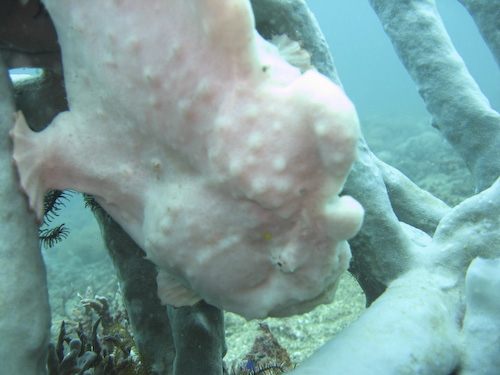 Chunky frogfish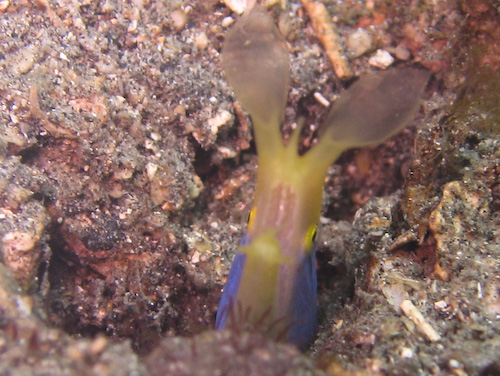 Blue ribbon eel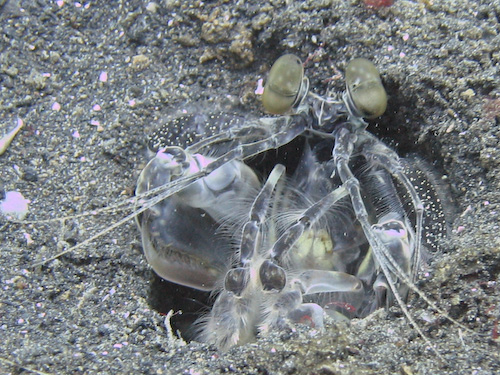 Spearing mantis shrimp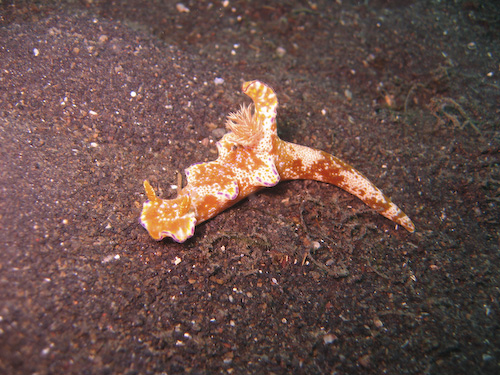 Nudi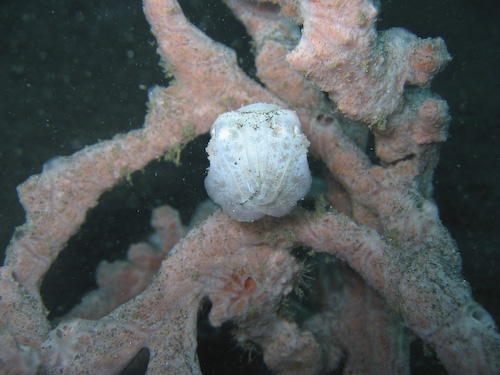 Very small cuttlefish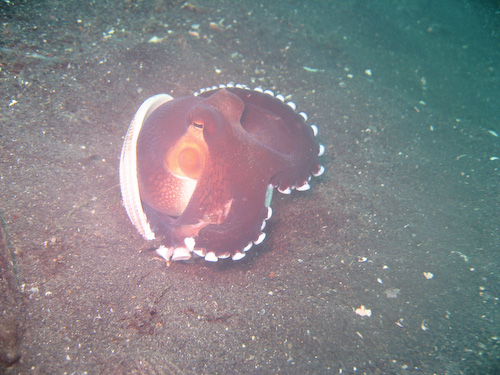 Octopus hiding inside a shell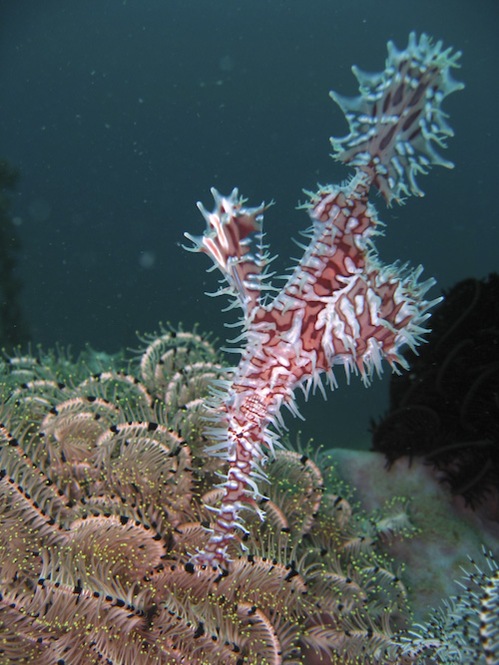 Ornate ghostpipefish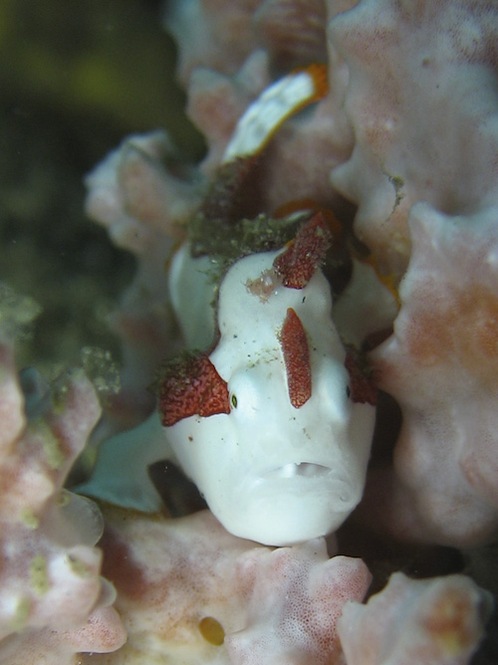 Clown frogfish!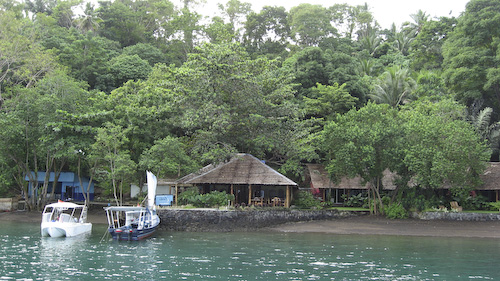 Lembeh NAD resort
NAD Lembeh Resort – A Quick Overview
I stayed at NAD Lembeh resort, which is located centrally in the middle of the strait. NAD has been in operation for around 18 months as of August 2008 and is currently managed by Sandra and Joe, a Spanish couple who have built up the resort's infrastructure and reputation. It's an excellent budget resort, providing all-inclusive packages for accommodation, diving and food. I paid $US 503 for 5 nights air con accommodation, 11 dives and 3 meals a day, plus 24 hour coffee, tea and water.
Accommodation
There is currently room for 25 guests – when I was there in mid August, there was a brief lull with only around 7 guests, but from September through to Christmas it was booked solid. There are air con and fan room options – the majority of rooms are arranged in a crescent terrace around a picturesque garden and built of concrete with wooden ceilings, well shaded from the day's heat. There is a powerful, gas-heated hot shower and toilet in each room, with tiled floors and basic but comfortable bedding and cover sheet. There are 2 or 3 well constructed wooden bungalows available too which are located a little further up the steep slope of the mountain for privacy. There is no real beach to speak of, but the garden provides a nice sunbathing area with a couple of loungers.
Food
Food is served up buffet style in the pleasant dining and relaxing area, which has sofas as well as table and chairs. There is a impressive mix of tasty Western and Indonesian dishes, with lots of veggies as well to offset the meat and fish dishes. Fresh fruit is the default dessert. You are very unlikely to go hungry or find nothing to your taste.
Both the accommodation and the food at NAD are excellent examples of budget diving done well – a lot of thought that has gone into how to provide the most pleasant environment to the guest without breaking the bank. By adding together a comfy bed, hot shower and good food NAD have provided exactly what most people need to be comfortable.
Dive Setup
This is particularly apparent on the dive boats — guests barely have to do anything for themselves besides fall in the water. Dive gear is set up by the boat boys who are always on hand to help with fins and cameras, while the dive guides provide short and sharp briefings that belie how attentive they are to their charges underwater. We had one dive guide to two divers during our stay, which was fantastic, although if the resort is full I guess this would be nearer to 4 divers per guide. Water, coffee and tea is served inbetween dives along with Indonesian cookies – every day is a new sweet surprise. The dive boats themselves are spacious wooden affairs with a partial cabin to protect guests from rain and wind and with space to sunbathe too.
For those with big camera rigs, there is a rinse tank on each boat and the boat boys are adept at handling camera gear with care and placing it directly in the rinse tank after each dive.
(Full disclosure: I was a paying guest at NAD Lembeh rather than on a journalist trip).
How Long Do Should You Spend At Lembeh?
The five days I spent at NAD Lembeh were hard to fault – it's an operation that runs very smoothly. (Our last night was incredibly noisy due to celebrating Indonesian Independence Day, but even that closed down by midnight). There were a couple of Austrians who were at NAD for two weeks, and I envied them their length of time to explore the area – there is certainly enough in Lembeh to repay such attention. There is also the Bunaken national park nearby, an hour or so away by boat — every Lembeh resort can organise transferring you to Bunaken if you want big wall dives. Bangka, located inbetween Lembeh and Bunaken, has also become a personal favourite of mine after a liveaboard there on the Ocean Rover – in short, you could spend a lot of time here and not get bored.
How To Get To Lembeh Strait
Lembeh is relatively easy to get to, thanks to flights into Manado city from Singapore with Silk Air and from Jakarta with Garuda. It's a 90 minute transfer from Manado airport to any Lembeh resort, with a hour car ride and then a boat trip from the Sulawesi mainland to your resort. Manado is also the jumping off point to explore Bunaken marine park, Bangka and take liveaboards to the Sangihe archipelago. You can compare Manado flight schedules and prices at Kayak – the airport code for Manado is MDC and for Singapore SIN
Other Lembeh Resorts
There are several other resorts in Lembeh catering to a wide range of budgets. If you google these or search on Scubaboard.com you can find quite a few trip reports of the different resorts.
KBR (Kungkungan Bay Resort)
Kasawari
Lembeh Divers
Eco Divers
NAD
Bastianos
Two Fish
Froggies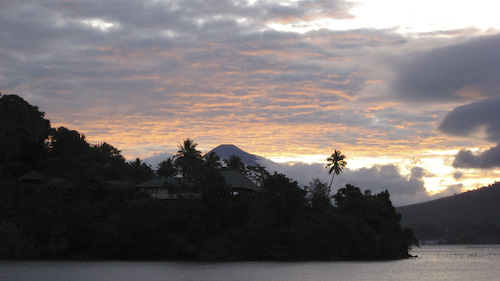 Sunset view from NAD Lembeh resort