South Africa's annual Sardine Run sees millions of sardines spawning and travelling northwards up the country's eastern coast – closely followed by thousands of dolphins, sharks and gannets all anticipating a feast…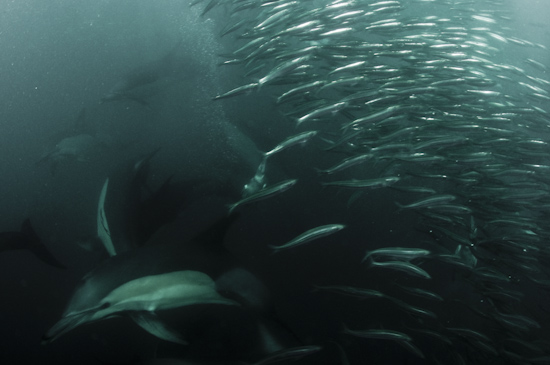 Imagine being dropped into 18 degree green water, with 2 metre visibility, and just about making out the glint of a large baitball of sardines in front of you. Then imagine the constant sound of gunshots overhead – but it's not gunfire, it's the deafening crack gannets make as they divebomb from the sky above into the baitball to effortlessly snatch a sardine 10 metres down and then shoot back to the surface. Then imagine seeing six dolphins coming straight at you, so fast that trying to move would be pointless because collision is inevitable, only for them to corkscrew away at the last moment with laser guided precision. And just as you get your breathing under control again, the sharks turn up… that was essentially my experience of South Africa's Sardine Run in July 2010.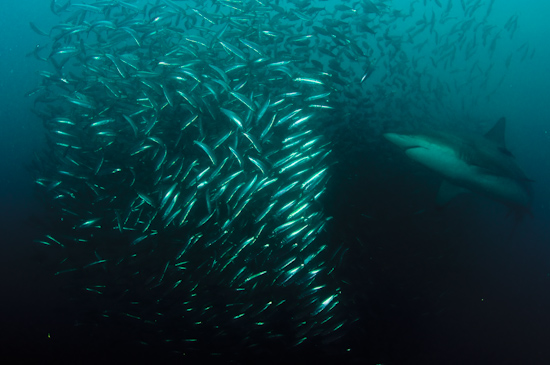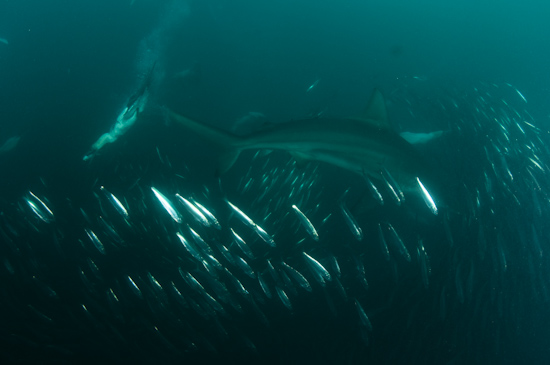 Despite all the video I'd watched and photos I'd seen, nothing prepared me for the sheer sensory overload of being in the water during the Sardine Run. Everything happens so fast – and all at the same time – that it's almost impossible to consciously follow the sharks, dolphins and birds swirling around the baitball a couple of metres away from you. They weave in and out in a split second, on the edge of vision one moment then right up close the next and then gone the next.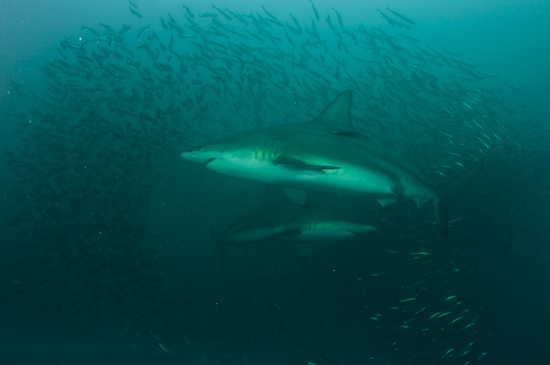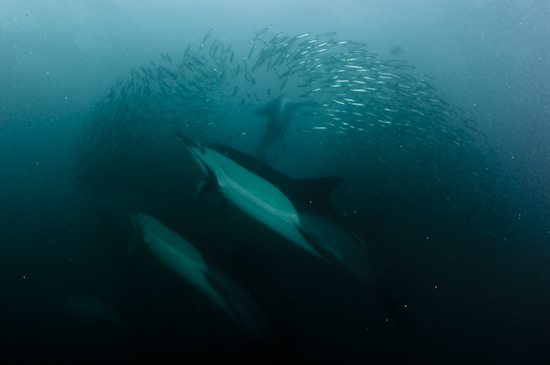 Was I scared? Absolutely, but not to the point where I wouldn't get back in the water. The adrenaline rush of being able to witness this incredible spectacle (and this was considered a so-so Sardine Run by repeat offenders, not a vintage year) was enough to keep me going back into the water, although every time I floated on the surface before submerging I half expected to get a divebombing gannet embedded in my skull. Watching them thunder in from above and zero in on their prey, leaving a white wake behind them as they sped down and then back up was mesmerising. There are plenty of dead birds floating on the surface of the water above the baitballs to show in-water collisions with something much bigger and more lethal than a sardine does happen.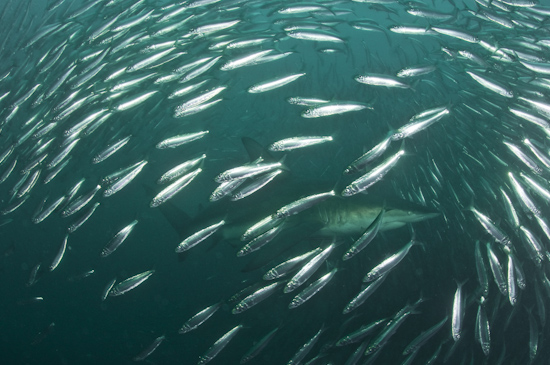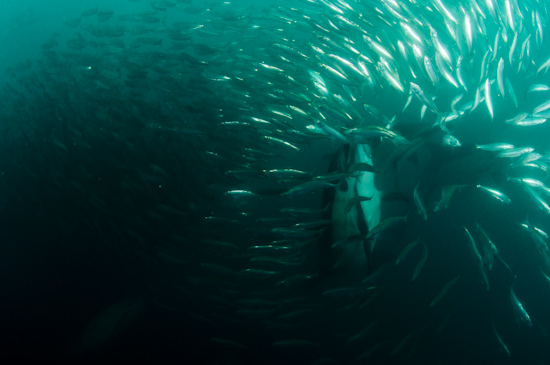 There were truly incredible numbers of dolphins present during the five days we were out chasing the sardines – we literally saw scores of them breaching the surface and circling our boat each day, their playful nature on the surface in distinct contrast to their piledriving purpose under the water as they herded and then routed the sardines.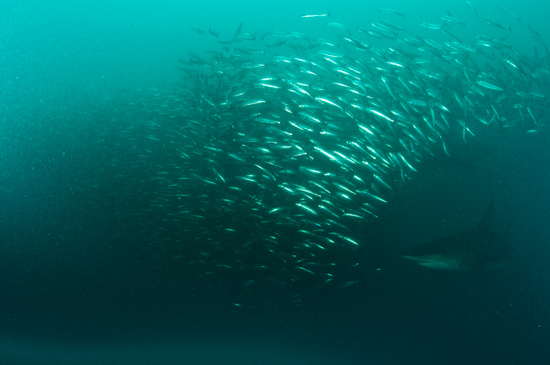 As for the sharks… they were far more languid than the dolphins, preferring to languidly circle the baitball before eventually making their lunge into it. Tellingly the deeper you went, the more sharks there were… And they were circling all around the baitball and also us, the divers. At one point I felt something nudging my side and decided that I wasn't even going to look what it was – the shock might make me drop my camera.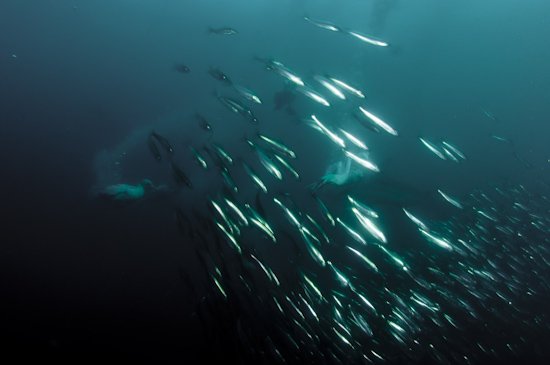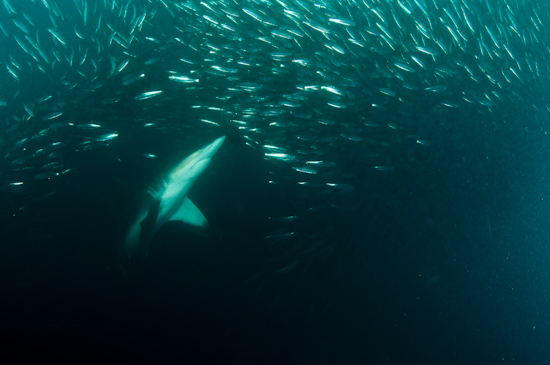 As you can imagine, it was a truly memorable experience – even if it was hard work at times. Not every day saw us finding action underwater, although there were plenty of breaching humpback whales to keep us entertained on the surface. Even so, being stuck on a small boat for 7 hours in pitching seas when you're wet and cold while waiting to find something, anything, can stretch the definition of "fun" quite far. That said, I would go back and do it again like a shot and my only regret on leaving was that I hadn't signed up for the second week of diving.
The trip was organised by Jason Heller at DivePhotoGuide.com who is a truly lovely guy to hang out with – laid back but hyperorganised, and very generous with advice on photography. (Follow the link above for some of his incredible Sardine Run images. You'll notice that Jason's photos have a lot more light on their subjects – that's because he wasn't a wuss like me and got a lot closer…).
I will certainly be joining Jason again on another trip, not least because the rest of our group was a pleasure to dive and hang out with too. The boat and dive operation was handled by Walter Bernardis, pioneer of diving with tiger sharks on the Aliwal Shoal and widely regarded as the best skipper to read and navigate the vagaries of the Sardine Run – he can watch a humpback whale submerge on the surface and then give you a countdown to the split second when it will breach out of the water – absolutely amazing. Walter's own site is African Watersports.