Indonesia's Raja Ampat islands have become one of the most famous places to go diving in all of Asia thanks to the area's pristine coral reefs and incredible diversity of marine life.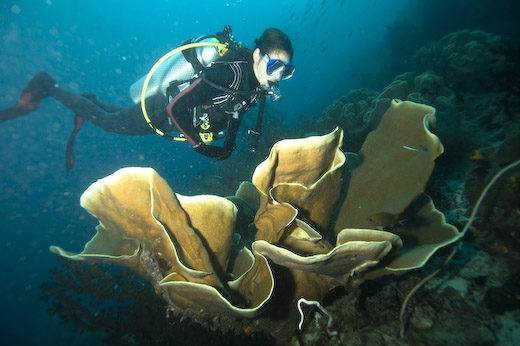 In February 2008 I went on the MSY Seahorse's 11 day diving liveaboard from Raja Ampat to Triton Bay, exploring the amazing underwater world of western Papua.
Here's a rundown of what it's like on the MSY Seahorse, followed by pictures and descriptions of the scuba diving through our liveaboard trip from Raja Ampat to Triton Bay.
Raja Ampat to Triton Bay Liveaboard Update
In 2017 I did the same Raja Ampat to Triton Bay liveaboard trip again – read my trip report to compare it with my first trip 9 years previous, detailed on this page. I wrote separately about diving Triton Bay as there was a lot more to talk about, including the unexpected surprise of the Triton Bay whale sharks! I also did a podcast with Jimmy Thai, co-founder of Triton Bay Divers, about what makes Triton Bay so special.
See also my summary to help you plan your Raja trip – Diving Raja Ampat: A Quick Guide
Other Raja Ampat trip reports on Divehappy:
MSY Seahorse Quick Facts:
The Boat: MSY Seahorse – beautiful wooden hulled Indonesian pinisi-class schooner that's been well-equipped for diving. Maximum of 16 guests. Big sundeck, large table area for cameras at front of boat, comfortable air conditioned mess area for taking meals. Back deck as well if you want to get away from everyone else for a while.
Departure Schedule and Pricing
Raja Ampat is unsurprisingly incredible popular with liveaboards often sold out months in advance. Compare liveaboards available for trips to Raja Ampat.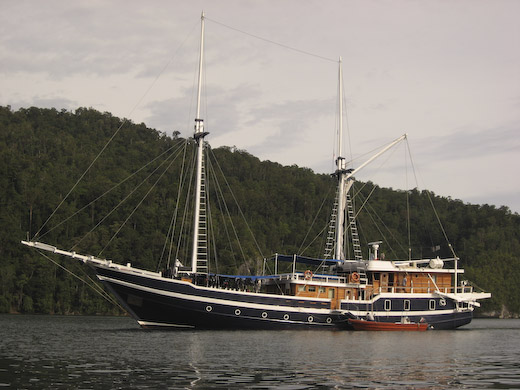 Dive Routine: 4 dives a day. Wake Up / Light Breakfast / Dive 1 / Breakfast / Dive 2 / Lunch + siesta / Dive 3 / Snack / Night Dive / Dinner / Bed. Divers split into two groups and are taken to dive sites in small tenders. Backroll entry. Divers buddy up and stick with the guide for critter hunting or do their own thing.
Free Nitrox! Nitrox and air compressors on board
The dive routine is quite relaxed. Divers can stay down as long as they like – 75 minutes is the average bottom time. This tends to make the dive schedule flexible, with some of the last day dives turning into dusk dives.
Departs From: Sorong
Ends In: Kaimana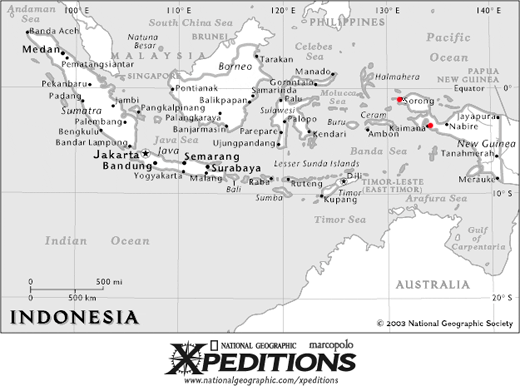 Price: From $3800 USD for a 11 nights cruise – all food and soft drinks included. Free Nitrox.
Accommodation: Very comfortable wooden cabins with double or twin beds. Air conditioning. Marine toilets. Hot showers. Portholes.
Food: Pretty hearty – lots of red meat and other solid fare. Roast lamb and tiramisu to die for. Vegetarians and those who like their food light might find it hard going. The boat is fully open to dietary requests, so emailing beforehand and specifying exactly what you want
Booze: Beer and wine are available and quite expensive, as they have to be purchased from Sorong, which itself has to fly everything in from mainland Indonesia. Beer is around $3.50 a can and wine $35 a bottle. You are welcome to bring your own.
Crew: Both Alberto and Jesu, the Spanish co-owners of the MSY Seahorse, were on board this trip. Usually it's just one of them. Both are great guys, very knowledgable, helpful and sociable. Siestas are mandatory and Alberto may share his red wine with you if you're lucky. CiCi is the boat organiser – she ensures cabins are cleaned, food is served and guests are happy. She speaks fluent English and is the only woman amongst the 15 strong crew. The dive guides Gusti and Adnan are excellent. Gusti is one of the most experienced Indonesian guides in the entire country. The boat boys are also great – they speak a modicum of English but are very anticipatory of divers needs. Boat handling for pickups is expert and the crew are also very careful with handling expensive camera gear. I would trust them to put my camera on the boat without damaging it than I would trust myself, put it that way. (Update: Alberto has now left MSY Seahorse and now owns MSY Damai, another Indonesian liveaboard.)
Laundry: Yes – done for free
Travel arrangements: Seahorse can arrange your Indonesian domestic flights to get to and from Sorong and Kaimana. They charge 10 per cent commission on the flight price to do this. Personally, I think it's worth it to avoid the huge hassle of booking the tickets yourself. Also, if things go wrong (like getting diverted at 3am due to heavy rain, like we did), Seahorse's team are there to figure out new flights and arrange hotels. They turned what could have been a pretty miserable situation into something that was handled efficiently and with minimum grief.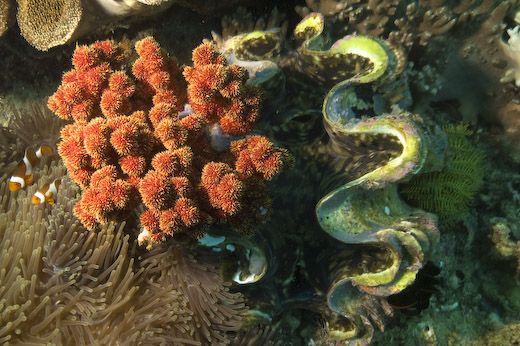 Clownfish, clam and soft coral
Onto the exciting stuff: the diving!
Raja Ampat and Triton Bay Diving: We visited four main areas on the 11 day cruise along western Papua in Indonesia: Raja Ampat's Kri and Misool islands, Fak Fak and Triton Bay. All of these places are justifiably famous for jawdropping coral reefs and fish life. The Bird's Head Peninsula of Western Papua (the sticky out bit in which Sorong is located) has been scientifically assessed to have the greatest marine biodiversity in the world. For divers, this means it's an unparalleled experience in terms of the sheer overwhelming number of marine species you can spot whilst diving. Indeed, scores of new species have been discovered here, some so new they still don't have names, and some so bizarre you'd think the scientists are making it up, like the walking shark.
While Raja's remoteness used to mean it was a deeply obscure destination, the word is now out. Hardly a month goes by without a rave review in one of the dive magazines. Despite requiring multiple flights on domestic Indonesian airlines to get there, Raja has seen a big growth in liveaboard and resort operators in the last couple of years. Max Ammer, the former Dutch paratrooper who pioneered Papua Diving's Kri resort has now opened the deluxe Sorido Bay resort in the Kri area, while the Misool Eco Resort is due to open later in 2008. UPDATE: Misool Eco Resort successfully opened.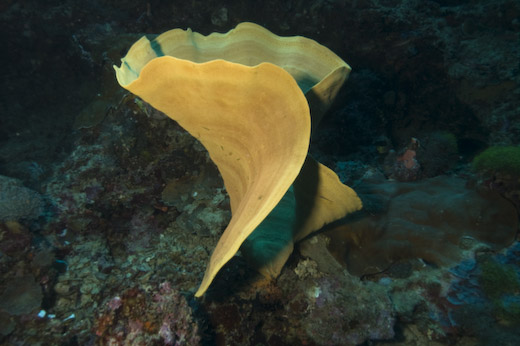 Misool coral
The good news is that despite Raja's newfound popularity, its big enough and still remote enough to not encounter other divers or even other boats. This is especially true once heading out of Raja Ampat proper down towards Fak Fak and Triton Bay.
Triton Bay is a new area of Papua for diving – the visibility here is generally quite poor (5 to 10 metres) due to the incredibly nutrient-rich water, which means that it has tremendous soft coral growth and lots of schooling fish. One of Triton's dive sites is named Larry's Heaven in honour of Indonesian dive pioneer Larry Smith who sadly died in March 2007. Larry made two trips to Triton and proclaimed to be in love with the diving here. High praise from a man who had dived pretty much all of Indonesia.
A Word On The Photos
I've included quite a few of my photos below, but I'm not a particularly good photographer. (I'm currently at the "got all the gear but no idea" stage with my DSLR). As such, my pix don't really do justice to the beauty of the corals. Still, I hope they give a taste of what it's like. There are some great videos of Misool's reefs on the Misool Eco Resort website (scroll to the bottom of the page). You can also see a stunning Raja Ampat National Geographic slideshow by legendary underwater photographer David Doubilet. UPDATE: You can also see a fantastic collection of Raja Ampat pix taken by Michael Aw on his website. He was on the MSY Seahorse a couple of weeks after me with some scientists from the Woods Hole Institute and I have to say, his pictures really capture the trip and how I saw it in real life.
Kri and Misool areas of Raja Ampat
Kri and Misool have scores of sloping reefs, walls and plateaus to explore thanks to the clusters of small limestone islands here. Many of Kri's sites are covered with massive gorgonian fans. Stick with your guide and you might find the tiny pgymy seahorse, which is no bigger than the top of your little finger and merges perfectly into the gorgonian fans they call home.
Misool in particular has, without any hyperbole, stunningly beautiful coral life – every site here seems to boast a lush carpet of soft corals, with sponge corals in particular growing a couple of metres across, alongside equally big table corals. There are hundreds of fish species crowding around these pristine reefs – you'd need a notebook underwater to remember them all. With so much concern about the state of coral reefs worldwide, it makes you feel extremely fortunate to be able to see reefs like Misool's in such great condition. The Misool Eco Resort is due to open later in 2008 and their engagement with the local community to help protect the waters around Misool will hopefully ensure these reefs remain as pristine as we saw them.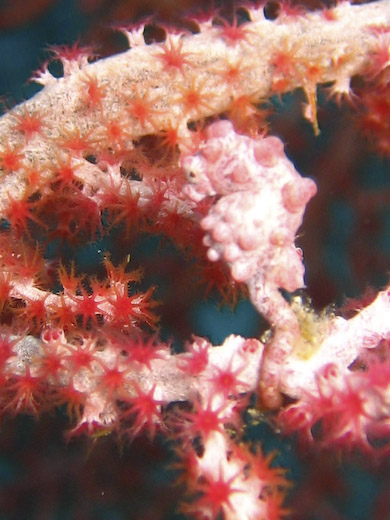 Pgymy seahorse – slightly out of focus but showing his tail. So tricky!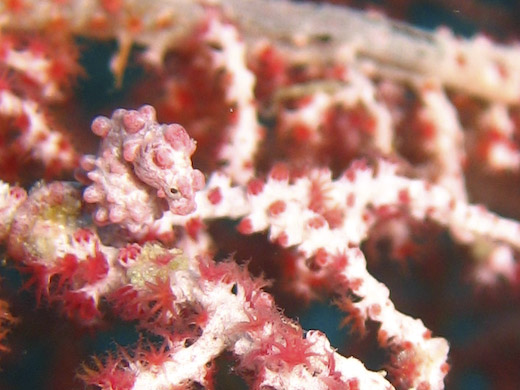 Pgymy seahorse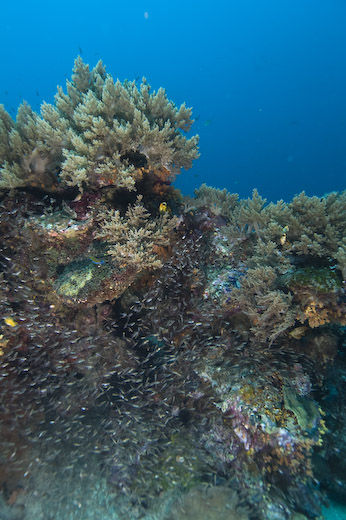 Misool seascape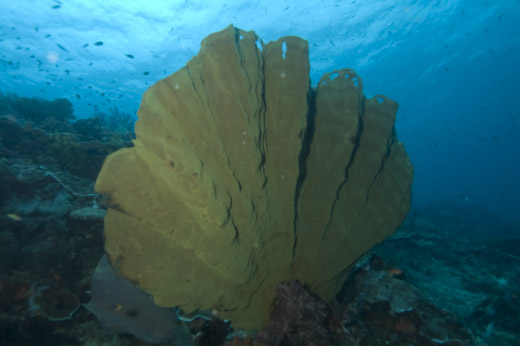 Misool coral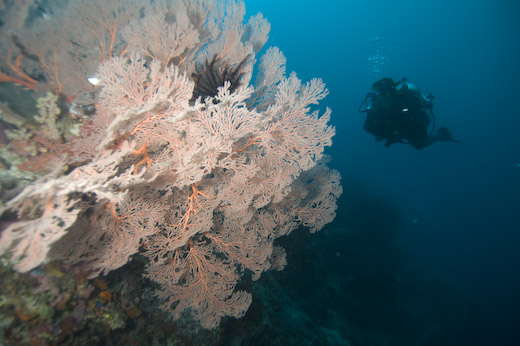 Kri seascape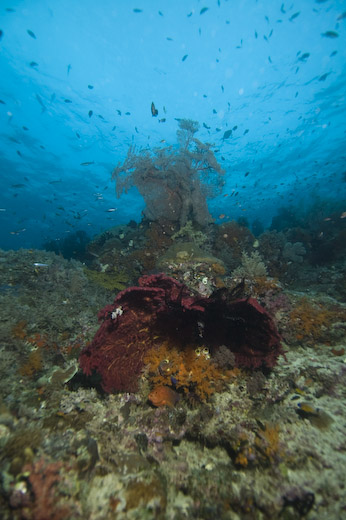 Kri seascape
Kri Manta Rays
While the Kri area does not compare to Misool for coral life (few places do), there is a lot more big pelagic action – especially the chance to encounter giant manta rays at Kri's Manta Point, which is a famous cleaning station. As you can see from these videos, the mantas are not particularly shy – the third video is a manta ray flyby with it passing right over my head (you can tell the bit where I thump into the sand because the camera jolts).
httpv://youtu.be/L5WpIj7PXG0
httpv://youtu.be/JCyUHAbrPJg
httpv://youtu.be/tMCqo5l7m9s
Misool's Blue Water Mangroves
One of the unique aspects of Misool are the blue water mangroves, where the rainforest meets the reef quite literally. There are corals growing on the mangrove roots and the reef starts almost immediately just below them. Archer fish, with their "spit to kill" policy of hunting prey, also lurk amongst the roots. (See this New Scientist article for an explanation and this YouTube video to see the archer fish in deadly saliva action.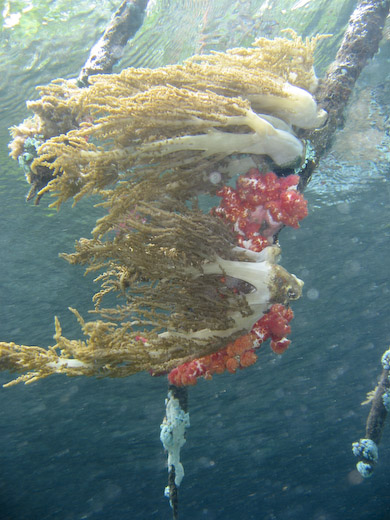 Mangrove roots with soft corals growing on them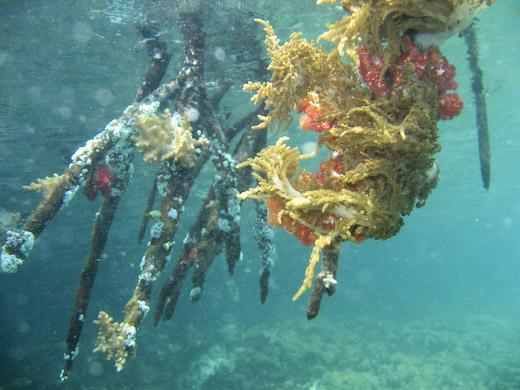 Mangroves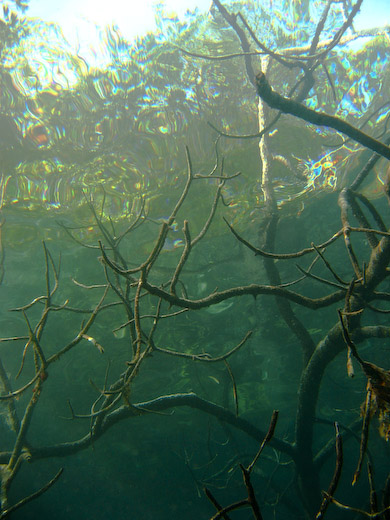 Mangroves seen from below the water
Misool Night Dive
The night diving in Misool was fantastic – our hour long dive seemed to go by in about 5 minutes, there was so much to see. here's a few of the critters we encountered: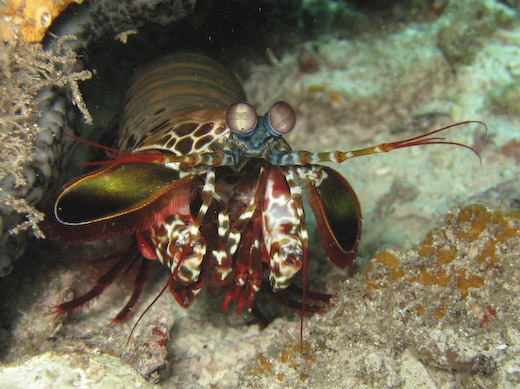 Mantis shrimp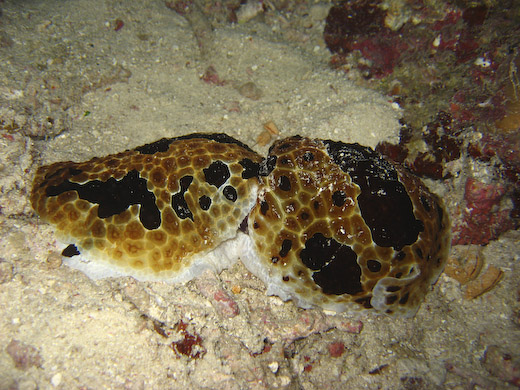 Er…I forget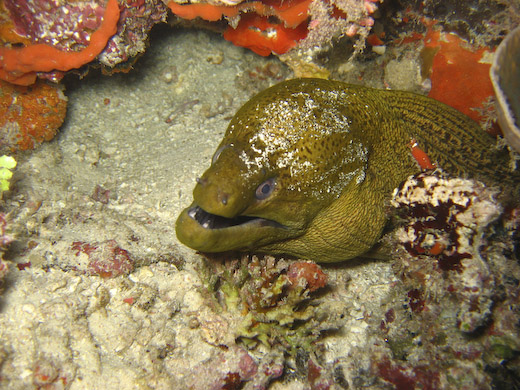 Moray eel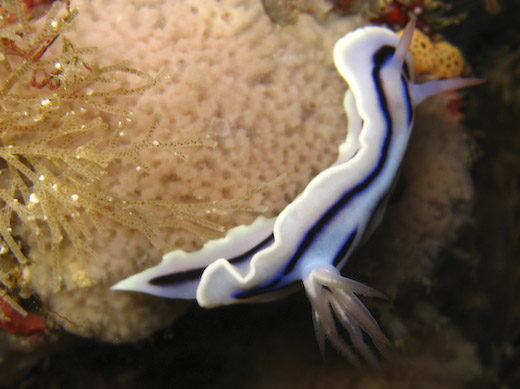 Nudibranch
Fak Fak
We eventually left the Raja Ampat area and headed towards Fak Fak, diving at Palau Pisang (or Banana Island). There was some more great dives around here on sloping reefs that had a greater preponderance of hard corals. There was good viz here as well, whereas in Raja it had been quite variable.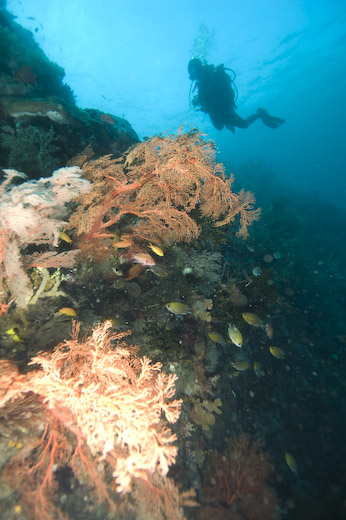 Fak Fak seascape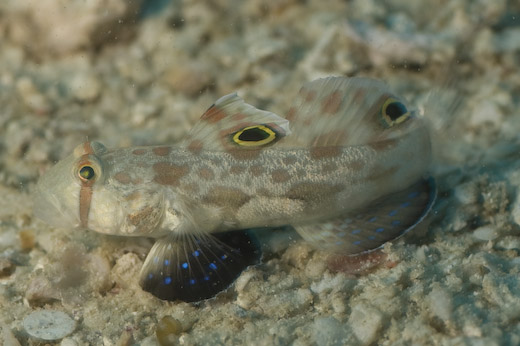 Signal goby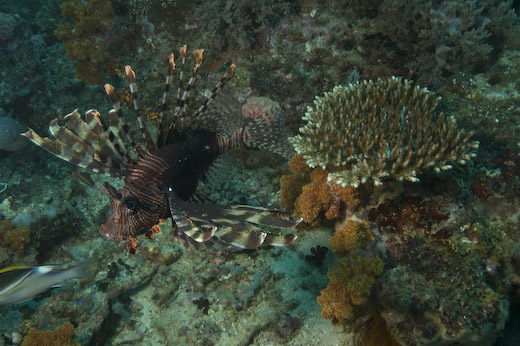 Lionfish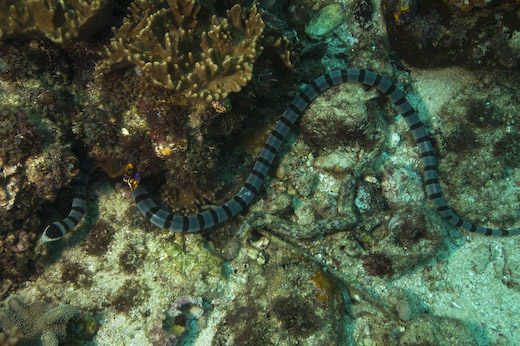 Sea snake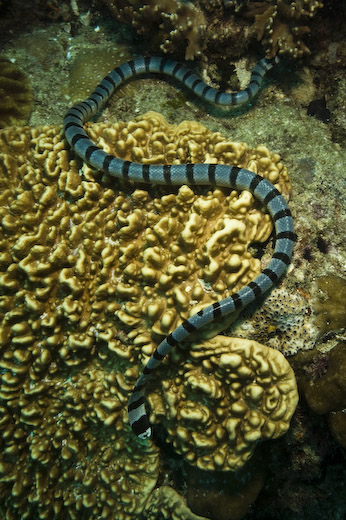 Sea snake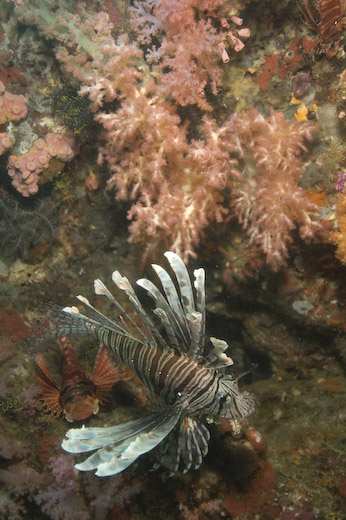 Lionfish and corals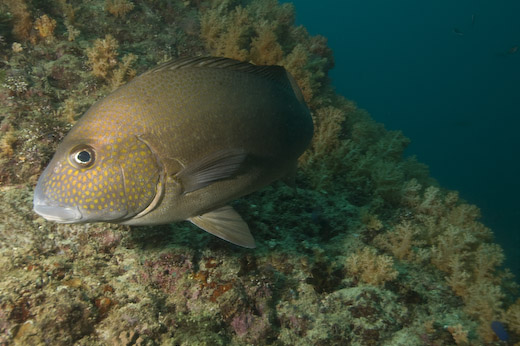 Seeing The Walking Shark!
Due to strong currents in the afternoon, we skipped Fak Fak's usual sites did our third dive as an "exploratory dive" in a sheltered bay. There wasn't too much of interest down there – although there were some pretty nudibranches – but at the end of the dive Alberto made a fantastic discovery that had us jumping back in the water – within a huge carpet of staghorn coral, Alberto had spotted a walking shark! Admittedly it wasn't walking, just keeping still in its hole and waiting for the idiot divers to go away. Even so, seeing the epaulette shark, as it's properly known, was a real thrill and Alberto managed to get this photo – pity he's an even worse photographer than me. More info on the epaulette shark at Wikipedia and this report from Alex Mustard.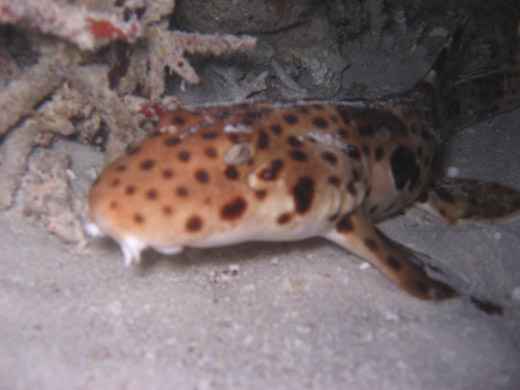 Walking shark – staying stubbornly still
Giant Nudibranches
We also found these beautiful nudis, some of them 3 to 4 inches long, during our Fak Fak dives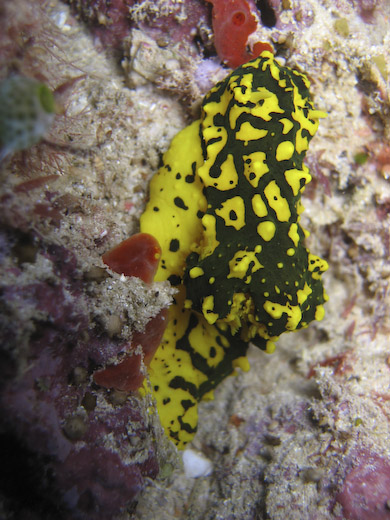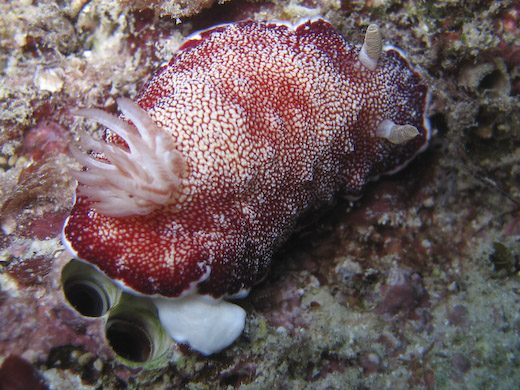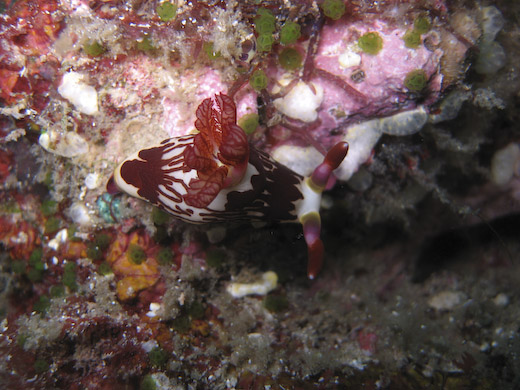 Triton Bay
The dive sites we explored in Triton Bay follow a similar profile – stay shallow around the base of small limestone islands. The visibility tended to be pretty poor (around 5 to 10 metres) although on our last dive it was crystal clear went we went in early in the morning. The viz doesn't matter – the soft corals are explosively colourful all the same, with flaming reds, purples and oranges everywhere you look, along with a forest of black coral too. There are also scores of fish here, especially schools of glassfish moving in spectacular synchronicity, and also an absolutely whopping great wobbegong shark lazily basking in full view on the sand.
There is also the Triton Bay Treasure Hunt to keep you entertained. One dive site has been named David's Rock after legendary underwater photographer David Doubilet, who managed to lose a state-of-the-art and extremely expensive underwater camera on the site a couple of years ago. It's reckoned the camera may well still be intact and waterproof – if only someone could find it…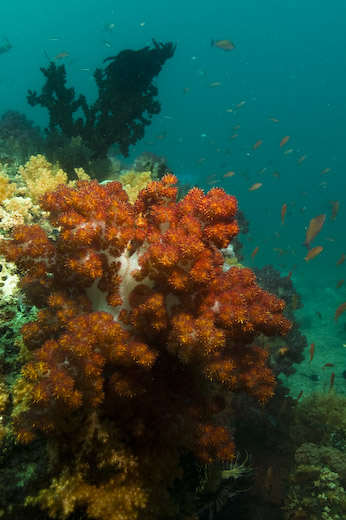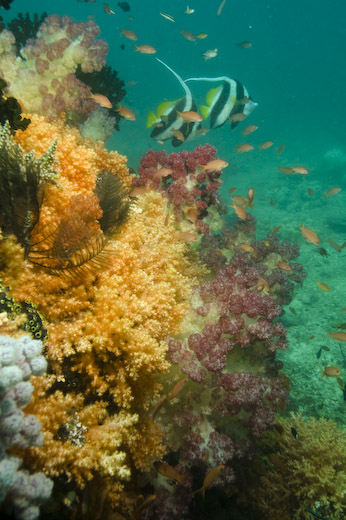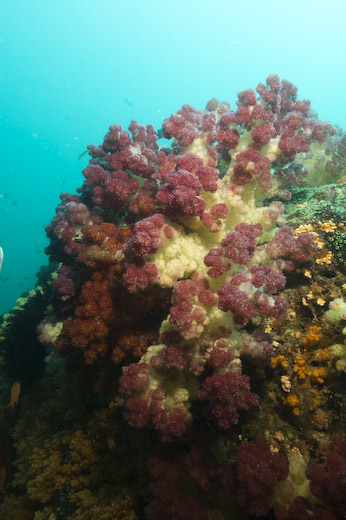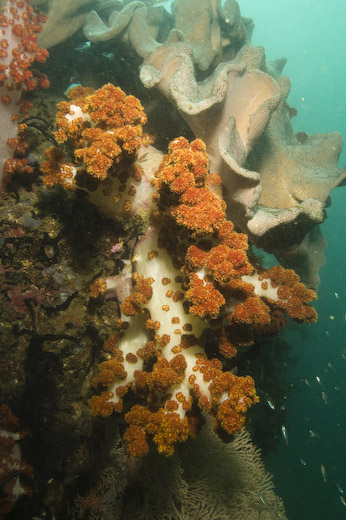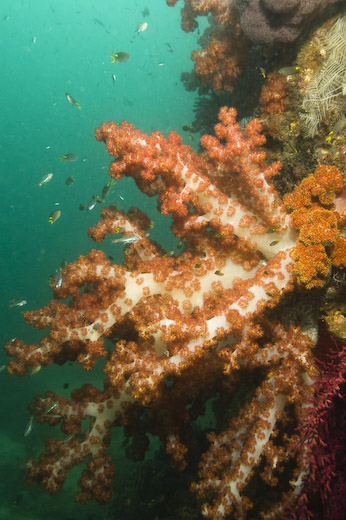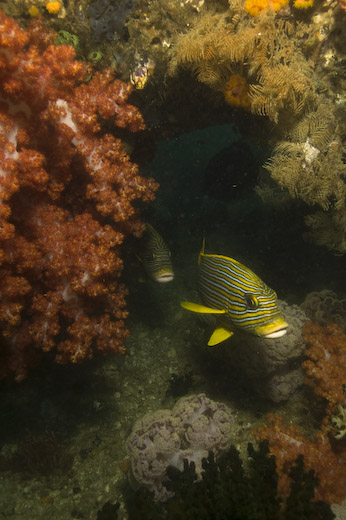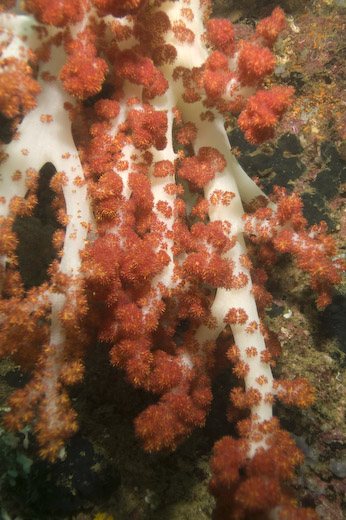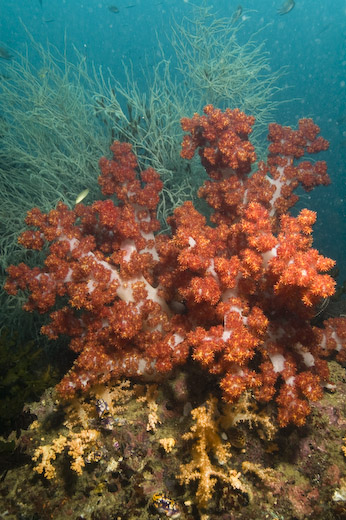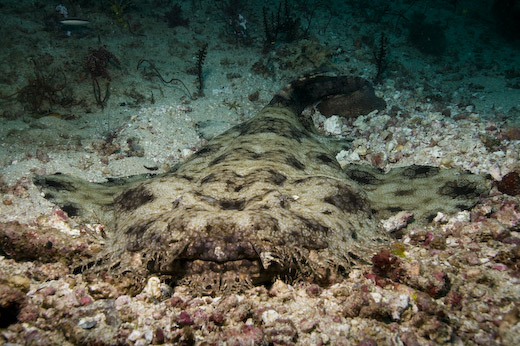 Wobbegong shark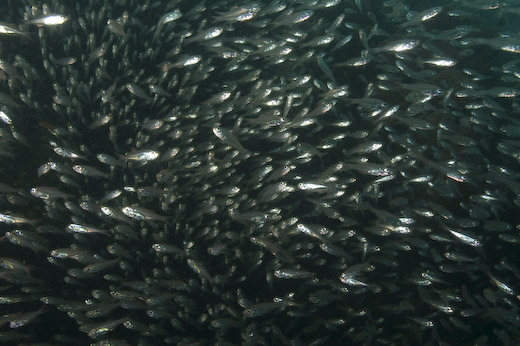 Glassfish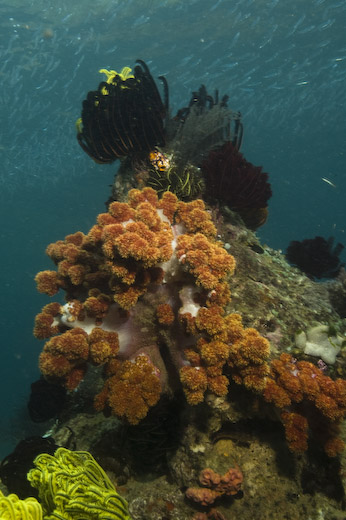 Triton Bay Night Dive
Unsurprisingly, night diving in Triton Bay is superb, with a cavalcade of critters to be seen. My favourite amongst these was the decorator crab that had completely covered itself in fronds of seaweed. When Gusti, the dive guide, first pointed it out to me I thought it was simply seaweed tumbleweed and wondered what he was so excited about. It was only after watching the crab walk forward, looking like an extra out of the Lord Of The Rings, that I realised what it was. Besides the other, always entertaining hermit crabs and the giant spanish dancer we discovered during our safety stop, I also spotted the biggest parrotfish I have ever seen anywhere, nearly a metre in length. It's good to know the fish stay around long enough to get this big. Although let's hope they don't start getting pushy with it.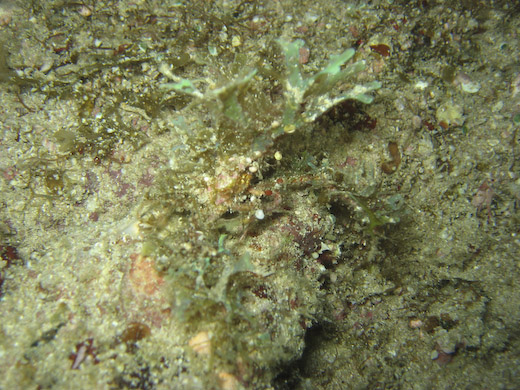 Decorator crab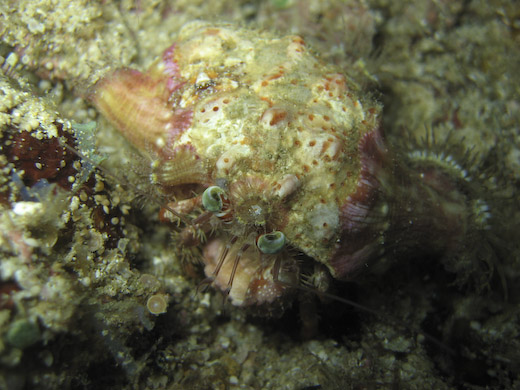 Hermit crab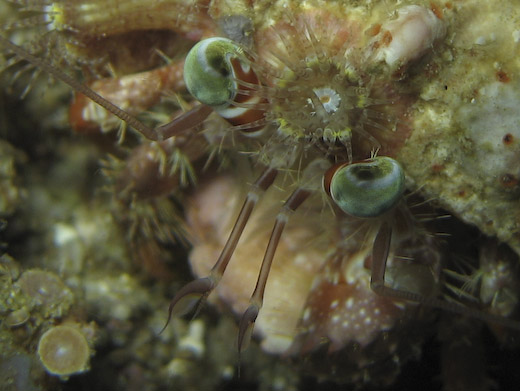 Hermit crab close up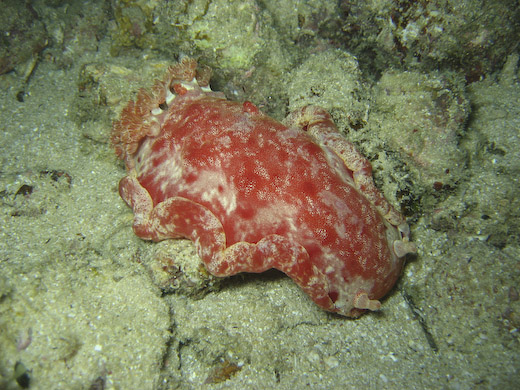 Spanish Dancer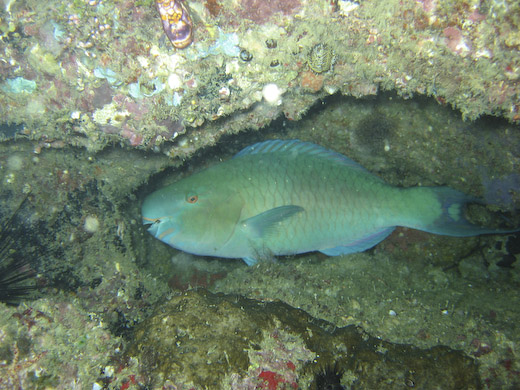 Biggest Parrotfish In The World
Above The Water in Raja Ampat and Triton Bay
Topside, the topography is fairly similar throughout the 600 mile length of the cruise – beautiful limestone islands covered with dense jungle vegetation and tall, thin palm trees along with endless tiny paradise-perfect beaches at their base. Secret lagoons with crystal clear water wait amongst the limestone islands, along with mysterious cave drawings that have been recently exposed by the ocean's erosion. The cruise at the end of the trip after the last dives are done along the edge of Triton Bay's deserted coastline is quite magical.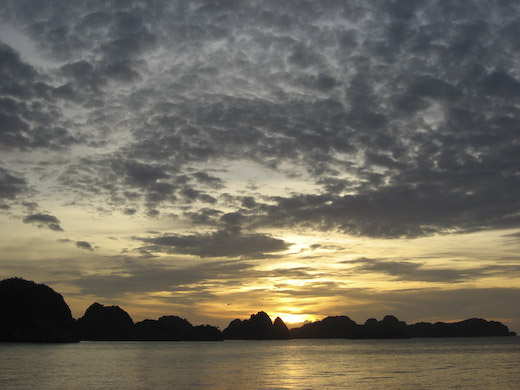 Raja sunrise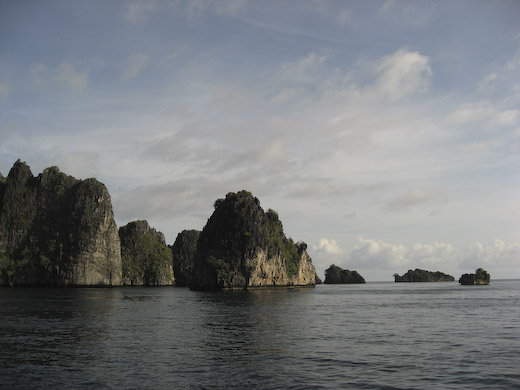 Misool topside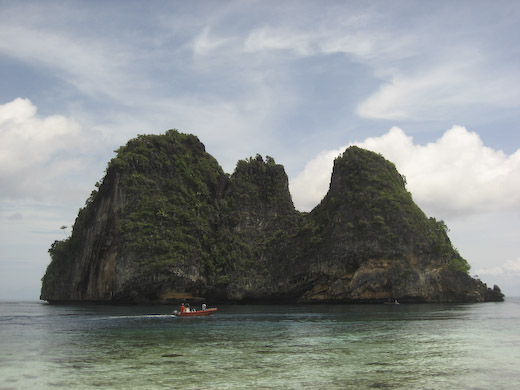 Misool topside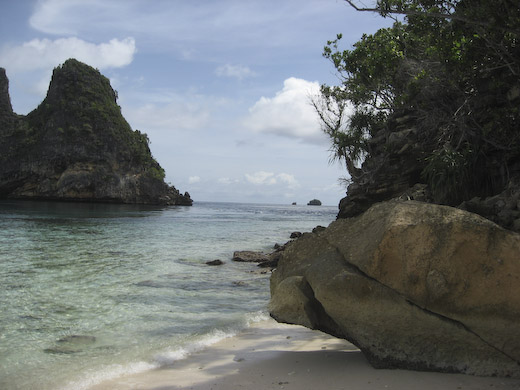 Misool topside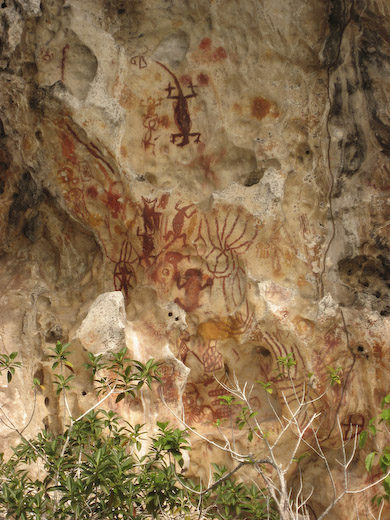 Mysterious cave paintings in Triton Bay. Featuring lizards.
Verdict:
As a way to get a taste of what Indonesian Papua has to offer, this trip is hard to beat. You could spend a week easily in each dive area – Kri, Misool, Fak Fak and Triton Bay – so hoping to cover each of them in depth in 11 days is just not feasible. This trip provides a great orientation to the region and paves the way for doing future trips to Papua, because it's unlikely that once you've been you won't want to come back. (One American couple on our trip had been to Raja 10 times in two years!). The boat makes a big difference to this kind of cruise experience – it wouldn't be half as much fun if you were on a shoddily run boat. Thankfully, the MSY Seahorse provides friendly, expert service and a touch of luxury without being over the top. You feel well looked after and also that you have some personal space on the boat too. It's not cheap, but I considered it good value for money, especially with the free nitrox.
Raja Ampat Diving Guides and Info
For an overview of what to expect when diving Raja Ampat and useful tips on how to get there and what to bring with you, see our Diving Raja Ampat: A Quick Guide and listen to the Divehappy podcast episodes on Raja Ampat. Misool Eco Resort and Triton Bay. For practicalities on getting there, see How To Get To Raja Ampat, Sorong Airport Guide and the Liveaboard Packing List
Raja Ampat Liveaboard Trip Reports
Triton Bay Trip Reports (as part of Raja Ampat liveaboard trips)
Booking Raja Ampat Liveaboards
Browse Raja Ampat liveaboards by price level and month of departure:
See availability for all Indonesia liveaboards departing
December 2023 | January 2024 | February 2024 | March 2024 | April 2024 | May 2024