The new Maldives liveaboard MV Orion offers seven day trips that take in classic Maldives dive sites at Male and Ari atolls as well as visiting the whale shark haunt of Hani Faru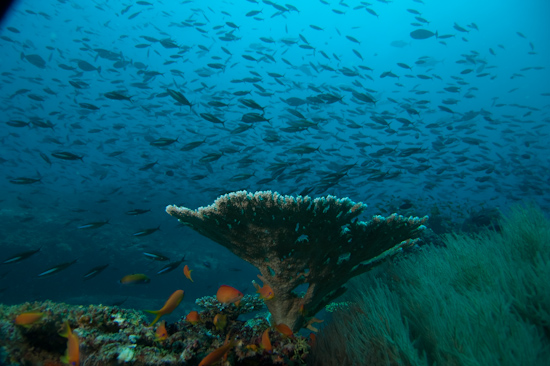 MV Orion is built around the cruising in comfort concept, where the boat is appealing to divers and non divers alike. Scuba is a big part of the boat's itinerary with three dives a day — four if there's a night dive – but it's also a great boat on which to relax, sunbathe, enjoy the spa, sauna and jacuzzi and watch the Maldives seascape go by as the boat cruises during the day. Cabins are very spacious and well-appointed, while the dining room, bar area and sundeck are also designed to provide plenty of room.
(I've also written a more detailed liveaboard report of the practicalities and amenities of the MV Orion, with videos and pictures of the bedrooms and mess decks).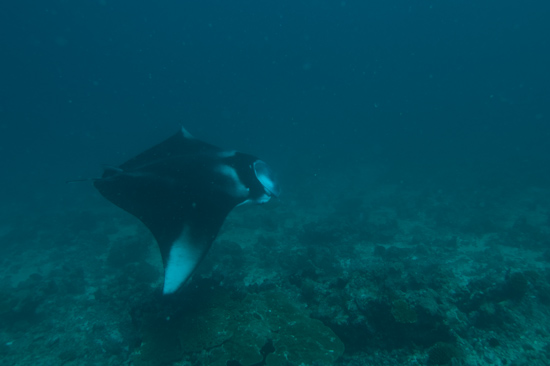 MV Orion departs from Male on a 7 day schedule, usually with a checkout dive on one of Male's dive sites. We went to Lankan, the famous Manta Point site, where we saw a couple of manta rays hovering at the cleaning station – great way to begin a trip.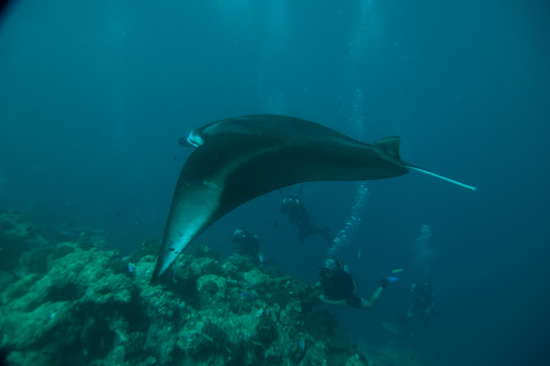 Hani Faru – Waiting For Whale Sharks
MV Orion heads from Male Atoll to Baa Atoll which is several hours crossing. This is the location of Hani Faru (also spelt Hanifaru), the small bay that's growing increasingly popular as a whale shark and manta ray hotspot. I've previously written about National Geographic's incredible Hani Faru video footage of mantas and whale sharks feeding together – unfortunately, we didn't get to witness quite such a feeding frenzy during our trip as the whale sharks remained elusive. There were however numerous manta ray encounters, both while snorkelling as they glided in to a bommie only 4 metres down, and again when we went diving at Darawandu Kandu.
httpv://www.youtube.com/watch?v=67ej4-qgEGY
The dhoni (a small boat separate from the MV Orion used as a dive platform) goes looking for whale sharks around Hani Faru, cruising until they spot one of the leviathans on the surface. Everyone then jumps in with snorkelling gear to spend some time with the whale shark. If everyone remains calm and no one gets too close to the whale shark, it's possible to spend anywhere up to 20 minutes with one of these huge but harmless creatures.
httpv://www.youtube.com/watch?v=K_NxuTLRvOo
If there's no luck spotting a whale shark, the dhoni heads to a nearby reef for a dive – with the small chance that perhaps a whale shark will turn up while submerged. It's definitely worth the day of the itinerary at Hani Faru to have the chance to see whale sharks, even if they don't turn up – and the mantas are there pretty much all the time.
httpv://www.youtube.com/watch?v=SCvR4h2rh5o
Hunting For Hammerheads
From Hani Faru and Baa Atoll we headed to north Ari toll via Rasdhoo Atoll, in search of another rare creature – the hammerhead shark. Rasdhoo Kandu is famous for hammerheads appearing out of the blue to investigate waiting divers, and our luck improved with not one but four of them suddenly materialising out of the depths. To go looking for hammerheads, you need to have good buoyancy and be able to hang in the blue at 30 metres, as that's the best chance of seeing them. Rasdhoo Kandu has a pretty sloping reef with abundant fish life on which to spend the remainder of the dive. The video clip above of the Maldives hammerheads is courtesy of Roald and SJ – thanks guys!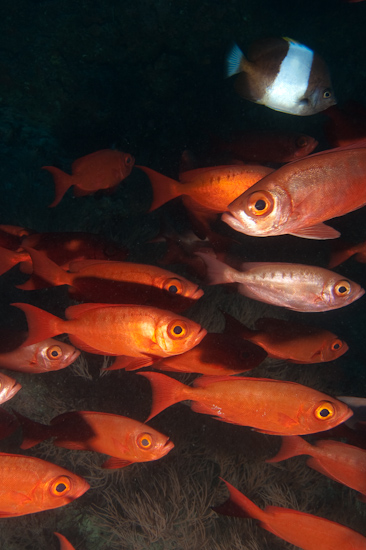 Speedy Drift Dives
Virtually every dive site in the Maldives is subject to the changing of the tides, and incoming or outgoing current. Besides the thilas, or pinnacles, the other staple of Maldivian scuba is channel diving, which can shape up into speedy drift dives depending on the current. We had a couple of contrasting channel dives at Gangahi Beru Faru and Gangahi Kandu in Ari Atoll – the first was pretty fast, with whitetip sharks and napoleon wrasse speeding by as we coasted along the sandy bottom of the channel with great viz all around. The second was a much more gentle affair which barely involved moving your fins to be carried forward – it also let us stop to look under ledges where there were huge stingrays to be found, while more whitetip sharks patrolled nearby.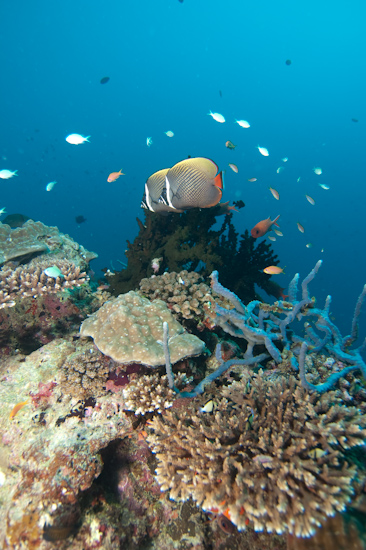 There are not many night diving sites in the Maldives thanks to the ever changing currents, but Maaya Thila is a stand out location due to the large collection of stingrays, turtles and whitetip sharks that are active at night. It's a deservedly popular dive site so you might encounter other groups of divers there too. Maaya Thila is also worth checking out during the day – when it's just right, the site can be teeming with fish when there's current to carry in big shoals of fish.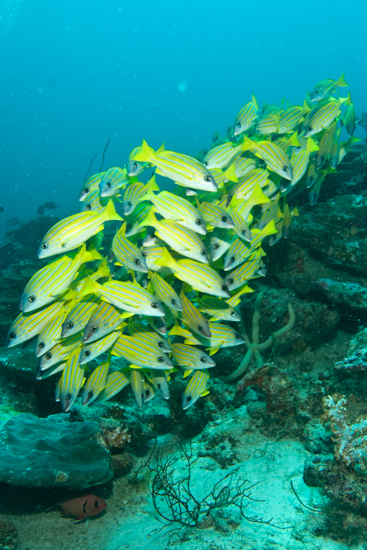 Fish And Ships
Haza Thila was one of my personal favourites of the trip thanks to the jawdropping clouds of fish racing around the pinnacle – vivid coloured fusiliers coursed over the pinnacle's top and down around us, while huge schools of snapper hundreds of fish strong hung in the current, eyeing us cautiously as we approached. Chunky dogtooth tuna cruised on the edges of the shoals, weaving in and out of the fish as whitetip sharks passed by underneath. I spent a few seconds level with a white spotted eagle ray as it rode on the current before speeding away. Haza has a convenient plateau at 10 metres stacked with big tables corals and dancing schools of tiny turquoise and orange fish.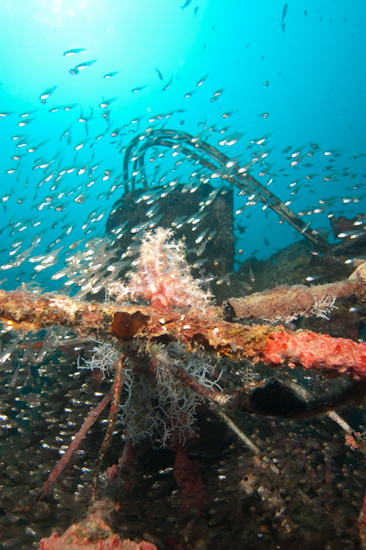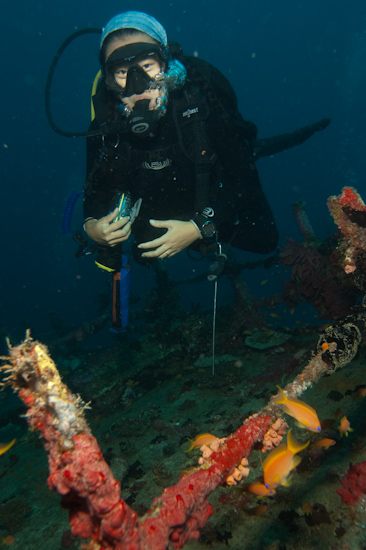 For our final dives, we visited the Kuda Giri wreck, which is extremely photogenic thanks to its incredibly colourful coral growth and resident schools of glassfish. Sitting upright with the bow at 20 metres, it's perfect for diving (and indeed was deliberately sunk for divers around 20 years ago). There is still the giant propeller at the ship's bottom down at 35 metres. Beyond the wreck is the near vertical slope of the thila itself, which levels out into a shallow plateau of corals.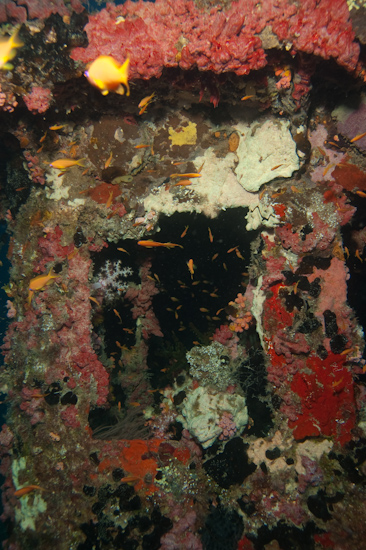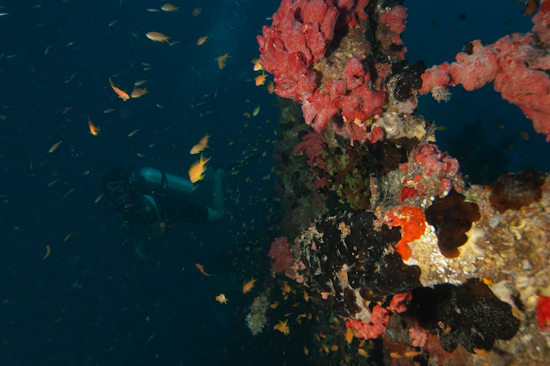 Once back in Male atoll, we dived where we'd start at Lankan point in the hope of seeing manta rays again. It turned out to be a real grand finale – we encountered three mantas together at two different cleaning stations, sweeping across the reef in graceful arcs over the heads of slightly awed divers before unhurriedly heading out into the blue in a synchronised manta train.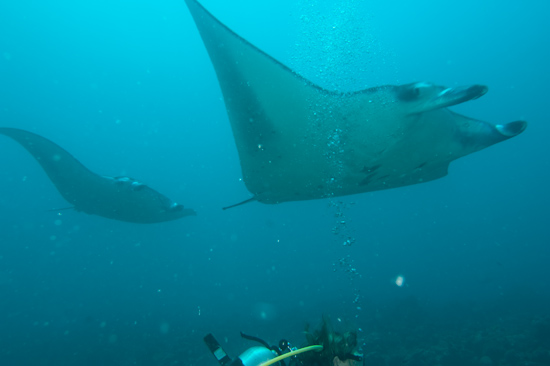 In all, despite not having much luck at Hani Faru, it was an excellent trip with a good diversity of dive sites and some great big pelagic action. It's my third visit to the Maldives to dive in north Male and Ari, and I'd love to go back to Hani Faru again and also venture down to the far south of the Maldives to see more of this unique dive environment.