This has to be the most incredible underwater footage of manta rays and whale sharks I've ever seen – scores of them in a feeding frenzy at Hanifaru in the Maldives
httpv://www.youtube.com/watch?v=yihoIvUBDM4
This video clip from National Geographic is absolutely insane. Scores of manta rays and several whale sharks duking it out to see who can eat the most microscropic plankton in Hanifaru in the Maldives. Hanifaru Bay lies in the Baa Atoll, and this gathering of manta rays and whale sharks – sometimes scores of mantas and several whale sharks, which are usually solitary and very rare – occurs occasionally between May to November.
I am heading out to Hanifaru on the Orion liveaboard next month, and so I'm crossing everything that we might get to witness some of this incredible action. If I saw only a tenth of what goes on in these videos, I'd be a happy man. It might even surpass the best dive of my life…
Also check out this stunning Hanifaru photoset on Flickr taken by Christian Loader – thanks to UW photographer Matthew Oldfield for sending me the link.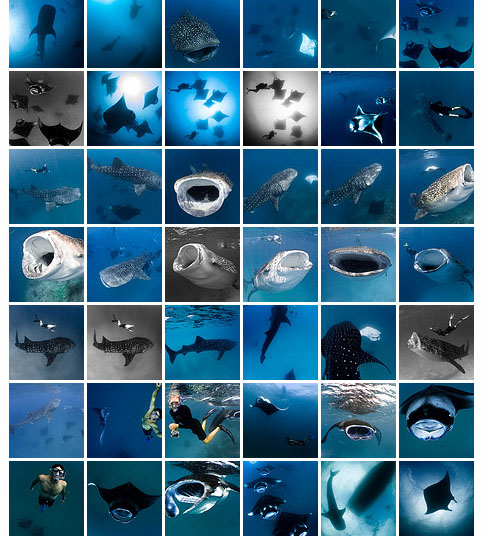 Here's another Hanifaru clip from Aqua Dreams Imaging:
httpv://www.youtube.com/watch?v=4Ah76Di65H0
There's more info about Hanifaru on this page of the excellent DivePhotoGuide.com and Bruce Barcott'sfull Hanifaru National Geographic article, complete with more photos, is also online – definitely worth a read.