Despite having a feast of great muck diving, Davao Gulf in the Southern Philippines has remained largely off the dive map. All that could be about to change.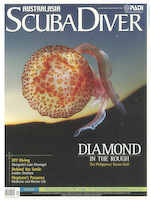 This article was first published in Scuba Diver AustralAsia magazine, Issue 4, 2008. It appears here in a slightly different form.
Photos were kindly provided by Jeff De Guzman, who also illustrated my story in the magazine.
If you were asked to picture what an emerging macro diving destination looks like, chances are you'd be thinking of somewhere remote and uninhabited, a Lost Eden island in the middle of nowhere. But less than 30 minutes boat trip from the huge city port of Davao on the southern Philippines island of Mindanao lies a plethora of spectacular small critters that will have macro enthusiasts grinning with delight. While locals have been diving in Davao's waters for years, there has only been a trickle of foreign divers visiting up to now. It's still an undiscovered dive destination in both senses – there are exploratory trips being carried out by local dive company Wind And Wave each month to explore further along Davao Gulf's miles of coastline as it rolls out to the ocean.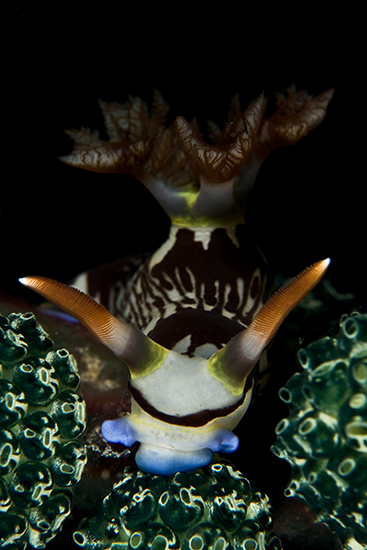 Davao lies at the apex of Davao Gulf, a huge V-shaped swathe of flat calm water that eventually opens out into the Celebes sea. The Gulf is sheltered from typhoons thanks to being surrounded by a ring of mountains, crowned by Mount Apo, the highest peak in the Philippines. Within the Gulf itself, and just across the water from the Davao city, lies the large island of Samal, which creates a natural channel between itself and the mainland and harbours virtually all of Davao's dive sites. Unlike the mainland, Samal remains largely undeveloped besides one luxury hotel resort, Pearl Farm. The rest of the island features the thickly set palm trees and fringing white beaches for which the Philippines are famous. It's hard to believe it's only a few minutes boat ride away from the traffic clogged streets of Davao. Local fishermen paddle tiny one man outriggers up and down the shore as they go about their daily catch, and the occasional container ship heading in for the port is still dwarfed by the sheer size of the Gulf. And all the while, Mount Apo looms overhead catching clouds amongst the bright blue sky. It's not a bad view at all from the dive boat.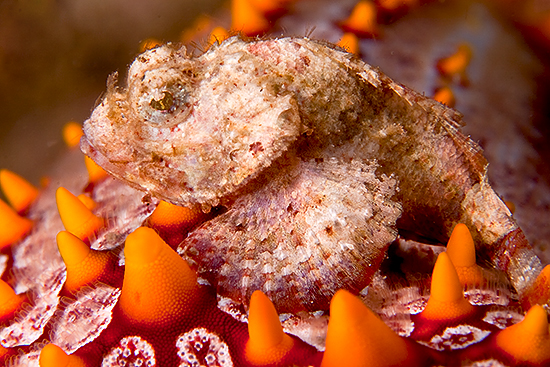 Davao's 20 plus dive sites are situated in clusters around the Pearl Farm resort and Samal's three smaller sister islands, Ligid, Malipano and Talicud, as well as scattered along the coast of Samal itself. It quickly became clear from our first few dives that if you want gin clear water and big pelagics, you'll probably be disappointed by Davao diving. While sailfish, dolphins. dugongs and even whale sharks have been occasionally spotted by local fishermen along the coast of Davao Gulf, they're rarely seen by divers. The water can be turbid and silty, giving an average viz of around 10 metres, and there's the occasional strong current which can signal the beginning of an impromptu drift dive. But for adventurous divers who aren't bothered by less than postcard perfect conditions, Davao provides some fantastic opportunities.
Kaputian is a dive site in point. Dropping in at dusk, it seemed an unprepossessing flat gentle slope of small rocks, with patches of sand and sea grass. Within seconds I was mesmerized by the cowfish that seemed almost as taken with me, backing away slowly but keeping its gaze firmly fixed on me as I had a quiet grin about its cute big eyes and horns. When the cowfish had finally had enough of me, I'd only moved a few more metres before encountering the frozen profile of a reptilian eel, looking like an ornate bottle buried in the sand. More dynamic was the tiny bright blue bobtail squid that resembled a minature cuttlefish, which I only left alone when one of the guides started arcing his torch in a gentle circle to illuminate the graceful seahorse he'd found, some 8 inches or so long.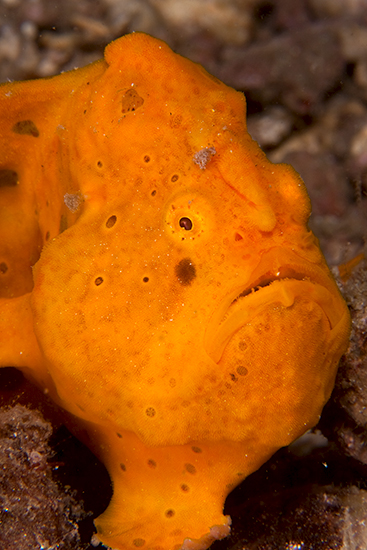 We had split up into two groups to maximize our spotting time, and there was a flurry of excitement from the other group as they stumbled across one of the holy grails of macro diving: a clown frogfish. This tiny creature, panstick white with a huge red stripe running through it just like its namesake, was almost wholly buried amongst the small rock chunks that make up the slope. Our guide Ricci was all smiles when he got out the water as it was the first time he'd ever seen one, let alone found one – even more impressive given it was a night dive!
As we headed back to Davao that night, it was already decided we'd go back in search of the clown frogfish. Instead, we subsequently encountered a harlequin shrimp in all its polka dotted finery and a pair of Pegasus. We dived Kaputian three times in all and it felt like a different site each time and that there was something not only new but quite special too.
Besides the fine muck diving along Samal's coastline, Ligid and Talicud, two of the islands just off Samal, provide impressive coral landscapes with teeming fish populations. Big Ligid and Little Ligid are located around the other side of Samal on the north eastern tip. Little Ligid is a private island that's available to rent by the day if you're feeling particularly decadent. Big Ligid is one of Davao's signature sites and provides the best chance of seeing roving pelagics like packs of barracuda and whitetip sharks riding the currents, which also improves the viz.
The island's craggy limestone walls provide a scenic backdrop topped with dense foliage above water, while underneath the surface the ocean has hollowed out a fascinating cave in Ligid's wall and a pinnacle off its furthest point. The vertical wall drops at around 20 metres and the cave is a large triangular gap at its base. The cave repaid our curious torchlit investigation of its floor with some vibrant nudibranches. Ligid's wall itself is quite breathtaking – the vivid golds of the clouds of fish hovering over emerald green coral with random spots of bright pink and red look like the work of some aquatic graffiti artist, a stunning and slightly overwhelming mix of colours and textures. Seeing a full sized black and white banded sea snake gracefully sidewind across this landscape provided the final touch to a great dive.
Mushroom Rock at the other end of Samal is also a local favourite, a collection of sites with steep walls dropping to 30 metres completely suffused with a neverending tumble of soft corals whose fronds reach out from their vertical incline. It's comparable to Mansud Wall, on Samal's other small island Talicud. Both provide the perfect conditions for an exhilarating drift dive. The abundance of soft coral on Mansud's vertical wall which has a plateau at around 12 metres and then continues down is breathtaking, perfect for hanging in the current and simply taking it all in. The fish life is also abundant here, with plenty of clownfish and the usual reef suspects, along with a ghostpipefish which seemingly materialized out of nowhere, so good was its camouflage.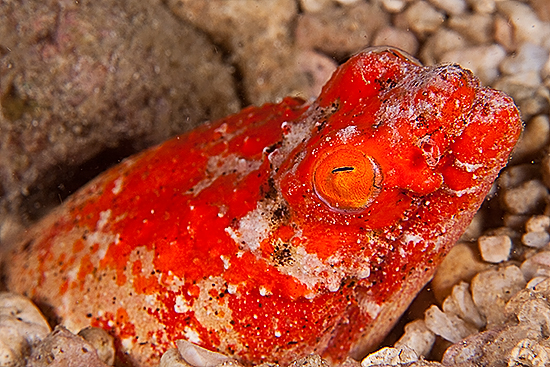 Mansud's two neighbouring sites are very different – Coral Garden is a slightly murky coral patch that provided fantastic photo ops of jawfish peering suspiciously at us from their vertical hideyholes. There is an abundance of the always noteworthy spearing and peacock mantis shrimp in Davao Gulf as well – we spotted them on several dives, lurking amongst rocks and coral and, in one instance, defiantly standing out in the middle of the pebbles and facing us down. Babu Santa was particularly good for spotting mantis shrimp, another ugly looking site of scrubby vegetation on white sand that revealed playful pairs of puffafish cavorting wide-eyed around us, leading the way to the highlight of this dive and a first for me – a clown snake eel, much smaller than the reptilian eel and its crazy paving camouflage making it look a little less sinister. Even the trash on this site (Talicud island is a popular place for Davao partygoers) had become home to glass shrimp peering out of the neck of a discarded beer bottle.
Right by the Pearl Farm resort are the tiny islands of Malipano, on which are built the owner's quite stunning array of beach houses. Two WWII era Japanese wrecks lie directly in front of the resort in murky conditions that make them only of interest to wreck enthusiasts. Besides seeing another seasnake racing across the deck of one wreck, we also encountered the biggest lionfish I have ever seen, nearly a foot across, only rivaled by the giant puffafish that hoved into view during our following dive at Bing's Corner.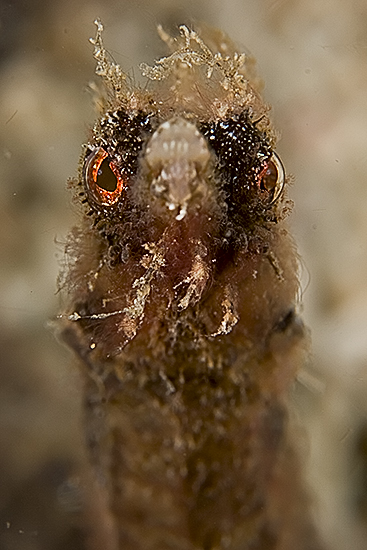 Bing's is a site on Malipano island that encapsulates Davao diving in a way, with a contrasting mix of big, expansive reef and tiny creatures. It's an excellent wall dive with a spectacular carpet of soft corals, lots of fronds and fans meshing in with one another, with a strong drift current in places too. The viz was a little silty but that didn't really matter. Amongst the explosions of coral growth we went looking for pygmy seahorses in one of the immense scarlet gorgonian fans jutting out from the wall – we had no luck this time round, but the giant puffafish was a consolation, as was the plethora of nudibranches we found along the way, with no less than five vivid green and red nudibranches grouped together (easily identified post-dive as chromodoris nembrata).
When you add up the beauty of Davao's natural surroundings above water with the fascinating array of critters under the surface, the ease with which you can visit the city and get to the dive sites as well, the convenience of having big city luxury nearby, and the genuine pride and excitement the dive guides have in Davao in showing off what is still a largely undiscovered dive destination, Davao has got a lot going for it. It may never be a chart topper like Palau or Sulawesi, but Davao has its own unique dive charm.
Thanks to: Albert and all the team at Wind And Wave Davao for organising a great trip in Davao. And to Carlos, for the cheese.
How To Get To Davao:
There are regular daily flights from Manila to Davao with Cebu Pacific , Air Philippines and Philippines Air. Air Philippines allow scuba divers 25kg of extra baggage for free on production of their scuba certification card.
Entry/ Visa Requirements:
Most nationalities can get a free 30 day visa on arrival at Manila Airport. Check with your local Filipino embassy.
Language:
Tagalog is the official language of the Philippines. English is spoken widely.
Best time to dive:
Davao's sheltered position means year-round diving is possible. The official off season is July to February – I went in September.
Currency:
Filipino Peso. US Dollars and credit cards are widely accepted, although check ahead with your dive operator to ensure you take acceptable payment.p