Going on a Komodo liveaboard is like undertaking an epic voyage – over 10 days, a typical Komodo dive route covers hundreds of miles and sweeps through ever changing and always breathtaking landscapes both above and below the water on a round trip through The Komodo National Park.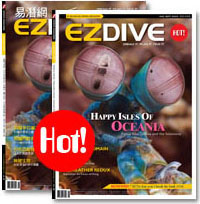 This article was first published in EZ Dive magazine, Issue 1, 2009. It appears here in a slightly different form.
The S/Y Siren photos are their official pix, with video from Ai Futaki, except the octopus one.
Despite the burgeoning popularity of Komodo as a dive destination, it is still very much a remote wilderness, savagely beautiful and potentially dangerous too, as typified by the famous deadly Komodo Dragons which inhabit the island at the heart of the National Park. Much of the hundreds of square miles of the park's protected area remain unexplored, and the incredible richness of the marine life here brings still about new species discoveries each year.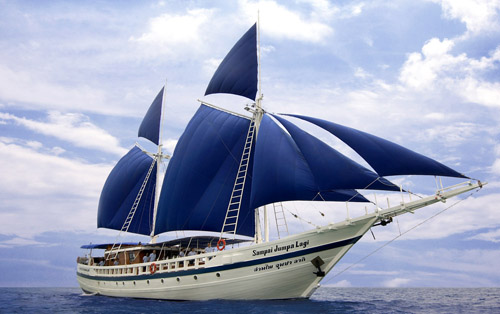 The S/Y Siren begins its Komodo voyage from the port on Bima island, which requires a one hour flight from Bali. Bima itself doesn't have much to offer visitors, but it does mean that divers get to spend more time in the Komodo National Park itself rather than sailing to and from Bali. (There's a separate S/Y Siren Liveaboard Review here on Divehappy if you're interested in finding out more about the boat and its diving practicalities).
I've dived in Komodo previously with the Peter Hughes boat Komodo Dancer (see my Komodo diving with Komodo Dancer writeup), which departs from Bali – it was good to have seen the amazing scenery along the way, but the extra day of sailing to and from Bali is not really worth it in dive terms, I think – making the short flight to Bima or Maumere or Labuan Bajo to be much nearer to the Komodo National Park is preferable for those looking to maximise their diving time.
Bima Bay is the beginning and end of the trip, a little explored muck diving haven that's got a lot to offer for those who like seeking out small critters and don't mind murky conditions and trash strewn, unphotogenic reefs. The main site here is 'The Unusual Suspects", but we also tried a couple of not unnamed parts of the bay where the diving was just as good. Between the three sites we found a beautiful mimic octopus that was happy to play for several minutes, lots of sizable nudibranches, blue ribbon eels and a couple of ordinary octopus that were not too shy, one of them putting on a real display as it moved across the reef.
httpv://www.youtube.com/watch?v=7m3YgGkrjaI
The island of Sompa was our first stop after we set sail into the Park itself, where we dived in the beautiful visibility of The Circus. There is a great collection of coral here, all very shallow (10 metres maximum) and there was an impressive giant black frogfish hanging out on one of the table corals, who was thoroughly unimpressed by the divers crowding around him.
Roller Coaster is so named for having some strong currents which push along into a more gentle reef around the corner. I opted to skip the current bit and get dropped straight on the reef, a big wall slope with lots of lush soft coral and great viz again. I had a real stroke of luck as I casually examined a crinoid to find a beautiful ornate ghostpipe fish hovering inside it – I spent several minutes trying to photo it and then glanced up, only to see a manta ray exactly parallel with me about 5 metres away in the blue – it was a classic double take moment, and almost as soon as I got over my surprise it was gone, gliding along the reef into an encounter with the other group of equally surprised divers just around the corner, as I found out later. Talk about a contrast between the size of the ghostpipefish and the manta.
httpv://www.youtube.com/watch?v=yZ6d7n6geLs
From here, we headed to Gili Lawa Laut. This area has three of Komodo's stand out dive sites – The Lighthouse, Crystal Rock and the real king of the hill, Castle Rock. All three sites are prone to extreme currents but they are also the congregating point for thousands of fish. Castle Rock in particular provided a couple of absolutely mesmerizing dives, the plateau of the rock below becoming the setting for an early morning smorgasbord of snapper, jacks, and fusilier schools all intertwining with each other and then separating again, while below sharks rode the currents biding their time for breakfast. I watched amazed as a dolphin broke up the coral with its beak to find food, before heading up to the surface right in front of us to be reunited with its calf. The first thing everyone one asked when they got out of the water at Castle Rock was "When are we going back in?"
Nusa Kode lies at the far south of the National Park, and it's here that the Komodo Dragons are found on the islands of Komodo and Rinca, as well as the iconic dive sites of Cannibal Rock and Yellow Wall. The water temperature here is much colder, dropping to a chilly 23 degrees, making for a wholly different environment underwater. On the Rock's large mount, giant nudibranches and sea apples can be found, along with equally large frogfish amongst a tangled, colourful web of soft and hard coral. Back on the boat, Komodo Dragons can be seen patrolling the overcast shoreline nearest to Cannibal Rock, making the area look like a real life Jurassic Park.
httpv://www.youtube.com/watch?v=7sH16puZ_Io
It would be difficult to find a greater contrast to Nusa Kode's chilly climes than Sangeang, the still active volcano that heats the water around it that makes up the final destination for many Komodo trip. The hot water promotes a plethora of coral growth on the black volcanic sand, but for many divers, the chance to warm their hands by the volcano's underwater sulphuric vents remains the highlight of diving Sangeang.
As a dive destination that offers a taste of everything, it's hard to beat Komodo – remote, protected waters largely unspoilted by human intervention; encounters with a huge variety of marine life big and small; a fascinating diversity of underwater environments; spectacular topside scenery – and the chance to come face to face with the Komodo Dragons themselves.
Video Note: The videos above were shot by Japanese videographer Ai Futaki – she is an accomplished freediver as well as scuba diver. The first vid was filmed while freediving in Komodo – follow the link for more info. The second vid was shot on scuba at Castle Rock and other locations. The final video below is an Evil Mermaid — watch out for those…
httpv://www.youtube.com/watch?v=gwZz3GUePnA