Thinking about going on a scuba diving liveaboard on the S/Y Siren? Here's a rundown of some of the practicalities about the boat that might help make your decision.
I went on the S/Y Siren in September 2008 and subsequently had the account of our Komodo dive safari published in EZ Dive Magazine a year later. Here's a rundown of the practicalities of what the S/Y Siren is like as a dive boat.
S/Y Siren Destinations
Komodo, Indonesia
Similan Islands, Thailand
Andaman Islands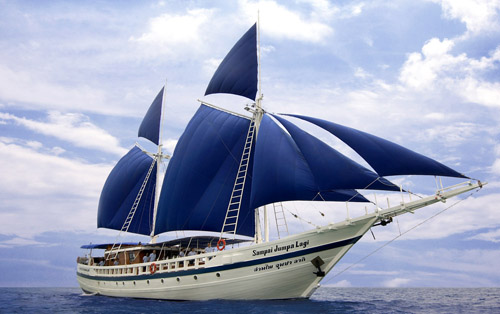 The Boat
S/Y Siren is a new, purpose built luxury scuba diving liveaboard boat owned by Worldwide Dive And Sail. The Siren (formerly known as Sangai Jumpa Lagi) has spent two years running trips in Komodo, Indonesia, the Similan Islands in Thailand and the Andaman Islands in India.
Dutch national Frank Van De Lindt is WWDS's main partner, the Siren's cruise director, and also its builder – along with his father, Frank designed and built the Siren from scratch in Indonesia. As such, while the boat looks like a traditional Indonesian pinisi-class schooner at first glance, it has a very different layout once on board, because it is a custom built boat.
First Impressions
are that the Siren looks gorgeous – newly built, beautifully finished with polished wood everywhere and with some unique design touches. It certainly feels like a luxury boat.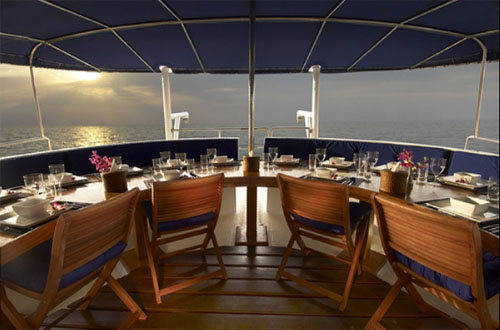 Boat Layout
Eating Area: The main mess area is located at the back around a horseshoe shaped table. This provides a great alfresco eating area that is also protected from the elements, with complete suncover and also effective rolldown plastic windows if the wind gets up.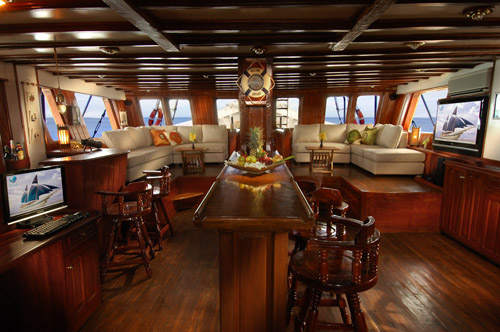 Saloon: The ship's air-conditioned saloon is mainly used for watching movies on the large plasma screen and relaxing on the two L shaped couches. There is a serious espresso maker in the saloon for coffee addicts. There is a large, uncovered sundeck with sun loungers located directly above the ship's cabin.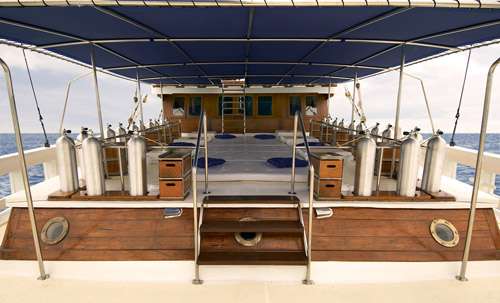 Dive Deck and Dinghies: Located at the front of the boat with tanks arranged around a central raised platform. Guests then step down onto a fixed steel platform to two dinghies – the dinghy is always located a sizable step down beneath the platform, so getting into the boat in full scuba gear is not the easiest operation. The big dinghy is fast, the small dinghy not so fast.
The boat boys are proactive and helpful and bring everyone's gear back onto the boat from the dinghies after a dive, although you'll need to retrieve it from a central pile at the front of the boat to ensure you have everything to hand for the next dive.
A fresh towel waits for you at your tank station each morning when you get back from your first dive and is replaced each day. You get a hot towel when you get back from a night dive, along with water or tea served as you step back onto the boat.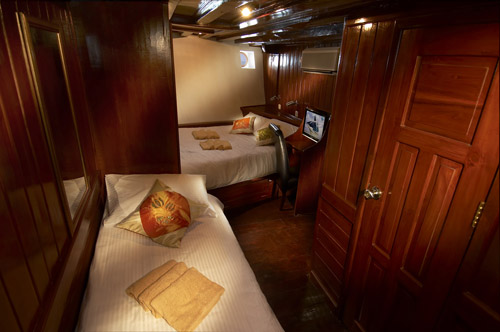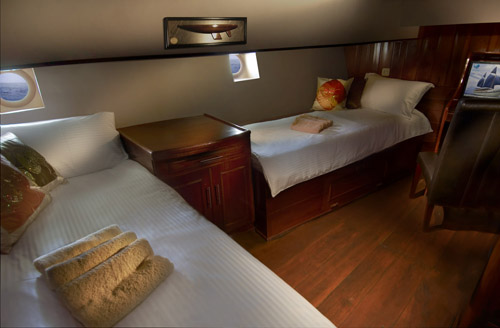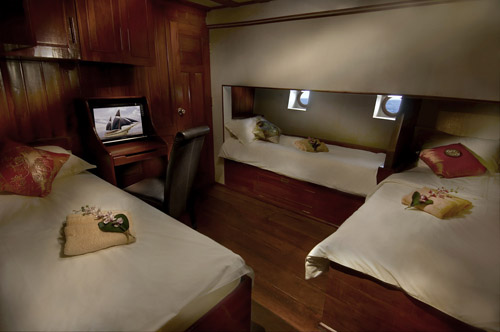 Sleeping Quarters: Maximum of 16 guests. A variety of well-appointed air conditioned cabins – double bed, twin bed and triple bed are available, each with their own ensuite bathroom with marine toilet and shower and in-room computer where you can access movies and music from the ship's network. The beds are comfortable and the cabins a good size with ample storage space, although the chair at the computer desk in my room stopped the bathroom door from opening fully. There are fresh towels, dressing gowns, hairdryers – it's quite posh.
Food And Drink
The food on the Siren is uniformly excellent – a mix of international, Indonesian and Thai cuisine, as several of the staff are Thai. There are the usual 3 meals a day served buffet style where you can help yourself, with snacks after the afternoon dive and hot peanuts and cashew nuts served at sunset to accompany your sundowner. The Siren also has a heavy duty espresso maker which makes superb ground coffee.
The Siren has a Free Beer and Soft Drinks policy which I found highly commendable. I sampled several purely in the name of research. Cocktails and wine are available to buy if you're not fond of the free local brew – in our case, it was Indonesian Anker beer. There's tea, coffee and hot and cold water available at any time. If you have a problem with people smoking, be aware that most of the staff on the Siren smoke and most outdoor areas are considered smoking areas.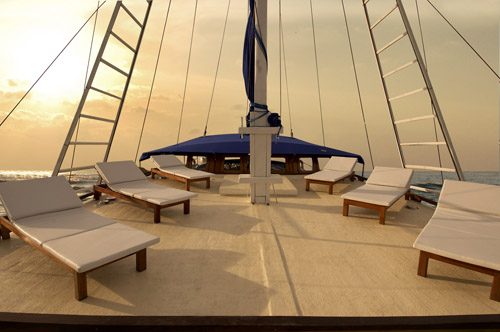 Dive Routine
4 dives a day, with night dives available 5 times during the trip as one of the 4 dives. The Siren offers free Nitrox, which is a nice bonus. Backroll entry from the two dinghies. On my trip, there were two guides for 12 people – Frank and Thai guide Reung – but I think there are more guides normally. You can either stick with them to find stuff or do your own thing with your buddy, if you are considered experienced enough by the dive crew to buddy dive in Komodo's occasionally tricky waters.
Dives are recommended to be 60 minutes long, although guests can dive as long as they like. The guides come up after 60 minutes, and after 45 minutes when diving in the colder waters of southern Komodo in Nusa Kode (Cannibal Rock, Yellow Wall etc).
Diving with a safety sausage is mandatory – with two dinghies, one will remain on site while the other ferries divers already up back to the Siren.
Photography Setup
Large rinse tank by the front of the dive deck with regularly changed water.
The Siren has different styles of diving for different trips – the boat runs Photography Charters in Komodo with onboard seminars given by photo pros and sites specially selected for the best photography, along with more photo setup and maintenance areas. I haven't been on one of those trips so I can't comment on it first hand, but I'd suspect these would suit a serious photographer better than the standard Siren trip.
There are 220V / 50Hz and 24V / 60Hz power outlets available in each of the guestrooms. You should bring your own universal adapter.
Dive Gear Rental
The Siren has a fairly large selection of dive gear on board for free use by guests if you require it. Best to enquire at the time of booking for specific dive gear.
Marine Park Fees
Marine park fees are not included in the Siren price – they are approx $100 US for Komodo.
Arriving and Departing From the Siren
For Komodo trips, the Siren arrives and departs from Bima rather than Bali. This requires a flight on Merpati Airlines from Bali to Bima – the cost of a return flight is around 170 Euros. Worldwide Dive and Sail can organize the ticket for you and have someone to come and meet you at Denpasar domestic terminal in Bali to deliver it to you.
A quick summary:
Positive:
– Custom built boat, beautiful finish, great alfresco mess deck at the back
– Great food
– Free Nitrox, Free Beer
Negatives:
– Getting into dinghy can be difficult
If there's any aspect of the boat you'd like to know about that isn't covered above, please leave a comment and I'll do my best to help.