Palau Weh is a tiny island at the tip of Acer in Indonesia. It's not easy to get there but it's renown as a spectacular dive spot that survived the tsunami and continued to flourish. Ayesha Cantrell describes her experience of this hidden gem
My unrequited love affair with the small Indonesian island of Pulah Weh started many, many years ago when I first hoisted a backpack to my shoulders. Come hell or high water it was the one place on my planned trip that was not to be missed. Unfortunately that's exactly what happened on that and my subsequent attempt to visit. My first attempt was a not long after Sept 11th when the ensuing conflict made it unsafe to travel across the war torn and troubled province of Aceh to Pulah Weh.
My second attempt was planned for January 2005 – just after the tsunami hit on December 26th 2004. Pulah Weh was only miles from the epicentre and the area was devastated. Aceh Province has always suffered more than its share of trouble and as I watched from afar my desire to visit grew. Over the years I'd jealously listened to many people talk about their experiences on this hidden gem and every story re-enforced my initial research ; a little known diving paradise where you are as likely to see a sun fish or megamouth shark as you are whale shark or manta ray, unpredictably magnificent, unspoilt and to many beyond description.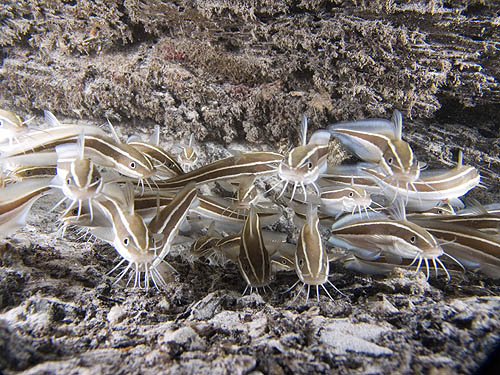 Cat Fish
Planes, Trains and Automobiles
Pulah Weh isn't easy to get to and that fact alone will probably keep it a secret delight for years to come. The closest airport to the island is in Banda Aceh where a short taxi ride will take you to the ferry terminal but with only two ferries a day you'll be in for a long wait or an overnight stay depending on your luck. You can fly direct to Banda Aceh from Jakarta, Kuala Lumpur and now possibly Penang which will all probably involve a couple of flights. Check with the dive centre for the latest transport updates and tips.
Medan, the Capital of Sumatra, is your gateway to Aceh, you can fly there from most places in Asia. Come from Europe and you will have to fly into Asia before connecting to Medan and then to Aceh. I flew from Penang in Malaysia to Medan to Aceh and caught the afternoon ferry to Pulah Weh and managed it all in one long day. Visas can be applied for before your trip but a visa on arrival is possible but only with Indonesian currency. If you arrive without, like we did, you will be promptly escorted to a cash machine !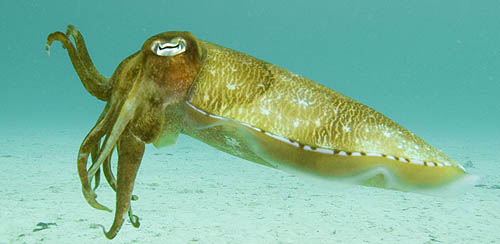 Cuttlefish
Isle Be Quiet
There's very little evidence of the havoc caused by the tsunami. An inconspicuous blue line marked high on the dive centre wall quietly affirms the height to which the water rose. If you know what you are looking for you can see signs of water damage to the land and some houses still stand derelict but life has certainly carried on. The island itself is basic and quiet, heavily wooded and hilly. There are no reliable banks on the island so a careful eye on the cash flow is required. Being Muslim, there's no alcohol either so you are in for a relaxing, detoxifying dive vacation. Now there's something you don't hear every day! Food is local, simple and tasty. On the beach you have your choice of basic local food, lovely barbecued chicken and, by request, freshly caught fish. There is a small pizzeria for those craving a bit of western nosh and Mama Doughnut will be by everyday to satisfy your sweet tooth.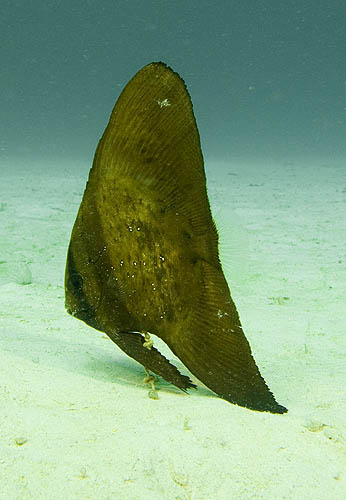 Leaf Fish
Where To Stay
This is not a busy tourist spot and is very much a local place, only two beach areas offer accommodation in any number and the choice is fairly limited. Lumba Lumba is the place to dive, a small dive centre direct on Gapang beach with a sleepy relaxed air to it. There are a number of beach huts and wooden bungalows for you to choose from. They are basic, power frequently fails and the bathrooms are standard Indonesian cold water troughs and buckets. Ton and Marianne, Lumba Lumbas long standing owners, do have a number of bungalows directly behind the dive centre and these are by far the nicest. Whatever you choose, Ton and Marianne will help you with arrangements.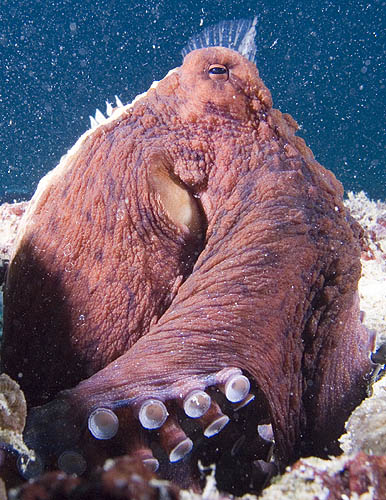 Octopus
It is advisable to contact them and book in advance as weekends can be busy with NGOs from the mainland. The dive centre do take credit cards, when the phone line works, and for some accommodation, they are happy to take your credit card payment and pay the accommodation on your behalf. This will certainly help your cash go further but do check this in advance. Another small beach is a half hour walk from Gapang and makes a nice change one evening. More bungalows are available here and Lumba Lumba will collect you on the way to the dive site – this does involve you swimming from the shore though!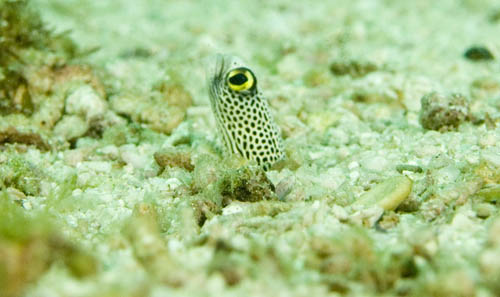 Eel
The Dive Centre
The dive centre itself is small, without nitrox, but otherwise fully equipped. It's a great place to hang out between dives with a large comfortable deck, lots of reading material, cold drinks and the all important hammock! Internet is sporadically available but make yourself comfortable and dont try anything too taxing. The dive centre operates like a home for all divers with long stayers often using the kitchen to cook meals for everyone some evenings, its a real family atmosphere.
The divemaster staff are very experienced local guides, great fun and good spotters. The team includes just a couple of instructors and a number of divemaster trainees who have been wise enough to choose paradise in which to do their training. Boats go out twice a day for single dives where your maximum dive time is one hour and sites are no more than 30 mins from the shore. Shore diving is accessible to you at any time. The boats are very simple local wooden boats with slatted benches, your gear is tightly packed in with you leaving little room but once you are in the water any discomfort will be long forgotten.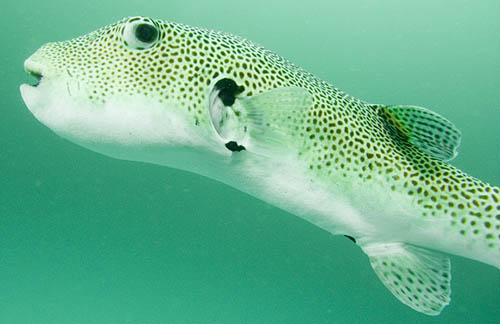 Friendly Pufferfish
The Diving
After travelling all day I was too tired to dive so my buddy and I went snorkelling from the shore instead. I'm not one to snorkel for long but I found I couldn't leave the water. It was exactly like I had been told. Shrimp fish bobbing around, sea snakes, so many different types of butterfly fish and trigger fish – a true myriad of colour. I couldn't wait to dive.
The diving is erratic and can be turbulent with strong currents. To give you an idea one of the dive sites is called Arus Balee which roughly translates to 'bastard current'! It was a mass of moving colour, streams of fusiliers and endless life – I was dizzy. Batty Tokong, ("don't stay too long"), was one of my favourite dive sites with so much to see, more species of moray eels per square foot that was truly fair. It's nudibranch heaven too, the eagle eyed will spot so many colourful critters. On one particular dive we were really dodging the current, even the fish were hiding in our slipstream, but the dive masters expertly guided the dive in sync with the current.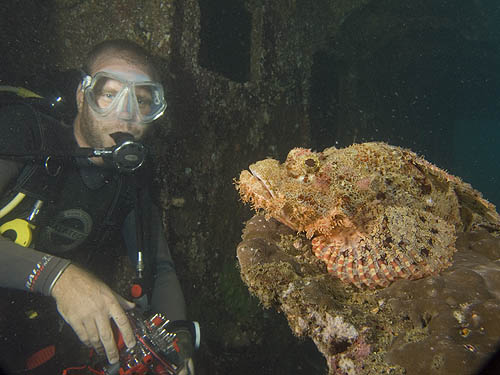 Wilco and scorpion fish at Sabang Wreck
The Canyon too was an amazing dive, I saw a monster tunafish, fatter than me ! The site is as grand as the name infers and only two days before our arrival, a sunfish had accompanied a cold water belt into the site. The shore dive is a great relaxed dive with ghost pipe fish, friendly puffers, demonstrative cuttlefish and plenty of colourful distraction swimming around you. Scorpion fish hide beside rocks where you will find octopus pulsing and shying away. I even saw a crocodile fish as big as my little finger nail. The place is literally teaming with life.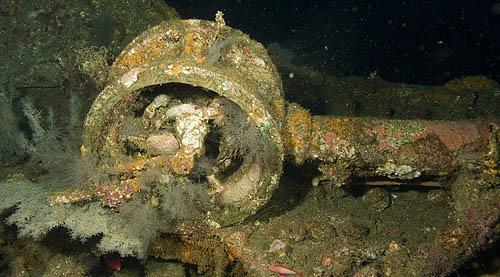 Telegraph of the Sophie Rickmers
As a wreckaholic, the Sophie Rickmers was high on my list of places to visit. She sits upright and was scuttled at anchor by her crew after she fell into enemy hands. She's deep, the deck runs 42-50m, and 134 m long, the props are gone but amazingly the telegraph still lies on the deck. Due to the depth,the dive crew are very particular about dive practices. Only the experienced with deep dives logged can go and then only after a number of preceding dives and a deep dive check. If you like wrecks, she's well worth a visit. Another, less challenging wreck, lies shallow in Sabang harbour. A small wreck but with quite some life and the ever present scorpion fish. A chance to dive hot bubbling springs is also offered if you can get past the stink of the sulphur.We saw white tip sharks, tons of jack fish, turtles and were truly surrounded by abundant life on every dive.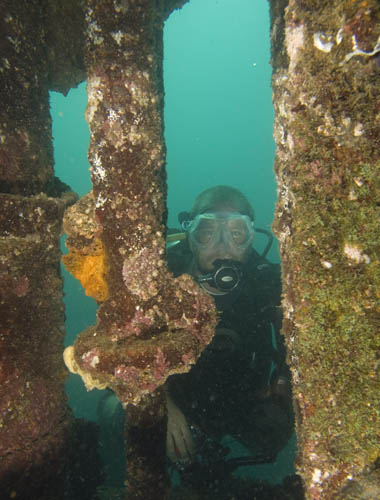 Wilco at Sabang Wreck
Seeing The Sites
We stayed 10 days in this beautiful location and could've stayed longer, but we were quite happy with the quietness of the environment. Dive sites were repeated in the schedule over this period but, to be honest, the first time you see them you will be that dazzled that a second or third outing to the same site just improves the experience. There are 19 dive sites available but not all within the distance of the normal daily schedule. We were lucky enough to be able to join a full day trip to see the sites further afield. Full day trips will run if enough people want to go and are a good fun day out including 3 dives. We were treated to sharks, turtles, barracuda, napoleon wrasse, humphead parrot fish, lion fish and more.
10 days was a good time to spend here, a week is too short given all the travelling to get there and after 2 weeks you might be running out of cash and maybe want a little more life and a cold beer! The diving was amazing and it you are the type of traveller to take the bumps in your stride then you too will love it here. After waiting to get there it certainly wasn't an anti climax and offered a truly varied dive experience. I'm biding my time to go back.