Bad weather stopped a planned exploration of Sulawesi's Sangihe archipelago, but diving around the astounding sites of Bangka more than made up for it
[This article originally appeared in Issue 100 of Asian Diver magazine (November 2008) under the title Sulawesi Surprise. I've previously written a Sulawesi trip report on the Ocean Rover liveaboard from this same trip – what follows is a more in-depth description of the diving around Bangka in Indonesia]
It's a disappointment every diver has to learn to live with – sometimes, the weather just won't do what you want it to. We'd already spent a couple of idyllic days on the Ocean Rover liveaboard, exploring the Lembeh Straits and Bunaken national park while waiting for a break in strong easterly winds to let us head out into the open ocean and explore our main goal, Indonesia's Sangihe archipelago. This chain of islands lies off Sulawesi's northernmost tip, scattered over several hundred kilometres, and while August should have been ideal conditions for diving around them, the wind and waves refused to die down. We needed to come up with another plan.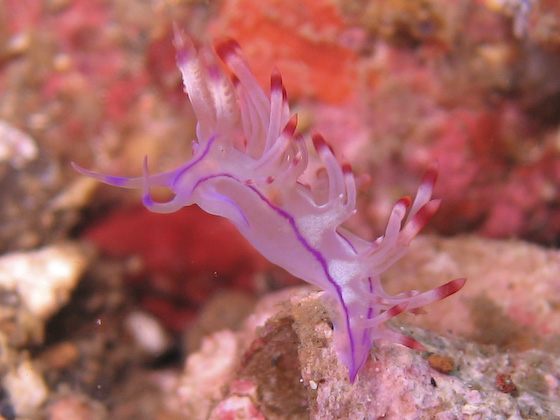 While getting to the Sangihe islands of Biaro and Siau had been overruled by the boat captain, we could still explore the beginning of the archipelago around Bangka, the island nearest to the Sulawesi mainland and located directly between Bunaken and Lembeh. While these two areas are world famous for their stunning wall dives and profusion of weird critters respectively, Bangka is rarely cited as one of Sulawesi's main dive attractions.
This was something I found hard to believe within a couple of minutes of dropping in at our first Bangka dive site, Sahaung — the visibility here was tremendous although a chilly 26 degrees, allowing us to see at least 30 metres and bringing a cinematic clarity to each of our dives. It was a complete contrast to the fascinating but murky Lembeh dives we'd done previously, like someone had switched on floodlights underwater.
The whole seascape was laid out before us, each detail of orange, yellow and green coral vividly apparent on the dramatic dropoff that swept around to a plateau studded with boulders that provided some shelter from the insistent currents that pulled us along the wall. A huge school of sweetlips provided mesmerising entertainment in the form of Olympic synchronized swimming routines, breaking into smaller groups and then flowing back together into one collective of hundreds of fish before spinning off again into ever more complex formations.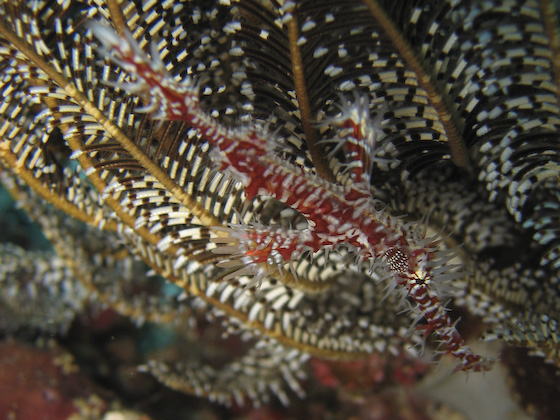 Batu Goso II is perhaps the most dramatic of Bangka's sites, a craggy line of pinnacles that just break the surface and drop to 40 metres. They look like the scenery for an aquatic Lord Of The Rings. Hovering besides one of these and being able to see all the way to the bottom induces nothing less than the sensation of flying between mountains. Batu Pohon and Batu Tiga both have pinnacles that rise like huge granite fingers from the bottom at 30 metres, standing alone in the middle of a bright white sandy plain. Back off out into the blue a little way and you can see each pinnacle from its base to tip, before zeroing in on the profusion of soft corals that cling to each of them. Amongst the corals at Batu Pohon we made a startling discovery that made me wish for a magnifying glass – curled away in one crack of the rock was a leafy seahorse, as tiny as a pygmy seahorse but not quite so photogenic, with its mottled greens and greys making it almost impossible to spot.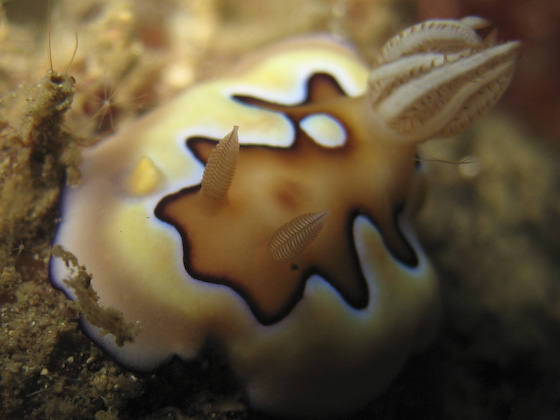 Indeed, there's a fascinating contrast between the panoramic scale of Bangka's sites and the tiny creatures that are most often found amongst them. Nudibranches in particular are very prevalent, with at least a half dozen different ones spotted on each dive. While Bangka doesn't quite match Lembeh for the most weird critters per square metre (then again, where does?), there is a profusion of otherwise hard to find marine life that makes almost every dive eyepopping. On most dive sites, it's a source of celebration if you can find one tiny ghostpipefish skillfully camouflaging itself against a crinoid or coral. At Bangka's Batu Kambing we found not one or two, but nine ghostpipefish, all within a couple of metres of one another. The guides didn't know which coral to point to first, and those with cameras were similarly perplexed about how to capture all of these delicate creatures on disk before their air ran out. Besides the harlequin ghostpipefish and the robust pipefish, which looks uncannily like a discarded reed, there was also the rarely spotted velvet ghostpipefish, which has a nondescript grey colour but the bizarre texture of material.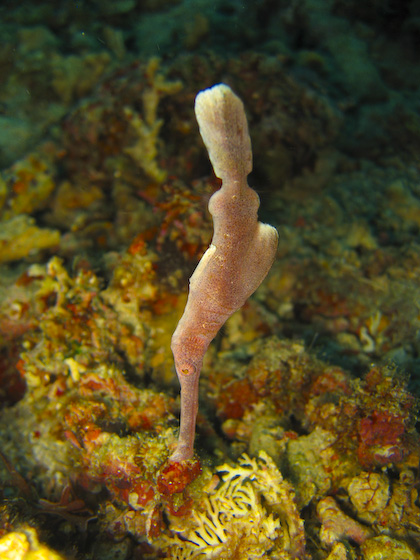 Batu Kambing had one other surprise for us as well – once everyone was back on the boat and thinking about breakfast, the crew started shouting they'd seen something surface near the shore. It was a very rare and very shy dugong, who nevertheless stayed around long enough for a couple of hardy snorkelers to make their way out to see her for a few seconds before she disappeared.
The dugong was not the only surprise – as we steamed back towards Lembeh Strait with our liveaboard coming to an end, the idea of searching for thresher sharks was proposed over dinner. This I found harder to believe than the dugong, but threshers had apparently been seen a few times at Batu Kapal, located at the northern most tip of Lembeh island. With their superlong tailfin, they are unique looking creatures, but I thought the chances of seeing one was zero. Batu Kapal itself is a desolately beautiful site, a big, current blasted wall that shelves out at around 30 metres before dropping down even further, quite unlike what you would expect from Lembeh. As we patrolled along the shelf, my guide found a nurse shark sleeping underneath an overhang, wedged in diagonally amongst the rocks. It was an exciting find, but not quite what we'd been hoping for. As we floated above the plateau in the blue, I signaled to my guide that we should start heading to shallower depths. He gave me an OK and then I saw his eyes widen through his mask and he started frantically pointing behind me. Spinning around I saw a the unmistakable sight of a thresher shark speeding past us, a few flicks of its tail propelling it far quicker than we could hope to keep up, before it disappeared into the gloom.
A fitting finale to our improvised exploration of some of Sulawesi's lesser known sites that, despite our initial disappointment at not seeing more of Sangihe, turned out to be quite spectacular in its own right. Bookended by dives in Bunaken and the Lembeh Strait, exploring Bangka should be part of any Sulawesi dive itinerary as it's definitely full of surprises.
Ocean Rover – A New Beginning
The Ocean Rover liveaboard recently permanently relocated from Thailand to Indonesia. Under the new ownership of Roman Szalay, originally from Austria, the Ocean Rover will be dividing its time between Sulawesi and Raja Ampat.
Ocean Rover is one of the few boats to have the stringent International Maritime Organization (IMO) number, which makes it one of the safest liveaboards in all of Asia – the boat has not one but three engines it can use as backup, along with replacement navigation and communication systems.
You can read more about the Ocean Rover and see photos of the boat's interior in my in-depth review of the liveaboard
Dive Trip Planner For Bangka:
Getting there
The nearest airport to northern Sulawesi in Indonesia is Manado – Silk Air fly there from Singapore, Garuda from Jakarta and AirAsia from Kuala Lumpur. Check and compare flights on and .
Accommodation
If you want to stay on land before or after the liveaboard, you're probably best off staying at one of the many Lembeh dive resorts or Bunaken dive resorts. There is a wide variety of hotels in Manado too.
Entry requirement
7 day and 30 day visas are issued on arrival in Indonesia – they cost $10 and $25. You can pay with US cash or Indonesian Rupiah. Make sure you have a free page in your passport for the visa and that your passport is valid for at least 6 months after time of entry.
Best time to dive
October to December and February to April is best time for diving Sulawesi, so avoiding the wet season.
Electricity
220v. Bring a universal plug adaptor. Many liveaboards also have 110v.
Climate
December to February is the wet season in Sulawesi, but does not necessarily affect diving.
Language
Bahasa Indonesia is the country's official language. English is spoken widely.
Currency
Indonesian Rupiah. $US1 = 10,000 Rupiah. Most liveaboards and hotels quote prices in US Dollars. Credit cards are accepted on most liveaboards and at hotels, but check in advance. Bear in mind things like port fees and staff tips need to be paid in cash.
Dive Operator
Ocean Rover provides luxury liveaboard cruises of north Sulawesi, covering the Sangihe archipelago, Bangka, Bunaken national park and the Lembeh Straits. www.ocean-rover.com