Feel like you're on the edge of the world with this charismatic stilt-built reef resort out in the open sea and close by to Sipadan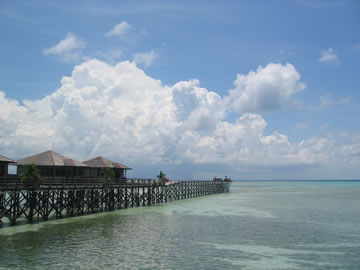 Rising directly out of the stunning blue depths of the Celebes sea on a series of graceful stilts, Kapalai resort seems to almost hover directly over the water with no land in sight either under or around it. It's a graceful illusion created by the reef over which Kapalai is suspended and which remains wholly submerged for much of the day. There's a sense of being at the edge of the world on Kapalai, like some sort of luxury frontier post cut off from the rest of civilisation.
This sense of remoteness is also an illusion, as Kapalai lies a mere 10 minutes speedboat ride from the islands of Sipadan and Mabul, and about an hour's ride away from the mainland city of Tawau. The reef beneath Kapalai's handsome chalets, each of which has its own private sea view and remains beautifully cool thanks to the ocean breeze, is famous for its macro, or muck, diving – that is, looking for tiny things in the sand. Our dive leader took us on a tour of the house reef, where we simply waded into the water off the end of the jetty, and within minutes had found us two frogfish and, most spectacular of all, a flamboyant cuttlefish. These critters are much smaller than their more common cousins but their pulsing display of colours across their skin is even more incredible.
Despite the viz on our dive being fairly low – down to about 10 metres – the nature of muck diving meant that it didn't really impede our scanning of the reef to see what other small but perfectly formed sealife we could find. The amount of particles in the water might have been more of a problem for photographers. Still, this was only one dive and it's fairly futile to generalise about conditions from one dive. All of the diving around Sipadan is famed for its great visibility and the richness of its marine life – but luck still determines if your holiday will coincide with those times. My point here is that even with bad viz, the diving off Kapalai was thoroughly enjoyable – and with Sipadan and Mabul only 10 minutes boat ride away, there's plenty of other dive sites to choose from.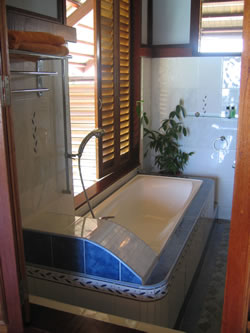 There is little else to do on Kapalai but dive and relax – beyond the promenades and the main restaurant, there's nowhere else to walk unless you jump on a boat, unlike Mabul where you can hike around the island if you wish. It depends on your taste – I found Kapalai to be my favourite resort precisely because of its isolation and the elegance of its chalets. The bathrooms on Kapalai would put some 5 star hotels on the mainland of any continent to shame – beautifully arranged contemporary bathware designs mixed with traditional Malayan dark woods and tiles underneath a vaulted ceiling. The care of their construction, coupled with the breathtaking views out over the sea, means that spending a lot of time in a Kapalai chalet would not be a burden.
Kapalai, then, is an ideal base for those who don't get claustrophobic in each other's company and want to get some concerted diving in, especially of the macro variety. It has a distinct atmosphere to it which sets it apart from other dive resorts and makes it a truly memorable place to visit.
Follow the links to find out more about each Borneo destination: