A secluded island resort that's still near the mainland, Mantanani lets you enjoy great dives without feeling cut off from the rest of Borneo's unique attractions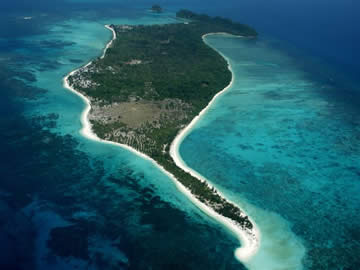 Mantanani is a tiny island only 50 miles from Kota Kinabalu. It's far away enough to feel suitably alone, but close enough to explore the mainland on days off from diving. Getting there is a short drive and boat journey. But you won't feel marooned on Mantanani because getting away again is even easier. You can charter a luxury boat or even a helicopter (which provides an unforgettable experience of flying around Mount Kinabalu, South East Asia's highest mountain) to take you from the island to see the orang'utans at Sepilok and still be back on Mantanani in time for cocktails at sunset.
On approach to the island it's hard to suppress a smile – the sea is a brilliant azure blue, the sand powder white and the palm trees a dense, lush green. It's also completely deserted, as there is only one resort on the island. This makes a trip round the island by boat extremely worthwhile, as there are numerous beautiful vistas to be seen from the sea.
The Mantanani resort is a pleasantly modest affair, with a collection of clean and basic air conditioned en suite bungalows grouped around a central dining area. The location is difficult to fault – It's literally a five second walk into the sea from your front door. The dive store is about 10 seconds walk away. There are plans currently afoot for Mantanani's resort to get a makeover with some additional landscaping and a seafront bar, designed to help the buildings blend further into the surrounding jungle and to add some more touches of luxury.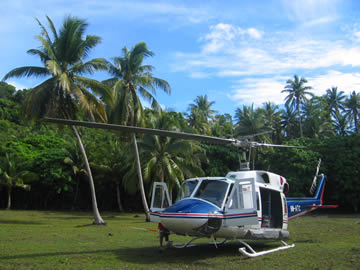 We only did one dive here and I wish it had been more – the viz was spectacular, at least 25 metres and the water was transparent – just sinking down to the reef in such perfect conditions was an experience, seeing the different hues of blue lit up by the sun above us. Our leisurely tour along the Naoko Paradise reef revealed an abundance of fish life, including sting rays, numerous different species of puffa fish and, my own personal favourite, a cuttlefish, who seemed quite content to let us hover nearby and watch him cycle through his kaliedoscopic collection of colours. With the conditions so calm and visibility so good, Mantanani seems a great destination for underwater photographers to get some worthwhile snaps without having to be an aquatic David Bailey.
Mantanani is also an ideal place to learn to dive – its reefs are sheltered and suitably shallow, there are plenty of sandy patches for practising buoyancy control. Given its proximity to the mainland and Kota Kinabalu, it provides a great base for relaxing on the beach and diving without making you prisoners of the island – it's easy to go and explore elsewhere if you feel the inclination.
Follow the links to find out more about each Borneo destination: