Sipadan Water Village is a spacious resort built on stilts over the island of Mabul and only a few minutes boat ride from Sipadan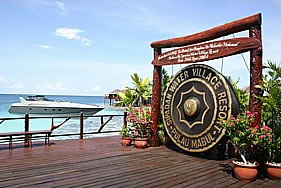 Mabul is a tiny island a few minutes speedboat journey from Sipadan and home to the Sipadan Water Village. This is a beautiful collection of upmarket chalets that are built on stilts and connect to the island of Mabul. Guests arrive by boat from the mainland city of Tawau directly at the large reception and bar area, before treading the planks to get to their rooms. The water village is quite sizable, with numerous clean and well-presented rooms that are extremely spacious and have their own private sea-view balcony, as well as en-suite bathrooms and French louvre doors to open or close the room to the beautiful surrounding seaviews.
Whilst Sipadan Water Village boasts great views over the ocean from most perspectives, there is a large converted oil rig which sits, plainly visible, to one side of the village. Despite the attempts to tart up the rig in its new guise as a diving centre, it still looks like a distinct eyesore. It's easily avoided if you don't get a chalet directly in front of it.
The diving centre itself is large and well-equipped, with thoughtful provision for looking after customers' own gear and plenty of space to securely store dive gear between dives. Mabul boasts a large collection of reefs which offer a mixture of pelagic and macro diving, providing an excellent wealth of dive site choices besides Sipadan.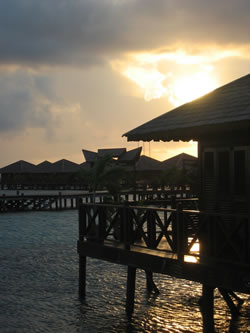 Night diving directly off Mabul's jetty was particularly spectacular – with a bed of white sand surrounding the resort, it was easy to spot a whole host of critters going about their nocturnal business. A clump of tyres provided a home for a huge puffafish that peered inquisitively out at the group of gawking divers assembled around it, whilst down below a 2 metre long moray eel slithered around the rubber to see what the commotion was about. Lionfish, with their colours even more luminescent in the brightness of torchlight, gently moved around the jetty posts.
Dropping down we almost landed on top of a black and white striped snake eel, which caused a moment of consternation before we got to follow its gliding progress through the water. Also spotted that night was a very prone flying gunard, looking like a minature crashed UFO; a blue-spotted stingray industriously burying itself in the sand and getting a bit fed up with bright lights messing up its attempts to cloak itself; and an impossibly cute cowfish, which despite its small size seemed wholly unfazed by our passing through. Indeed, it was such an embarrassment of riches it felt like someone was shooing in all the wildlife from the wings for our entertainment. This was one of my favourite dives in Borneo and I said as much to our divemaster when we came out. "Oh, for me, that was a boring dive," he smiled. "Not much to see". Some people just don't know how lucky they are.
Mabul, then, is an excellent choice as a base to explore Sipadan and Mabul's own reefs. The large size of Sipadan Water Village means you shouldn't feel claustrophobic or adrift in the ocean, and there is always the village on the island proper to go and explore and talk with the inquisitive children if you need a break. The big size of the rooms is also a real bonus, giving couples plenty of space to enjoy each others company. On top of that, the large bar and restaurant area provide pleasant places to relax during the après-dive in the evenings and mingle with other guests. Mabul is an ideal choice for travelling groups of divers to explore Sipadan and its surrounds.
Follow the links to find out more about each Borneo destination: