Sabah's capital city offers bustling city life, amazing island cruises only minutes from the mainland and easy scuba diving straight off the plane.
· TripAdvisor: Book the best priced Kota Kinabalu hotels and flights
Sabah's capital city, Kota Kinabalu (universally referred to as "KK"), is a thriving port and market town that offers travellers an interesting first taste of Malaysian Borneo. As a base for exploring the rest of Borneo, it provides excellent air, land and sea connections. The town itself offers a multitude of upmarket shopping malls to explore retail therapy Malaysian style, alongside plenty of ethnic Chinese, Malay and Indian restaurants to try out local delicacies.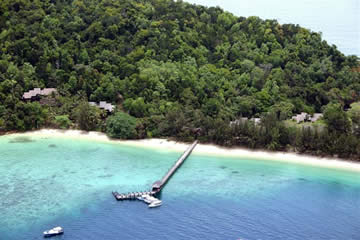 For top class accommodation, the five star Magellan Sutera hotel, located in its own grounds just outside the centre of town, is an ideal choice. Combining architectural styles from both Malaysia and the west, this beautifully appointed hotel offers elegant rooms offset in dark wood and marble with sea-front balconies. There is also a plethora of restaurants and bars within the hotel complex, as well as a nearby marina and accompanying marine club.
It's only a few minutes by boat from the hotel to reach one of Sabah's gems and best kept secrets – the Tunku Abdul Rahman National Park. This is a collection of five tiny, picture-postcard-perfect islands that provide a superb backdrop for a calm-water day cruise on a luxury cruiser, complete with skipper and hostess, courtesy of KK-based Touchdown Luxury Yachts. (A day cruise is distinctly cheaper than you'd imagine, especially if you have a group of people who are up for it). Not only is there the swank appeal of hiring your own yacht, but there's also something particularly liberating about taking off on a powercruiser away from the hustle and humidity of the city. Adrenaline freaks should seriously consider splashing out on a ride in Touchdown's Bladerunner, possibly the most phallic boat ever designed, and certainly one of the fastest. It's possible to see all five islands in the National Park in fifteen minutes in the Bladerunner, if you haven't wet yourself in the meantime. It's that fast.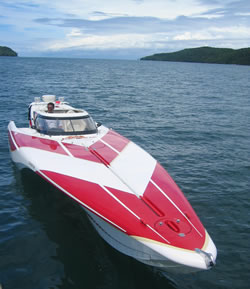 Within the National Park, some of the islands can be explored on foot, letting you wander through the lush forest and along pristine beaches, keeping an eye out for monkeys, monitor lizards and turtles coming up for air just offshore. Otherwise you can gofor a swim or simply recline on the decks of your cruiser, soak up the sun and enjoy the view of the islands, complete with a cold drink. Cruising around these islands at sunset is the perfect end to a memorable – and well fed – day out before returning to the hotel for a few post-island-exploring drinks.
The National Park also provides an ideal base for doing some refresher scuba dives. With its close proximity to KK, you can be diving the day after you get off your international flight. The reefs here offer a tantalising first glimpse of Borneo's profuse array of corals and underwater creatures, all the while giving you a safe and shallow diving experience to check your buoyancy and ensure you feel fully comfortable in the water. It's an ideal and easy way to get back in the water early into a holiday.
Follow the links to find out more about each Borneo destination: