An island resort focused on complete relaxation and with shallow reefs ideal for learning to dive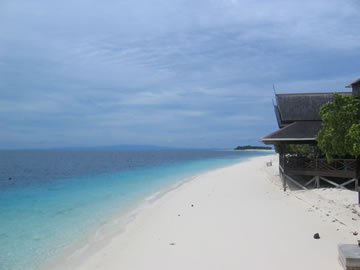 An hour's boat ride from Tawau, Mataking is the archetypal island getaway – there is only one resort on this tiny sliver of sand out in the midst of the ocean, and it attempts to cater for the every whim of its guests. The emphasis of Mataking is on luxury and pampering, with large, ethnically decorated rooms that have their own private views and balconies, with the superior chalets being set within their own grounds to ensure total privacy. From the moment of arrival the staff ensure you get to relax and do little else unless you want to.
The dark wood surrounds of the reception area and restaurant provide a deeply pleasant atmosphere, allowing you to spend time off the beach but not away from it. The beach itself is literally a moment's walk from any point of the resort, with plenty of space to relax and sun worship. There's also a massage service and spa area to ensure a completely stress-free existence.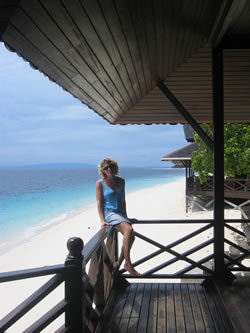 Mataking has numerous shallow reefs which makes it an ideal place to learn to dive. The dive staff are well acquainted with giving visitors their first taste of scuba diving and the island provides plenty of sites for both novice and advanced diver alike. Mataking would make a great place for a beginning diver to learn and build their confidence before heading off to Sipadan, which is only a hour's boat journey away. Moreover, because Mataking is more of a traditional resort rather than a mainly dive-orientated resort, there are plenty of activities for non-divers and children to take part in if they wish. This makes Mataking an ideal family destination.
Follow the links to find out more about each Borneo destination: