Sabah's most magical dive destination, Sipadan is the ultimate underwater dream for many divers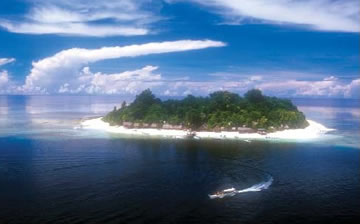 Earlier this year the Malaysian government caused some consternation amongst the global diving community when they announced that all the diving operations based on Sipadan would have to completely shut down by the end of 2004. All building structures would have to be removed from the island so as to allow the island to return to its pre-tourism state. Given that Sipadan is one of the world's most well-known dive destinations, famous for its sheer walls which plunge directly from the island's tiny beach hundreds of metres into the depths of the ocean, there were fears that the shutdown order meant the end of diving at Sipadan itself.
This is thankfully not the case. The shutdown order came about due to growing concerns about the damage tourists are doing to the island and the impact of human presence on the turtle population of the island. Divers can still come to Sipadan from Mabul or Kapalai, the two impressive reef-based resorts which are only a 10 minute boat ride away from the island.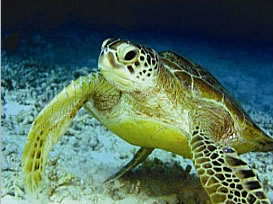 Pulau Sipadan, to give it its full name, looks like the original paradise island – a slash of gleaming white sand topped with verdant palm trees on the horizon, a tiny land oasis in the middle of the ocean, surrounded by the turquoise patches of coral reefs all around and set beneath a vast blue sky. The approach to this undeniably beautiful island makes for a glorious speedboat journey. Whilst there is an undeniable romance to staying on Sipadan itself, the facilities and accommodation on offer at the two nearby resorts are of a distinctly better quality and more suitable for non-divers.
This quite bold move by the government is a welcome start in serious conservation of diving sites. Sipadan has continued to grow both in popularity and accessibility, thanks to its spectacular wall reefs where thousands of species gather to live and hunt. Given that Sipadan is effectively a finger of rock rising 600 metres from the depths of the ocean floor, it offers shelter and protection to manta rays, large schools of hammerhead sharks and occasionally whale sharks. These tend to be found at deeper depths – 30 metres and below – and the clarity of Sipadan's water means that the light penetrates quietly easily to these depths, even if the warmth doesn't. But for all Sipadan's headline grabbing with what can be found further down its wall reefs, gentle tours at 10 metres by the side of the reef and over it can be equally rewarding.
Here hundreds of turtles can be found nestled amongst coral, sometimes rubbing an itchy spot against a rock, then languidly making their way gracefully to the surface for a breather. Also lazing around are reef sharks, gathered in twos or threes, a little less than a metre long and looking like minature Jaws but perfectly harmless if treated with respect. The Indo-Pacific is the most abundant oceanic region for aquatic life and Sipadan seems to be home for most of them. This sheer profusion turns any dive report into a long list of fish spotted – there are numerous species of lionfish here, resplendent in their delicate colours and quills contradicting the venom of their sting; shoals of shining barracuda; huge schools of jack who move simultaneously en masse to create a spectacular silver streak all around divers lucky enough to get in amongst them; endless brightly coloured tropical fish; and my personal favourite, the clown triggerfish, a puffa-fish lookalike with a black underbelly decorated with white splodges that look exactly as if they've been painted on by some whimsical fish god who was feeling slightly the worse for wear at the time.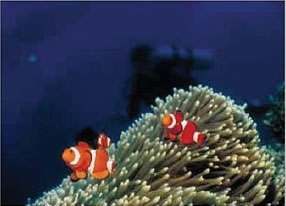 Divers don't need to be experienced to dive at Sipadan, but feeling comfortable and confident in the water is important, given the depths and strong currents that can be encountered. Coming cold to Sipadan on a dive expedition is probably not a good idea – a few practise dives at Mabul or Kapalai, or elsewhere in Borneo, before diving Sipadan will let divers maximise their enjoyment and appreciation of its dive sites.
There is something truly unique about diving at Sipadan – not just because of its wall diving, which let you peer into the abyss below, and not just because of the turtles who have made this their breeding ground. There is a feel, an atmosphere to diving at Sipadan that I have never encountered anywhere else. It's a truly breathtaking dive experience and one that looks set to be enjoyed by many more people to come now that steps are being taken to protect Sipadan's wildlife and coral reefs. Sipadan is certainly the apex of Borneo diving and a fitting climax to any dive safari.
Follow the links to find out more about each Borneo destination: