Set amongst a Marine Conservation Area, the tiny island of Lankayan boasts some of Borneo's best diving and seasonal visits from whale sharks
An hour's speedboat journey from the city of Sandakan, home of the Sepilok orang'utans, Lankayan is another, equally important Sabah wildlife preservation project. Lankayan and its two neighbouring islands have been declared part of a Marine Conservation Area, which is strictly monitored and controlled – no fishing is allowed and numerous conservation initiatives have been set in place to ensure Lankayan helps its indigenous aquatic wildlife to thrive.
For divers, this makes Lankayan something of a mecca given that its underwater flora and fauna are now largely undisturbed by human interference. Moreover, the island is tiny, with only one small resort operating on its beautiful beach – it offers the ideal complete getaway that ticks every box required for that paradise island holiday.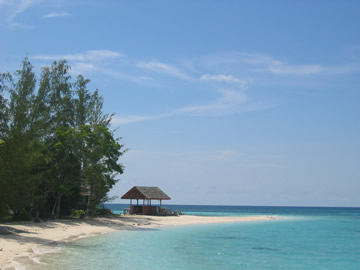 Set within the Sulu sea, Lankayan also enjoys the annual attentions of whale sharks, who come to the island each year between March and May. As the largest fish in the world, the whale shark rightly commands a great deal of attention, especially as it's wholly harmless to humans and also still thoroughly enigmatic, with little known about its migratory habits and breeding patterns.
The island's dive centre is set at the end of Lankayan's distinctively long jetty, which also boasts a rather nifty helicopter pad – which is more often used for strategically placed sunloungers. Staff are efficient and friendly, ready to help get you in the water and explore the vast collection of rare and frequently spotted species that live in Lankayan's reefs. There are over 14 different dive sites to explore.
In keeping with the island's eco-friendly ideals, the resort itself is not as luxurious as you will find elsewhere in Borneo. Chalets are still spacious and clean with ensuite facilities, but a little more basic in appearance, using mainly wood for construction and providing mosquito nets for use at night. This will probably make little difference after a day's diving or lazing on the beach, given Lankayan's beauty both below and above water.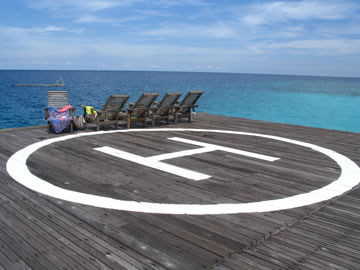 Follow the links to find out more about each Borneo destination: