Scuba diving is not the cheapest of sports to pursue, but if you're diving in Asia, there are plenty of great dive spots that won't break the bank to explore in Thailand, Indonesia, Malaysia, Vietnam and the Philippines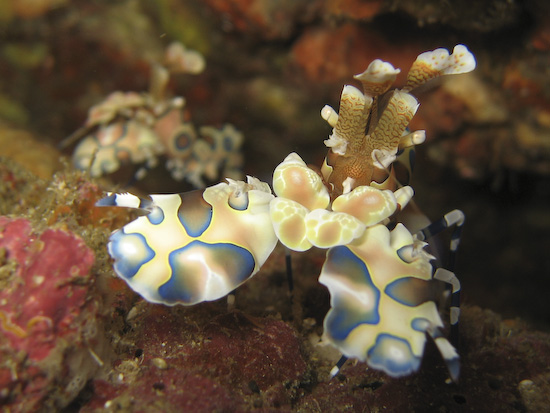 I've dived a lot around South East Asia over the last 12 years, and I've often been surprised at how cheap the diving can be here. If, like me, you like to dive often and travel specifically for the chance to dive, then there are plenty of opportunities to do so without having to spend a huge amount of cash.
Indeed, with the cheap flights provided by AirAsia and other budget carriers in Asia, it's possible to dive in several countries within the space of a few weeks and still not break the bank.
The other great source of cheap diving in Asia is last minute liveaboard deals – where you go on board a boat and basically eat, sleep and dive for typically 4 to 7 days. You can get steep discounts up to a couple of months before departure, so it's worth checking as the price is typically inclusive of diving, food and accommodation.
Here's the beginnings of my list of cheap places to dive in South East Asia. The list below is by no means definitive and I welcome suggestions in the comments of other places to add to it. I have stuck with places and dive operators that I have personally visited and dived with.
The benchmark I've used is the cost of a one or two fun dives (ie assuming you're already certified to dive) including all scuba gear. Virtually all operators offer package deals which make dives cheaper, so this is just a rough benchmark to help comparisons.
Thailand:
Koh Tao
Koh Tao is the most popular place to get certified as a diver in Asia Pacific outside of Cairns and it's a renown backpacker destination.
Price: Fun Dives are 850 Baht each on Koh Tao. So two dives is 1700 Baht = $50 US approx. See my article Koh Tao: An Introduction
Koh Lanta
Located on the West Coast, Koh Lanta is Koh Phi Phi's sleepy neighbour and much more relaxed as a result. Lanta has access to some of Thailand's best dive sites – Koh Haa, Hin Daeng/Hin Muang and Koh Bida.
Price: 2 dives are twice the price of Koh Tao – 3700 Baht or $110 US approx – because the dive sites are much further away – and you get breakfast and lunch included. The diving here is pretty amazing because the sites are so remote. You can also do liveaboards from Koh Lanta that can help you save on accommodation and food costs.
See my article on diving Koh Lanta.
Khao Lak: Similan Islands Liveaboard
The Similan Islands are widely regarded as Thailand's best dive spot and are extremely popular. You can do day trips by speedboat but the best way to see them is on a liveaboard.
Price: As of 2019, a budget 4 Day / 4 night Similan Island liveaboard costs around $620 USD all inclusive. You get 14 dives, so that's around $45 USD a dive – but you're also getting 4 nights free accommodation and all your food included too. To get maximum dive bang for your buck, liveaboards are hard to beat. Dolphin Queen is a fantastic budget liveaboard boat I've been on several times which has been operating for nearly 20 years. It's important to check guest reviews to see what they say about the staff, food and most importantly, safety. You can compare it with other Similan Liveaboards
I also wrote up a detailed Similan Liveaboard report if you want more of an idea of what a liveaboard trip entails.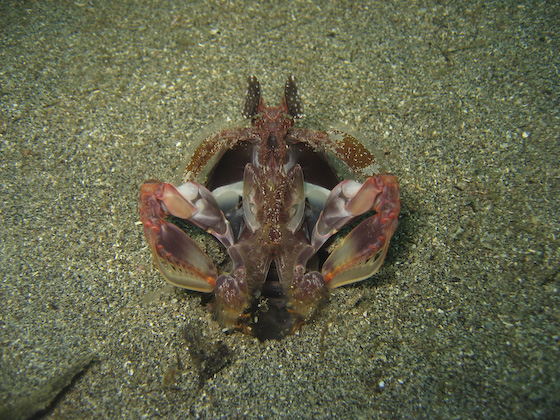 Indonesia:
Bali – Tulamben
The world famous wreck of the USS Liberty lies just off Tulamben Beach, a sleepy village in northern Bali that has some amazing diving. Great place for beginners to get lots of dives in.
Price: $30 US a dive – $100 for unlimited dives during one day (5 is probably most you could do) as offered by Tulamben Wreck Divers. These are one of the original operators to set up in Tulamben – an Australian husband and wife team, Tony and Dot, who previously pioneered whale shark snorkelling trips in Western Australia – and have been offering the unlimited dives package for $100 since 2010!
See also my guide to diving the USS Liberty and Tulamben
Lembeh
If you like seeing weird and wonderful underwater creatures, this is the place to come. Lembeh has an amazing array of marine life and is very affordable too.
Price: NAD Lembeh resort offers $399 for 8 dives and four nights accommodation and all meals – so that works out as $50 a dive, but you need to factor in the accomm and meals as part of that – see NAD Lembeh's rates page.
See also my trip report on visiting NAD Lembeh resort and I went back again, and got some even better photos, diving Lembeh Strait in March 2011.
Palau Weh
A remote spot at the northern-western tip of Indonesia, Palau Weh is a superb location for doing lots of cheap dives on the huge house reef right in front of the resort, as well as taking a boat to explore further afield. Full details in the Palau Weh trip report.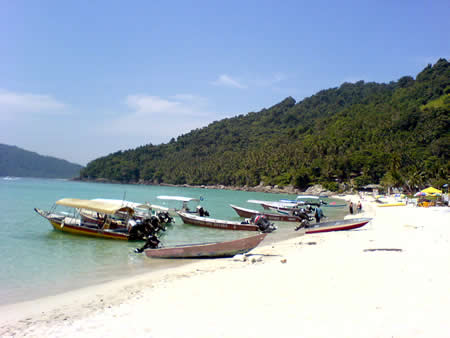 Malaysia
Perhentian Islands
The Perhentians have long been a backpacker haven, two small islands with nothing but beach – no roads, no traffic. There's some nice diving around the area too and a good variety of fish life.
Price: 80 Malaysian Ringgit – around $21 a dive – see Turtle Bay Divers and look under the Price List link.
See also my Scuba Diving the Perhentian Islands: A Quick Guide and my Perhentian Islands article for Asian Diver.
Vietnam:
Nha Trang
Despite having a huge coastline, Vietnam doesn't get much dive attention. There are some interesting spots to explore but the main area is Nha Trang.
Price: $40 for one dive in Nha Trang, $60 for 2 dives. You can read my Nha Trang report for more info.
Philippines:
Sogod Bay
Sogod is a hidden gem in the Philippines, pristine reefs and annual visits by whale sharks.
Price: 1500 Pesos per dive – $31 US at Sogod Bay Scuba Resort. Read my trip report from Sogod about being In The Water With The Biggest Fish In The World
Davao
In Davao in the southern Philippines, it's even cheaper – 1150 Pesos per dive – $26 US at WindAndWaveDavao.com. Davao is a little known macro heaven – I wrote a full article about Davao for Scuba Diver AustralAsia magazine a while ago.
There are loads of other places in the Philippines to go diving from the beach (eg Anilao, Puerto Galera, MoalBoal, Apo Island etc) and they won't be that much more expensive (or much cheaper) than these places. See my Best Scuba Diving In The Philippines page for a rundown of what's great about each of these places.
There are also several liveaboards in the Philippines which offer good value compared to resorts.
That is a quick rundown of places I've been too that are cheap to dive – I know there are many more (for example, Tioman and Redang in Malaysia, Sihanoukville in Cambodia, etc). If you have suggestions of other cheap places to dive, please leave a comment and include a specific dive operator you recommend so I can check their prices. Thanks!