The Liberty Shipwreck is Bali's most famous dive site, and there are plenty of other great places along the north eastern coast of Bali too, making it an ideal – and cheap – dive destination.
What is the Liberty Shipwreck?
One of the most famous wreck dive sites in the world, the wreck of the USAT Liberty sits submerged on Tulamben Beach in north east Bali. The wreck has been underwater since 1963, and is now home to a huge amount of fish and coral. The stern is at 6 metres and the bow at 30 metres, and the ship itself is 120 metres long, providing a great playground for divers of all abilities to explore. Just behind Tulamben Beach is Mount Agung volcano, which last erupted in 1963, pushing the Liberty off the beach proper and into the position you can see today. The sand around the Tulamben region is black volcanic sand rather than the usual white stuff.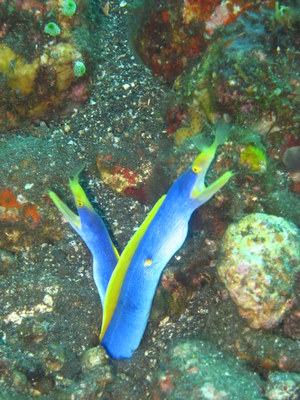 Is the Liberty the only dive site?
Definitely not! The Tulamben coastline has numerous dive sites, of which the Liberty happens to be the most famous. The Drop Off is a dramatic wall dive that goes down 40 metres plus which leads into Alamanda, another equally good dive site right next door, while the Coral Garden is a shallow site that is packed with exotic marine life like blue ribboned eels, mantis shrimp, cuttlefish and leaf scorpionfish, plus huge great clouds of schooling jacks. For photographers it's extremely rewarding – there is a lot to snap on each dive. There is definitely enough diving around Tulamben to keep any diver occupied for 4 to 5 days at least. That's just in the north east of Bali too – there are plenty more dive sites further down the coast as well if you want to move around.

[Cuttlefish Closeup video – Dropoff, Bali]
What are the dive conditions like?
The diving around Tulamben is very easy. The visibility is very good – at least 20 metres, although it can be a bit silty. Currents are generally very mild or non existent. It's a very good place to learn to dive, especially given you can explore the Liberty as part of your Open Water course.
Most dives are shore dives, walking from the resort across the road, down past the grazing goats and onto the pebble beach and then straight into the water. It's a bit surreal walking down Tulamben high street in 30 degree heat wearing a wetsuit. Your scuba gear (BCD and tank) is carried down for you by the local porters – usually on their heads! You have to be careful on the beach as it can be a bit slippy on the pebbles in full dive gear.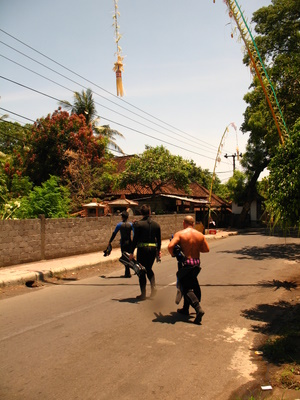 What's in Tulamben ?
Tulamben is a very small town with about 10 dive resorts and several restaurants. It's more a strip of shops either side of the road which runs parallel to the beach. All the resorts offer accommodation as well as diving. Internet is available too, but it's pretty slow, so don't expect too much. It's pretty much an eat/sleep/dive routine, but resorts can organise daytrips to some of Bali's topside attractions like temples and rice terraces too.
How do I get there?
Tulamben is a three hour drive from Bali's airport at Denpasar. It's a fairly interesting journey with twisty roads. Resorts will lay on a free pick up and transfer for you to meet you at the airport. Grab some water at the airport before you get in the car. You can stop somewhere up the coast for a meal too if you're hungry.
Can you recommend a dive resort?
Definitely. I stayed with Tulamben Wreck Divers, which is owned by a retired Australian couple Tony and Dot Medcraft. They are an easy going couple with years of experience who have a casual but extremely well organised dive operation. Their Balinese dive staff are aces at finding all manner of critters on the dive sites and are good fun to be with and always happy to tailor the diving to your individual preference – even if it's only one person and the guide doing a dive. I went diving really early on a couple of days – 5.30 am start – and Made, my guide, was reliable, enthusiastic and more awake than me on both occasions.
Their resort has a variety of accommodation for different budgets – I stayed in a Superior Room for $US30 a night with ensuite shower and toilet, double bed, tiled floor, fridge with cold drinks and coffee and tea making facilities plus a safe. It's clean, basic and comfortable. Diving is around US$50 per day for two dives including all gear and guide, plus porter fees. You can get even better rates for doing several days diving as a package. [I didn't get a journalist freebie, incidentally – I paid all my own expenses at TWB].
Any other tips?
Most nationalities can get a visa on arrival at Denpasar Airport. It costs USD $25 which you can pay in cash dollars or with Visa / Mastercard. There are a clutch of ATMs that accept Visa/Mastercard in the baggage reclaim area where you can withdraw Indonesian Rupiah for your holiday.
You might also want to check out Diving Bali by Wally Saigan and David Pickel, an excellent, richly illustrated book that delivers an exhaustive and entertaining overview of all of Bali's dive sites. There are scores of them!