Julian Cohen got some invaluable underwater photography tuition from photo pro Mike Veitch while in Bali. Here he describes how he got the shot for five of his best Bali pictures
This trip was to be a liveaboard on Citra Pelangi, run by Crystal Divers in Bali. At the time the professional dive photographer and writer Mike Veitch was the photo pro on the boat and I wanted to dive with him. Unfortunately the boat had a mechanical problem that scuppered the trip, however Minni Vangsgaard, the manager of Crystal Divers, reorganized the whole thing and each day Mike met me at my hotel and we went on day trips to Bali's premier dive spots.
Crystal Bay for Mola Mola, (it took six dives to find one); Manta Point was forty five minutes of freezing cold staring into an empty sea as I am incredibly unlucky when it comes to seeing big things; Liberty wreck at Tulamben was magnificent; Seraya Reef at Tulamben was brilliant muck diving with harlequin shrimps and ornate ghost pipe fish. Mike was an excellent teacher and I learnt a great deal about camera technique and composition.
My rig for this trip was a Nikon D200 in a Subal housing with two Ikelite D-125 strobes.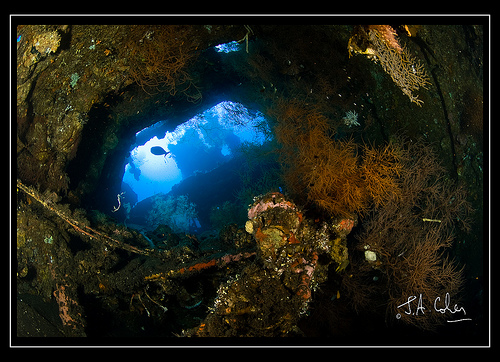 1/40 at f5 ISO 100 Nikon 10.5mm – All Images Sizes on Flickr
The Liberty wreck at Tulamben is a magnificent dive site. Settled just off a stony beach the wreck lies in crystal clear water ranging from about 12m at the bow to 25m at the stern. This is one of what looks like the mast structures, which is totally encrusted in corals. It is just incredibly colourful. This wreck really is a must see.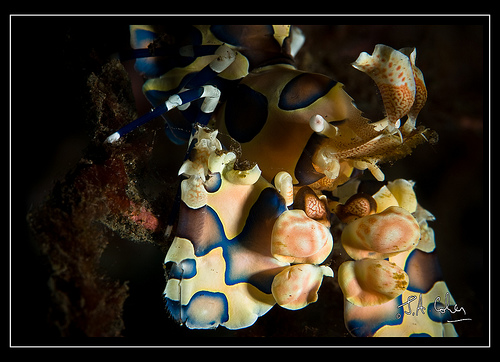 1/125 at f22 ISO 100 Nikon 105mm – All Images Sizes on Flickr
I love these shrimp. In fact I love shrimp in general as they come in the most dazzling array of shapes, sizes and colours. The Harlequin was always the holy grail for me (now it is the bumble bee shrimp) as it is just the oddest looking animal, with its pincers that are so large and misshapen it is hard to tell what they actually are. There is a metal dome shaped structure on this site and the shrimp are in there in only 8m of water. Very easy to shoot and I spent a lot of time playing with angles and lighting.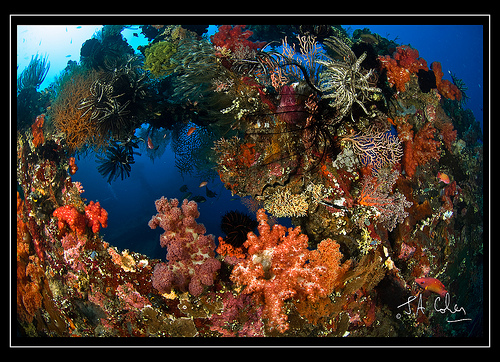 1/50 at f6.3 ISO 100 Nikon 10.5mm – All Images Sizes on Flickr
This shot was one that Mike asked me to shoot. He did it as it is a test of how to balance the ambient light from the blue of the sea with correctly exposing the super structure of the wreck. There is no magic setting for this sort of thing. I use spot exposure to get the colour of the blue and then under expose that by 2/3rds of stop, sometimes a full stop. Always shoot then check the colour on your screen to see if it's what you are looking for. Then adjust the strobes to give you the exposure for the close object. Every strobe is different and after a while you will know what is likely to be the right setting for your set up. I find that the strobe power I use is normally lower rather than higher. I can't remember the last time I shot on full, but then I am lucky to be in Asia with clear seas and beautiful weather.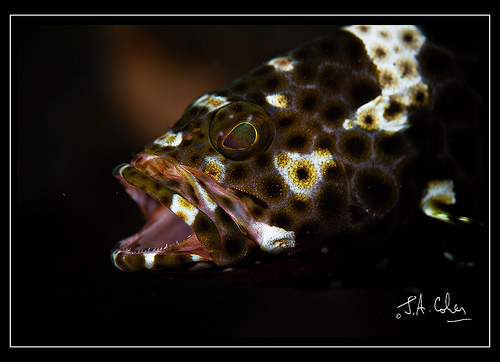 1/200 at f6.3 ISO 100 Nikon 105mm – All Images Sizes on Flickr
Shot at Seraya this was just a quick grab shot as I saw the fish opening its mouth to show an impressive array of teeth. I shot a lot on shallow depth of field on this trip and that has blurred the background nicely in this shot.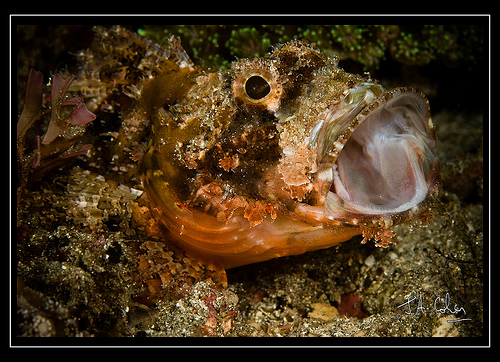 1/125 at f16 ISO 100 Nikon 105mm – All Images Sizes on Flickr
This was my first yawning shot. I had seen the behaviour a few times before but never been in a position to shoot it. I saw the fish yawning out of the corner of my eye and rushed over to grab a shot. As I settled in front he did it again. I have since found that this is often the case. Here's a tip for you: with frogfish they will often yawn two or three times, with a short space in between. The last yawn will be a full on "monster from alien" one with the jaws extending to an unbelievable extent. I have been reliably informed that after a frogfish has been walking and settles into one spot, it will yawn. I have since tried this and it certainly worked for me, I hope it works for you!
See Julian's complete Bali portfolio on Flickr