I wrote a short piece for Fah Thai magazine about my friend Monica Ganame, the Argentinian freediving record holder who lives on Koh Tao and co-owns the freediving school Apnea Total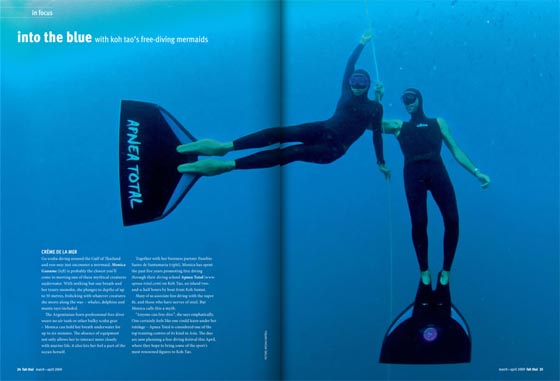 Fah Thai is the inflight magazine for Bangkok Airways. My dive buddy and upcoming underwater photo pro Ayesha Cantrell took the striking photo of Monica and her business partner Eusibio. I was lurking in the background, supposedly directing the shoot but more often getting in the way of the wide angle! We fought some pretty tough conditions that day – the viz was down to about 5 metres, so I was really pleased with how well the story turned out.
You can see a bigger version of the story – and read the whole of Fah Thai magazine online – by visiting their nifty virtual magazine browser – the story is on p26.
You can also see some awesome freediving videos featuring Monica shot in Komodo on Divehappy, as well as the Evil Mermaid.
Here's the original text of the story, which got edited down for the final version in the magazine:
Go scuba diving around Koh Tao in the Gulf of Thailand and you may encounter a mermaid. Propelled by her monofin to depths of 50 metres on a single breath of air, Monica Ganame is the nearest you'll get to meeting one of these mythical creatures underwater. The Argentinian-born professional free diver wears no air tank or other bulky scuba gear – instead, Monica can hold her breath for up to six minutes and explore the underwater world in its truly natural state. The absence of dive equipment not only allows Monica to interact much more closely with marine life, but also to feel a part of the ocean herself.
Such physical endurance feats has earned free diving the reputation of only being for the few, requiring extreme fitness and nerves of steel. But Monica dismisses this myth of elitism: "Anyone can free dive", she says emphatically. "It is not really about what you see underwater when you free dive – it is about the physicality of doing it, how you feel inside." Together with her business partner Eusibio De Santa, Monica has spent the last five years promoting freediving for everyone through their Koh Tao school Apnea Total, one of the top training centres in Asia.
A Spanish former male model, Eusibio looks every inch the stereotypical super-fit free diver, but shares Monica's enthusiasm for helping people break their own barriers. "For me, the most satisfying thing is when I teach someone who would never ordinarily consider freediving – say an overweight, 50 year old mum – and then see their confidence and enjoyment when they realise they can do it."
Indeed, the duo have managed to make Thailand such a popular place for freediving they are now planning a freediving festival for April 2009, where they hope to bring some of the sport's most renown figures to Koh Tao. Looks like there will be plenty more sightings of mermaids and mermen in the Gulf of Thailand.
You can contact Monica and Eusibio through their site Apnea-Total.com