Tambora is a new luxury liveaboard that spends the entire year exploring Indonesia. This is a review of the boat itself from 2010, with photos and notes on the facilities and operation to help you decide if it's the boat for you
2022 Update
Tambora has now been rebranded at the Raja Ampat Aggressor II as it has become part of the Aggressor Adventures fleet. The review below is over 10 years old, so don't take it too seriously.
You can also read the full text of the EZ Dive magazine article I wrote about our liveaboard cruise around Kalimantan on Tambora.
The Boss
Tambora is co-owned and managed by Uwe Gunther, a German former scientist who has been in Indonesia since 1998 and currently lives on the boat permanently. He is passionate about diving in Indonesia and is interested in exploring as many areas as possible, rather than just sticking to the tried and trusted favourites of Komodo, Raja Ampat etc. Uwe also answers all email correspondence for bookings etc sent direct the boat personally, which is a nice personal touch.
The Boat
Tambora itself is a brand new wooden pinisi schooner built in the shipyards of Sulawesi where most of these ships come from. Tambora has been built with scuba diving specifically in mind, rather than being converted from previous use. The boat began operations in 2010.
Cabins
Tambora can take a maximum of 16 guests in 8 cabins. The cabins are a good size with a nice dark wooden finish. Very pleasant to relax in. They are ensuite with a shower, toilet and sink with mirror. The shower is reliably hot and quite powerful. There is also a wardrobe and a desk and chair, perfect for photo editing. There are several well -placed plug sockets in the room. All cabins are basically the same – there's no state room etc – and they are all located on the lower deck. Besides double bed cabins, there are also twin bed cabins which are the same layout but have the two single beds end to end (rather than as bunk beds). Cabins are generally quiet but there were mysterious banging sounds on a couple of nights from below decks which did not help sleep.
The photos below show the double bed cabin, and the video gives a quick tour of a cabin.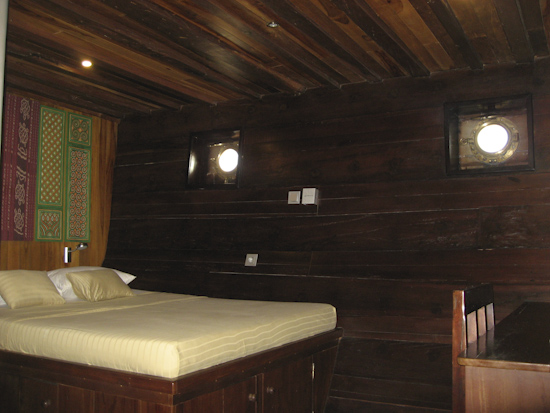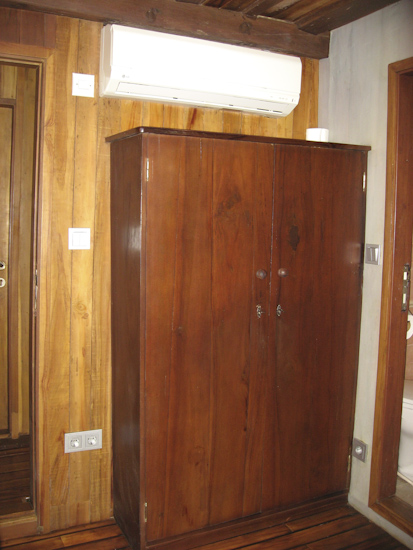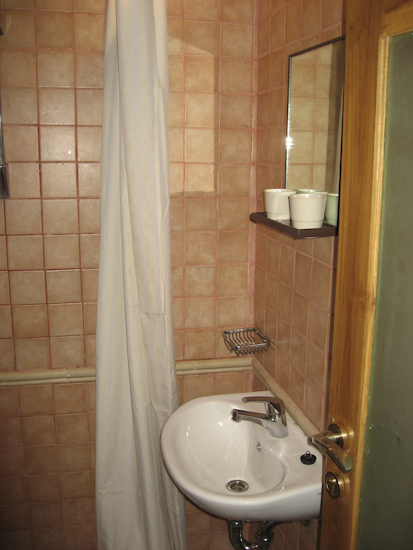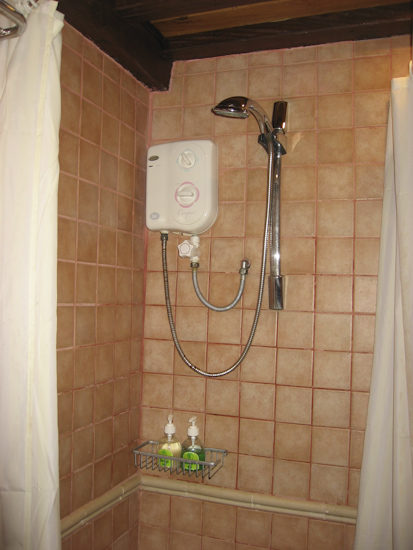 Dining Area and Sun Decks
Tambora has a big roomy dining area with lounge seating – very pleasant. Because the gear area is at the back of the boat, the front area normally used for gearing up on pinisi schooners is a covered sun deck with loungers and tables, with a second sundeck on top of the dining area. This gives the boat a real sense of space – perfect for sundowners and early mornings. Smoking is permitted on both deck areas.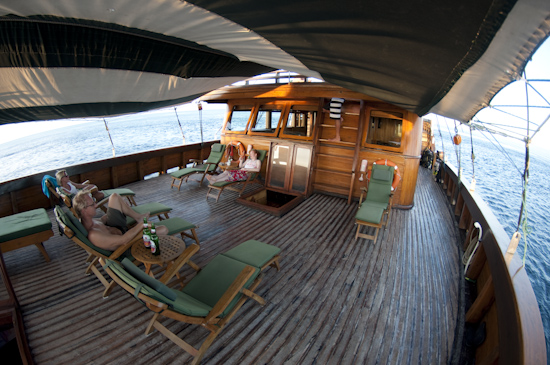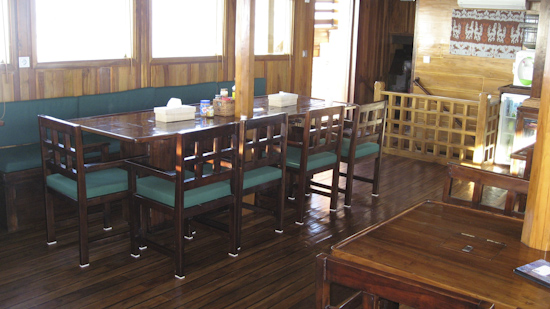 Food
Breakfast is cooked to order – eggs, bacon, sausage, toast etc. Cereal and fruits also available. Buffet style lunch, mix of Indonesian and Western food. Generally very tasty – ask for seconds if you want more. Desserts quite basic. There's no choice re the menu but alternatives can no doubt be produced. Plastic plates and cups. The chef is a experienced sushi chef and produces an incredible sushi feast at the end of the trip (which somehow I failed to take a photo of – too busy eating I think). There's coffee, tea and water available 24 hours, and buscuits in the jar. Soft drinks, beer and wine are also available. (Beer – $5 for large Bintang bottle, $3 for small. Wine is expensive – $30+ because of outrageous import taxes in Indonesia. If you're fond of wine, might be best to bring your own).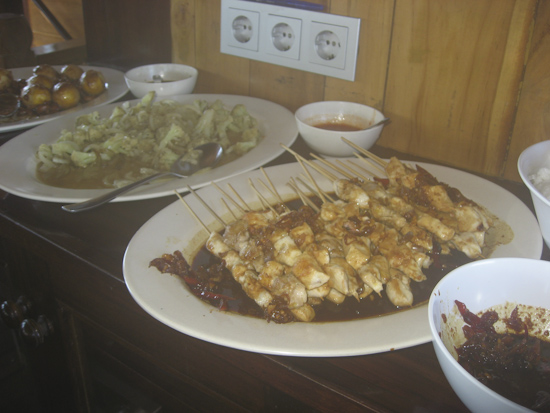 Gear up area
Dedicated room at the back of the boat for gearing up and storage of all equipment, which is a nice touch. Everything feels very efficient and organised – no chance of misplacing your gear. This is directly by the entry onto the speedboats. It's a quite small area, difficult for more than 6 people to be in at a time.
Nitrox
Charged at $15 a day extra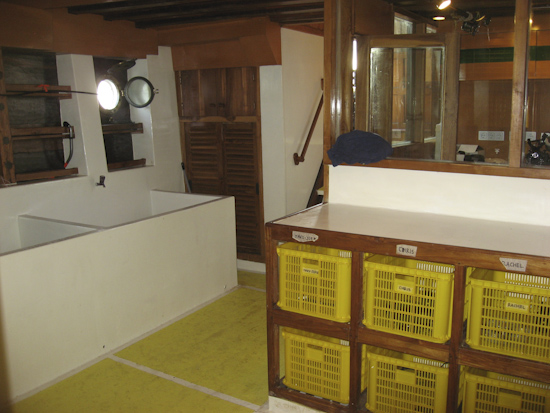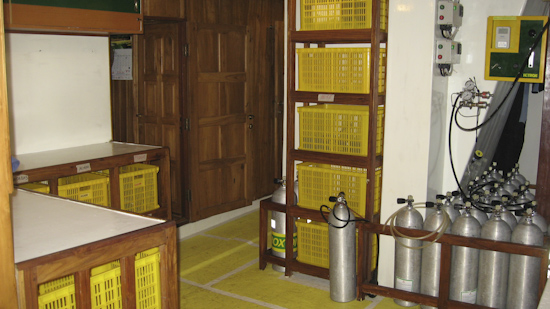 Camera room
The camera room is located at the back of the boat by the gear up area and compressors. It has room for about 3 to 4 people at once maximum. There are no power strips for multiple plugs and there are no adapters available on board if you forget yours. There is no fan in the room to keep it cool – on the first day of gear setup I was soaked with sweat. There's a large rinse tank by the camera room – so big it's difficult to keep it at a depth to cover the camera gear.
Speedboats
There were two RIB inflatables when I was on Tambora, but I'm told there's now a third. Tanks with scuba gear are laid on the RIB floor by the boat boys and then donned at dive site. Integrated weights are removed at end of every dive and need to be replaced before each dive. Could be difficult/hard work for older guests. Back roll entry. Feels crowded and cramped on the boat – three staff and three guests. (As you can tell, I'm not a fan of inflatables).
The boat boys are very good at handling cameras on and off the boat. However, one major problem is that there is little room to place large camera rigs and the boat boys often have to hang onto them whilst perched on the front of the boat. This is potentially quite a dangerous setup as the camera could get knocked off into the water. There needs to be some dedicated space for cameras where they are safe on the floor and away from scuba gear being pulled in and out of the boat.
The boat drivers can be a bit trigger happy with the engines on dive sites when picking up and dropping off. Divers need to be aware of where the boat is at all times when near the surface.
Guides
Excellent. Efficient organisation, good thorough briefings, lots of stuff pointed out. Dive guides are currently Fiona and Eddie, a British couple, and on our trip we were also joined by Mike, Indonesian guide who knew the Kalimantan area inside out.
Conclusion
I had a very enjoyable 10 days on Tambora, and would certainly go back again. The important basics of comfortable sleeping, good food, hot showers and space to relax were well covered. Everything ran like clockwork. The diving setup was also efficient, despite my dislike of inflatables, and the guides were good. My only suggestion for improvement is that a bit more attention needs to be given to the camera room and to finding space to safely stow camera gear on the inflatables.
It was particularly nice having Uwe on board – it gives the boat a more personal touch when you get to meet the owner. His enthusiasm for diving in Indonesia is infectious and he has lots of plans to keeping improving Tambora – but the boat has certainly started off with very high standards.