While diving in Komodo, I encountered this giant Melibe nudibranch for the first time, which has a bizarre circular mouth that acts like a hoover as it crosses the sea floor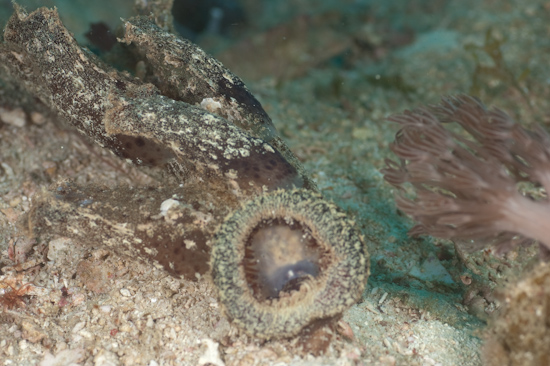 I'm a big fan of nudibranches, but I'm used to the colourful sea slugs being just a few centimetres long. Hence when I encountered this whopping great Melibe nudibranch at Wainilu in Komodo, I was somewhat taken aback (I didn't even know it was a nudi until told later). The nudibranch was at least six inches long, huge by nudi standards. The sequence of photos below shows the downright strange mouth it has – as you can see, the mouth (technically, the oral hood) is circular but also contorts into a shape something like a walrus, before it swoops in over the seabed and sucks up small molluscs for food. Truly bizarre and somewhat mesmerising to watch.
I'm indebted to Nudipixel for their amazing database of nudi pictures, which is how I worked out the species. However, I'm not sure what type of Melibe nudibranch this one would be classified as.