Thailand's Similan Islands remain a spectacular – and cheap – place to scuba dive, with liveaboards offering the chance of close encounters with manta rays and a host of other amazing underwater creatures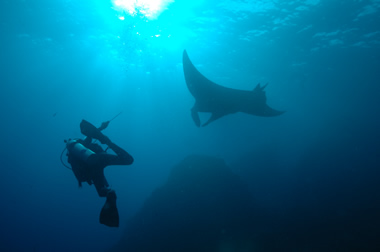 Just back from two back to back 4 day liveaboards in the Similan Islands. These were my fourth and fifth liveaboard trips in the Similans, and I'm happy to report that the diving there is as spectacular as ever. I've dived quite a few other places in Asia and elsewhere, but I have to say that the Similans offer the best consistent dive experience I've had. I think it's the combination of a four day liveaboard with a variety of great sites with good visibility – reefs, big boulders, and ocean pinnacles – a plethora of amazing underwater creatures, from seahorses to manta rays, and, of course, reasonable prices. A liveaboard with my friends at Phuket-Diving-Safaris.com will cost 17800 Thai Baht, which is less than $500 US – it's difficult to think of anywhere else you could enjoy such great diving for such a low price without cutting corners.
One of the reasons why diving the Similans is such a great experience is because there's a natural sense of build up over the four days of the liveaboard . You start off in the Similan Islands proper, doing some easy reef dives that offer spectacular bommies like East Of Eden, which is so covered in fan and soft corals and alive with different fish species that it's been regularly filmed and photographed by the likes of National Geographic. By the second day, you get to dive the more challenging big boulder sites like Elephant Head Rock and North Point, where truly huge rocks several storeys high have rolled together to create a labyrinth of swimthoughs and shelter for the fish. There's something exhilarating about being at 20 metres passing over the top of one of these rocks – and then watch it drop away another 30 metres below you as you fly off the side. Turtles chewing on coral hide around them, and within the canyons formed by the rocks you can find clown triggerfish, probably my favourite fish of all.
By the afternoon of the second day the liveaboard heads north from the Similan Islands and arrived at Koh Bon, "The Island Of Hope", and where most divers hope they'll get to see Koh Bon's resident manta rays. It's not guaranteed but if you get lucky, you'll be finning along Koh Bon's sheer wall and suddenly see a manta coming towards you out of the blue. As you can imagine, for many divers on the boat, the expectation of seeing mantas is the highlight of the trip, and if it actually happens, the sense of collective euphoria after the dive is palpable.
On the third day the boat reaches Richelieu Rock, possibly the finest dive site in all of Thailand, an ocean pinnacle ina horseshoe shape that has a plethora of creatures living around it. When my dive buddy Clive and I dropped in first thing at the morning – just before 7 am and before any other divers – we were lucky enough to see a manta ray circling the rock's apex. We simply hovered there at 10 metres, watching the manta swing round us and pass over our heads, unbothered by our presence. It's hard to articulate just how mesmerising these creatures are to watch – they move with an unearthly grace that is incredibly difficult to tear your eyes away from.
There's two more dives on the way home on the fourth day, the final dive being at Koh Bon again if you're lucky – given you are in the open ocean, it's up to the boat captain which sites you go to as he has to ensure it's safe.
During my two trips, we enjoyed the Similans' usual excellent visibility – a minimum of 15 metres viz on each dive, usually more. The journey out for the second liveaboard was uncharacteristically rough due to a cyclone crossing over Thailand and Burma – usually conditions are pretty calm, although if take seasickness tablets if you're susceptible.
Sadly the cyclone meant that it was too rough for us to go to Richelieu Rock on the second liveaboard, but to be honest, I don't think anyone was particularly bothered as the dive at Koh Bon had been truly amazing. There were five manta rays present and we were the only dive boat there. I was guiding my two friends Rachel and Paul and was furthest along the wall when a manta simply appeared out of the blue, coming in and circling right around us – it couldn't have got any closer. It was joined by a second one, so as the first left us the second came if for a look as well. I heard every other guide frantically banging their tank to signal the arrival of the mantas – a little later we went and sat in the blue at 10 metres or so and watch the mantas wheel around us below – two of them seemed to be courting or simply playing around. When I got back on the boat, I was followed by a German girl with the biggest grin on her face who looked at me and simply said: "Unbelievable!"
Far from satiating my desire to dive the Similans, doing these two liveaboards made me want to definitely go back again next year. After the relief of discovering that most of the sites were undamaged by the tsunami – see my original article about diving the Similan Islands six weeks after the tsunami – it's great to return to the Similans and find that everything is the same, only better. These sites are so rich in their marine diversity and topography that they repay repeated diving.
The dive season for the Similans is drawing to a close at the moment due to the monsoon season, which makes the seas too rough for safe diving. The dive season begins again in mid-October 2006 and runs through to May 2007. So you've got plenty of time to plan out a visit to the Similans, which to my mind still live up to their reputation as one of the best dive destinations in the world.