Last year several airplanes and helicopters were sunk off Phuket's Bang Tao beach to create an artificial reef. Now the Coral Reef Squadron has been destroyed by savage monsoon currents
Sad news from Phuket – the Coral Reef Squadron, a collection of decommissioned military aircraft that was sunk last year to create an artificial reef and become a tourist attraction for divers, has been all but destroyed by monsoon currents. I dived on the Coral Reef Squadron back in January 2009 – I'm glad I got to see it before it disappeared.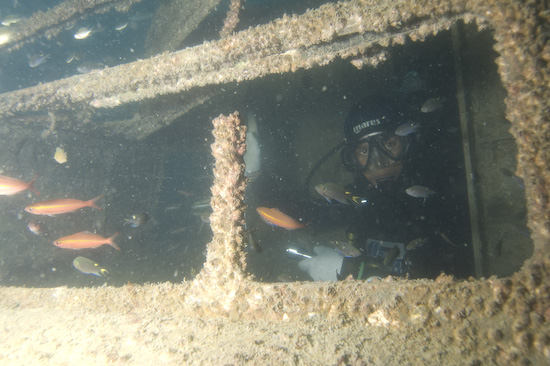 The Phuket Gazette reports
PHUKET CITY: Phuket's 'Coral Reef Squadron' sunk off Bang Tao Bay last November is 90 percent missing or destroyed, the Thai Dive Association admitted today.

Rainer Gottwald, head of the Thai Dive Association (TDA) technical committee, said TDA divers visited the site on Wednesday and were only able to find one of the 10 aircraft that formed the artificial reef.

Storms and heavy monsoon season currents were to blame, Mr Gottwald said.

Failure to follow instructions by some members of the team who chained the aircraft to large concrete blocks, and subsequent damage by trawlers,may also have played a role, he said.
You can read my report about diving the Coral Reef Squadron and see some (very murky) pictures here on Divehappy.