This is Part 3 of my Burma liveaboard scuba diving trip report. Follow the links for Part 1 and Part 2. This final part provides an overview of the MV Jazz Liveaboard itself
UPDATE: the MV Jazz is sadly no longer operating. We recommend diving Burma with MV Dolphin Queen.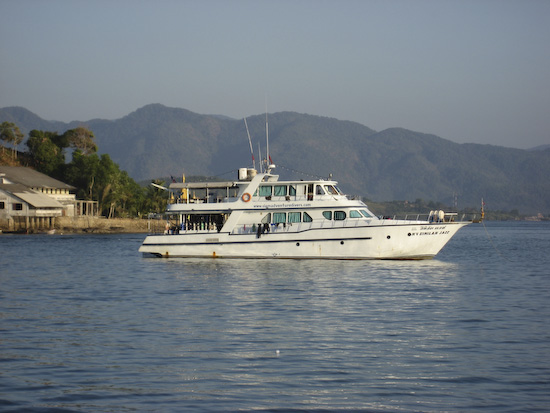 The Boat:
MV Jazz is a liveaboard for 14 people operating in Thailand's Similan Islands and Burma. It's one of a handful of Thailand-based liveaboards to make the journey into Burma.
The MV Jazz Liveaboard
The MV Jazz had not changed that much from my previous Burma trip on it a year ago. There was the welcome addition of a small camera table with power chargers (3 110 volts, 3 220 volts) and also a computer desk with PC system and monitor.
Accommodation:
The cabins with ensuite toilets and showers are fairly spacious. There are a couple of double bed cabins and several twin bunk cabins. There is a big enclosed lounge, which was used as a sleeping area for a couple of people and a storage space for everyone's luggage, along with setup for cameras on the aforementioned camera table. Towels are provided but rooms are not cleaned each day. There was the occasional whiff of diesel in the front bow cabins on the first night, but that disappeared.
Unfortunately, on our trip the hot water heating for the showers was not working properly and the air conditioning, which is centrally controlled for most cabins, was somewhat arctic, although that could be good or bad depending on your fondness for AC.
Most people hung out on the mess deck at the back of the deck, which had plenty of room for a full boat of 14 people, and also the sundeck at the front, along with the couple of hammocks strung from the railings.
Previously, I've described the Jazz as a luxury boat, but having now been on a couple of high end liveaboards like the MSY Seahorse and Ocean Rover, I realise that's not really accurate. The Jazz isn't a luxury boat, but it's certainly comfortable enough and pretty roomy. (The fact I used to think the Jazz was luxury goes to show the kind of liveaboards I was on before…)
The Food
The two Thai cooks Pee Mai and Pee Soo came up with a uniformly excellent selection of Thai and Western food throughout the trip, created in their tiny kitchen under the dive deck and then brought up to the mess deck through an ingenious dumb waiter system. The Jazz follows the time-honoured liveaboard timetable of Eat Sleep Dive, and the two cooks made sure there was a mini breakfast before the first dive, full breakfast after it, then lunch after dive 2, then snacks after dive 3, and then dinner after dive 4. They also provide Thai Massage at 300 Baht for 1 hour.
Booze
Beers (Chang, Singha and Tiger) are all available on board at around 50 Baht a can, along with the usual soft drinks. There's no wine or anything posh, so bring your own if required. Water, tea, coffee, Ovaltine etc are all free. Orange juice and fresh fruit (pineapple, watermelon, bananas) are provided with most meals, and there are always clementines and bananas available.
The Dive Deck
The MV Jazz has a very nice dive deck, with lots of space for all 14 divers plus staff to gear up. Dive teams are staggered so only half the guests are gearing up at any one time. The boat boys are excellent and proactive at helping you on and off with your gear and passing cameras into the water. All dives are done as giant stride entries from the back of the boat. You need to get ready and be waiting at the back of the boat for the captain's blast on the horn as the signal to jump.
The Dive Guides
Ric Parker (Tour Leader) and Clive White (the Knowledge) have been staffing the Jazz for the last 3 years. They are both friends of mine so I am biased – I've dived with Clive a lot in particular. There were 3 other dive guides on the boat as well and we were split into requisite groups. The dive style is relaxed – you are expected to be a competent diver and be comfortable with diving with your buddy but away from your guide if necessary. This also helps avoid everyone being bunched together on the reef. Safety sausages and computers are mandatory
It's important to note that diving in Burma means encountering low visibility and strong currents from time to time – if you are not comfortable diving in these conditions, you might want to reconsider doing a Burma trip.
Nitrox
Nitrox is available at 200 Baht per tank.
Final Thoughts
The MV Jazz is a good choice if you want to go to Burma on a budget, although it's still not cheap like a Similans trip. It was a pity the showers weren't working properly but this should be rectified very soon. The very cold air con was not to my taste either but it was hardly a showstopper. The food and great crew were two big pluses to the trip and I'll certainly be going back again on the Jazz next year.