This is Part 2 of my Burma diving liveaboard trip report in January 2009. Part 1 is here, and Part 3 is a review of the MV Jazz liveaboard.
UPDATE: the MV Jazz is no longer operating. We recommend diving Burma with MV Dolphin Queen.
Part 2 – Diving Burma, Day 3 and 4
In Through The Out Door
On Day 3 we arrived at the furthest point of our trip, the 3 Islets, where Burma's best dive site is located – In Through The Out Door. I remembered this place being spectacular from last year, both for its underwater topography – a stunning underwater ravine leading into a small tunnel before emerging onto a sloping reef – and for its teeming wildlife. I also remembered the viz being much better here than on the southern sites.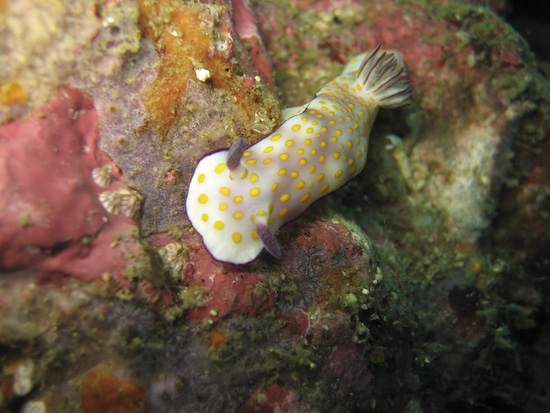 As such, my heart sank a bit when we jumped in and the initial viz was super murky – it was about 3 metres max! However, once Clive located the entrance to the ravine, the viz immediately improved – and apparently this is almost always the case. Inside the opening of the ravine we found a massive Jenkins ray lurking under a rock and several beautiful nudibranches on the walls, before entering into the narrowest section. This area is around 15 metres deep and the light filters through from above, framed by the canyon's wall and home to an vast school of fish – absolutely breathtaking.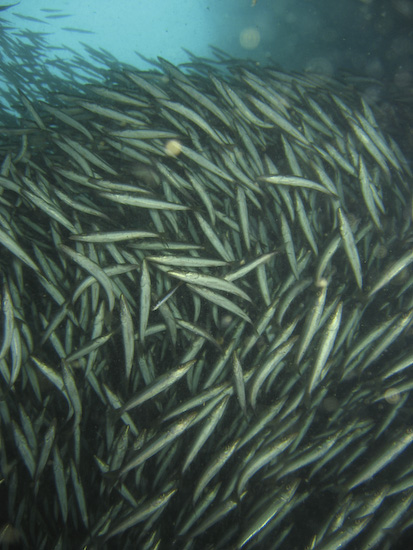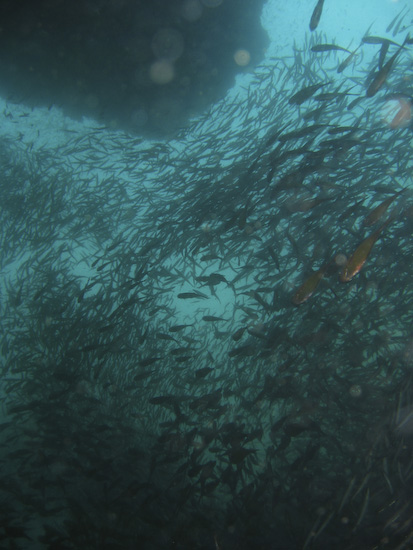 Beyond the narrow part of the ravine lies the very short tunnel, which emerges after a few metres onto the reef. This is a simple slope that is clouded with lots of glassfish and the other usual tropical suspects, plus a lot of scorpionfish – you have to be careful any time you are taking a photo – and hordes of morays. A carpet of anemones billowed across the rocks, cuttlefish weaved in and out of the sea fans along with juvenile sweetlips doing their high-energy jitter. There's so much going on that one dive is simply not enough to see it all, so doing the following dive in reverse (Out Through The In Door) also worked well.
We fitted in a couple of hours at an idyllic beach on Kyunn Phi Lar island a short cruise away from the 3 Islets.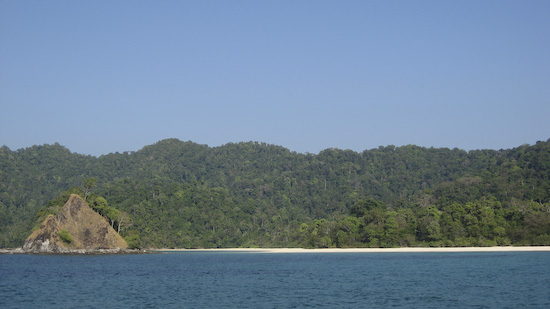 Big Bad Barracuda
The night dive, repeating the course of the first dive, is high adrenaline due to the presence of very, very large barracuda within the ravine. Duly warned, we entered the ravine again and almost immediately encountered these fearsome metre-long denizens – they were wholly unafraid of us and curious about our torches – so much so it was better to keep them distinctly pointed away from ourselves and each other to avoid getting rammed. I actually headed through the ravine with one hand on my torch and the other on my mask, just in case one of the barracuda got over friendly…
Once through the ravine and back onto the reef, things calmed down a bit and we had a chance to look for yellow morays out hunting and getting cleaned by giant cleaner shrimp – most divers were, I think, still getting their breath back from the barracuda encounter.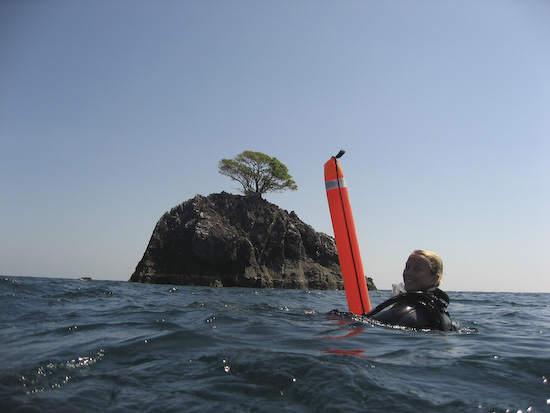 High Rock
Our luck with the better visibility continued the next day at High Rock, where we did our last two dives of the trip. A photographer's favourite thanks to the tree that continues to cling tenaciously to the top, High Rock is a simple, circular dive site which flattens out onto a sandy bottom around 20 metres. It was here we found some fantastic luck finding macro critters – Clive found not one but two pineapple fish, elusive little critters that are very shy. Ayesha spotted a yellow seahorse thanks to it standing out on against a green coral background, while two huge nudis were also spotted on the slopes as we first descended. On the safety stop, I found this photogenic porcelain crab lurking amongst an anemone – a great finale to our Burma dive trip.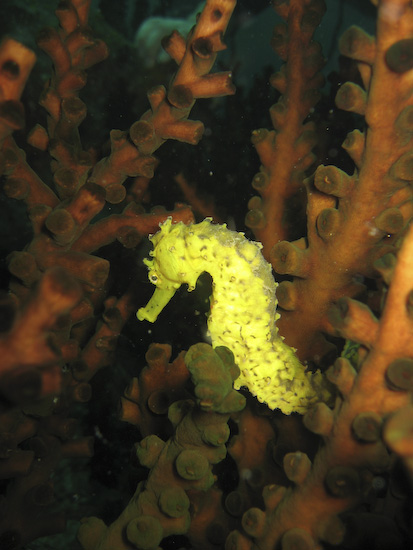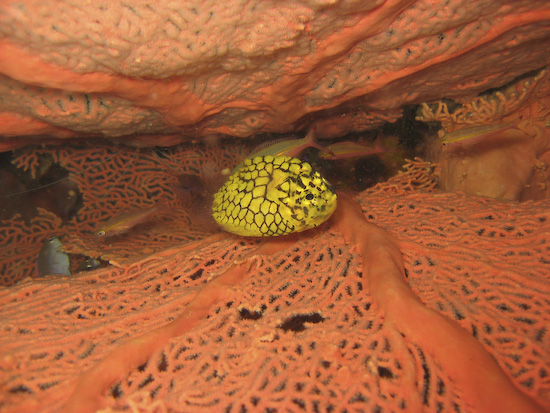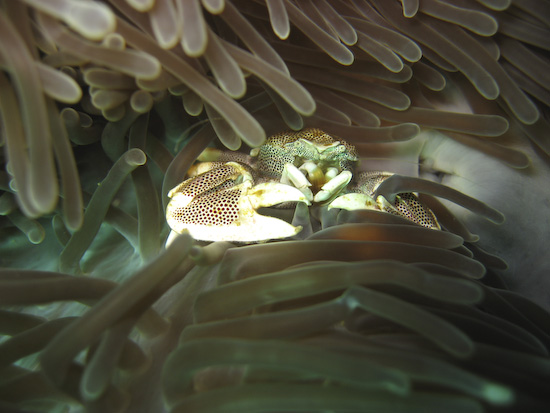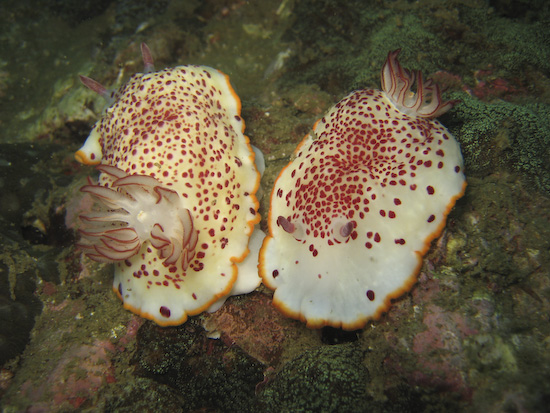 We were all up by 12 noon, and then began the long cruise back to Kaw Thaung. We arrived there around 4.30 pm, where we all disembarked while the MV Jazz staff cleared our passports with Burmese immigration. There's not much to do in Kaw Thaung so most of us elected to go and try the local Myanmar brew.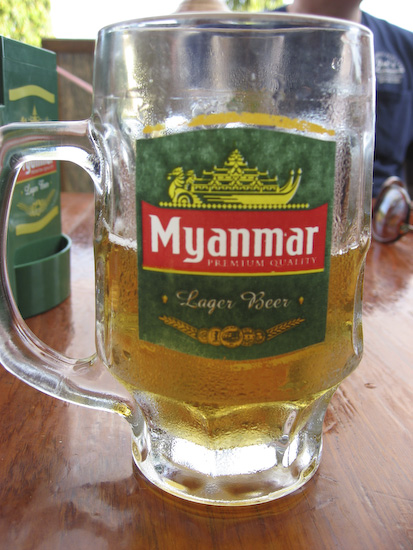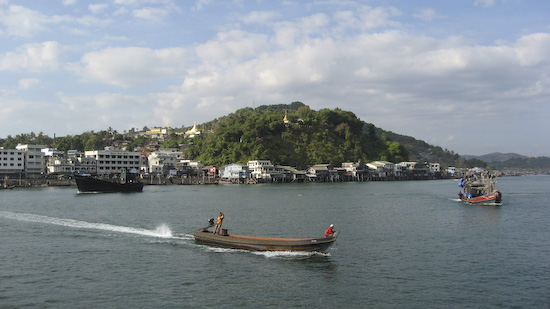 After that, it was back on the boat to cross back into Thai waters and then sail overnight to Khao Lak, our final point of disembarkation. After breakfast the next morning, we got out at Tapla Mu pier around 8am and from there took the taxi to Phuket Airport.
All in all, I greatly enjoyed my second Burma trip. The dynamite fishers put a bit of a damper on things, and the cold showers didn't help, but Burma has something unique going for it that despite its occasionally challenging conditions makes it interesting to explore. Here's hoping the Burmese authorities crack down on illegal fishing and let Burma's reefs continue to regenerate and encourage further discovery from Thailand liveaboards in the future.
More Burma Diving photos [click to enlarge]