50 years ago no one took Neville Coleman seriously when he set out to dive the entire Australian coast and document the incredible marine life he discovered. Now he's regarded as one of the world's leading authorities on Asia-Pacific's underwater world.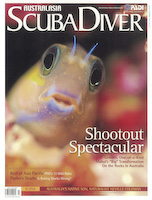 This article was first published in Scuba Diver AustralAsia magazine, Issue 3, 2008. It appears here in its unabridged form.
Unfortunately Neville Coleman's website has disappeared from the internet since he passed away in 2012. You can still view it at Archive.org
If you've ever wondered exactly what exotic species of underwater creature you're looking at during a dive, chances are Neville Coleman can tell you. This 67 year old Australian has spent much of his life scuba diving and documenting marine life across AustralAsia, identifying 450 new species and classifying over 11,500 more.
Completely self-educated, Coleman's self-financed, four year Australian Coastal Marine Expedition between 1969 and 1973 saw him literally diving his way around the coast of Australia in order to assess the continent's largely unknown marine life. In doing so, Coleman established the first visual identification system of Australian aquatic flora and fauna and has continued to expand it in the years since, taking in much of the Indo Pacific as well.
To share his knowledge with a wider audience, Neville has authored over 60 reference books – the latest, Nudibranch Encyclopedia, is his most comprehensive identification volume yet, which has also been published digitally for viewing on both iPods and Pocket PCs. He is also working on an account of the Marine Expedition and a series of television documentaries on his subsequent Indo-Pacific explorations which explain his conviction that "scuba diving is the greatest adventure activity on the planet".
In 2007 Neville Coleman was inducted into the Scuba Hall Of Fame in recognition of outstanding achievements to the understanding and classification of marine life. Coleman's enthusiasm for the ocean and his thirst to share new discoveries remains boundless.
Your induction into the Scuba Hall of Fame is a deserved recognition of your discovery of your work. As you're a wholly self-taught and self-motivated scientist, do such plaudits have much value for you?
Certainly they do. Especially as it is an overseas award which is recognized the world over and therefore on the highest level obtainable. Advancing knowledge of the aquatic world in Australia appears to be of small consequence as there is little encouragement from government bodies as the government is also in the education business. Those who are employed by the government are not about to bestow any recognition on any individual, especially if they and the government and its entire resources can't match that individual's achievements.
Did you have any mentors when you were younger – either in person or simply from books?
When I was about 10 years old I cut out all sorts of animals from magazines and from stamps and breakfast cereal box cards and stuck them into the albums. I had a mammal album, a bird album, an insect album, a flower album, and a fish album, with critters from all over the world. I also had an old natural history encyclopedia ( which I still have) which told of amazing creatures, though the drawings were a bit exaggerated, and the natural history details, as we know them today, somewhat of a giggle. However, these creatures inspired me, especially the strange fish ( which I saw in the "SOLVOL SOAP" fish book of 1950). I was very keen on nature but there was no nature study at school.
Fifteen years later, I met Mr. Jack Ramsay who as a boy had built his own camera in the 1920s and took the first bird pictures in Australia. His father had been the Director of the Australian Museum and he was born in the basement. He helped our family along the road of life and showed me his shell collections and natural history collections and through seeing these I realized that perhaps the impossible dreams of a ten year old boy becoming a natural history explorer might not be that impossible.
Unfortunately I had no qualifications, not even a school certificate as I had left school early to get a job and help with paying the rent as my Dad was a violent alcoholic and drank most of the money he earned.
I was already scuba diving by the time and took all my new discoveries to the Australian Museum. It seemed so extraordinary to me that marine life was not common knowledge alive, only those found at low tide had been recorded. I could not understand that one had to have a dead preserved specimen before identification could be made and that there were only one or two people in the whole of Australia that could tell one specific creature from the other in any given group because they were the only experts. There was no visual identification system for aquatic creatures in the whole of Australia.
The Australian Coastal Marine Expedition lasted for 4 years. Would you say it was the defining event in your life from which everything else has flowed?
The decision to go ahead with the Australian Coastal Marine Expedition (even after the two underwater photographers who had also been going pulled out at the last minute) and left my dreams in tatters, was the second most important decision of my life. The first was to become a scuba diver after I had been badly scared by a shark in the shallows on the Great Barrier Reef when searching for shells.
My idea to complete a underwater photographic fauna survey of the Australian continent as a one man and one girl expedition without any previous experience, credentials, photographic experience, knowledge of Australia, insurance, institutional or business backing was to all the experts (who knew it was impossible) a joke. I couldn't understand why nobody had the vision to see how important aquatic visual identification would be to the future.
I guess on paper it didn't shape up to much. How can a boy's dream of being an explorer compete with the common sense of those who knew better? It seemed that everybody knew I would not get back alive, so there was not much point in them supporting the expedition. That is what gave every discovery so much value. Every day I put my life on the line, you don't get to be much closer to your spirit than that. I think some scientists became aware of what I was doing and today I have some of the most truly appreciated references any lay person could wish for from the Australian scientific community.
I worked in a printing factory, working as much overtime as I could to save for expedition over two years and sold my sports car to buy the 1952 land rover and 4 metre boat and 9 hp outboard. The Australian Rope Manufacturers donated some rope. The Australian Commonwealth grant system donated $250.00 as 4 new tires and Smith's Crisps donated 10 bags of chips and 20 tins of dried vegetables. The expedition cost over $48,000.00 (1969/73.)
Have you seen radical changes occurring at the dive destinations to which you've returned over the years? What do you think is the Big Picture view ?
Yes, I have seen lots of changes but as we have no base line studies available, everybody is only guessing. We really have no idea of what we have, so who can make any judgment on what used to be? Nature is very resilient and every thing changes every minute, with the seasons, the weather, the time, nothing is ever the same, from one minute to another.
Very few humans have any understanding whatsoever of the sea and its inhabitants. We are but children in the wilderness of ignorance making assumptions based on 40 years of human knowledge on a marine environment millions of years in the making. Of course humans change things, mostly because of greed, ignorance or survival. Because we have the technology to take everything we DO!
Is it fair to say that despite the huge amount of species that you've discovered and others that have been catalogued, there is still a huge backlog of work to be done in understanding these creatures? Do we need more marine biologists?
There is a gigantic backlog of marine life awaiting descriptions in museums. There are no longer even taxonomists in the various departments of Australian Museums as there are no jobs because there is no funding from the government just for the advancement of knowledge. Today's museums have to pay their own way, they are no longer fully supported by the government. Very few marine taxonomists have been trained in Australia over the last 40 years because there have not been jobs for them.
We are very much behind the eight ball. That is why my original AustralAsian Marine Photographic Index will prove so beneficial to the future of the Diving Industry because in reality…….divers are the only ones now who can successfully explore the oceans and record the marine life. Divers are now the only hope the World of water has. Unless we all work together to establish base line studies of our dive sites, it will never happen.
Marine science does not have the business interest, the skills, the motivation, or the opportunity to go photograph the entire marine fauna of the Asia/Indo- Pacific this because they must have funds to perform any duties and there are no funds. We, as the diving industry must wake up and see that we need to look after our own backyards and establish real programs of discovery for the new age of scuba divers to participate in, because everybody is an explorer and "learning is the greatest adventure" there is.
[Update: sadly Neville Coleman passed away on 5th May 2012 – his work will continue to be an inspiration and education for generations to come about the underwater world.]