The Maldives are famous for manta rays – here Julian Cohen describes how he finally got the shot of these elusive, beautiful creatures
Julian Cohen: Going to the Maldives for me was all about my quest for Mantas. Since I started diving I had wanted to see these most enigmatic sea creatures but was unsuccessful at the top Manta spots of Asia. Hin Daeng, The Similans and Koh Bon in Thailand; Bora Bora in French Polynesia and even Manta Point in Bali. So off to The Maldives I went and saw my first Manta feeding on the surface as we approached the first dive site on the first day and then there was not a dive that went by without seeing them. I had to wave them out of the way so I could see the fish!
My rig for this trip was a Nikon D200 in a Subal housing with two Ikelite D-125 strobes.
[Chris note: You can also read Julian's article about the Manta Rays of the Maldives in Underwater Photography magazine issue 46 – download it for free]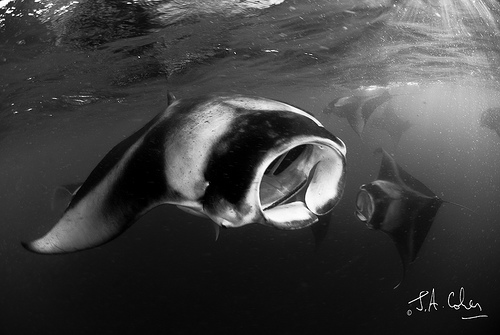 1/50 at f5.6 ISO 100 Nikon 10.5mm – All Image Sizes On Flickr
This is my favourite shot from the whole trip. At the end of a dive we came up to find the mantas feeding at the surface. Stripping off the tanks we jumped back in with snorkels and swam with them for an hour. I wanted to get a black and white reportage kind of shot with the mouth of the manta wide open. To do this I had to get close at feeding time and on the surface proved to be the best for this. The visability was about ten meters as there was a lot of plankton in the water and they swooped around me, appearing out of the gloom swimming at top speed. Sometimes they seemed to be surprised to see me there in front of them but they always just missed me and carried on feeding. As there was a lot of backscatter, converting to black and white helps to attract the eye away from this and onto the manta.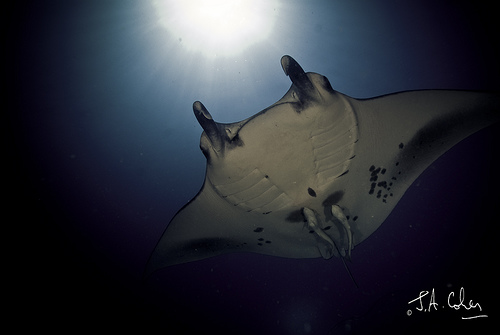 1/160 at f8 ISO 100 Nikon 12-24mm at 17mm – All Image Sizes on Flickr
I am always trying to find different ways to shoot the same subjects. For me a lot of the subjects are actually new, as this was my first time shooting mantas, but other photographers have shot mantas before so it was important to me to impose my own style on the photograph. This can be done in post processing, as is the case with this photo, as well as in camera. I primarily use Adobe Lightroom to develop and store my RAW images and this program has the ability to store a snapshot of the adjustments made to a photo as a preset that can then be applied to any other. I have many presets stored and use these as a base to further adjustments. I like this one as it has removed a lot of the cyan ring that you get when including the sun in the shot with a digital image. The surrounding water is turned so dark it is almost black which draws attention to the manta and the sun.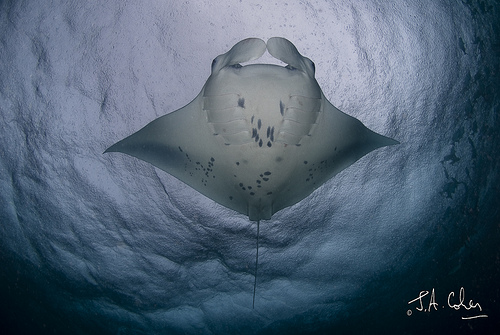 1/125 at f7.1 ISO 100 Nikon 10.5mm – All Image Sizes On Flickr
Taken in only eight meters of water during a period where the mantas were feeding at the surface, I was looking for the beautiful silhouetted manta shot to add to my collection. I tried one with the strobes on to see how it would look and got this. Although the water was murky, because I was near the surface and was shooting straight up it appears to be very clear, and the manta is beautifully highlighted by the strobe. You can see the rain on the surface of the water.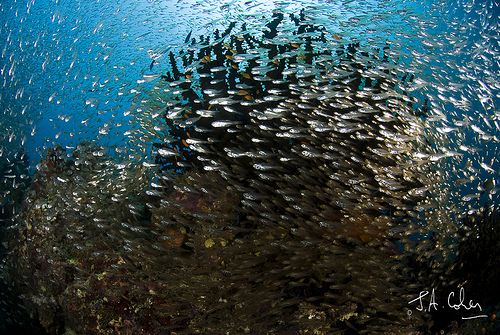 1/200 at f8 ISO 100 Nikon 10.5mm – All Image Sizes on Flickr
This dive site was teeming with glass fish that covered the whole bombora; so thick it was nearly impossible to see the coral. The dive guides told me that later in the season there would be loads of fish there. I find it hard to imagine there being room for any more!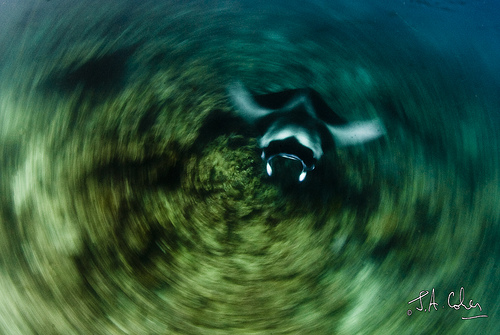 1/4 at f22 ISO100 Nikon 10.5mm – All Image Sizes on Flickr
An experimental shot that involves shooting at slow speed, maximum aperture and then twisting the whole camera housing as you squeeze the trigger. Try to keep the subject as the axis point and twist the camera without moving the lens off it's axis or the subject itself will be blurred. It doesn't always work and I had a whole card of blurred and warped images while I practiced this technique but I think it was worth it for this shot.
See all of Julian Cohen's Maldives portfolio on Flickr.