Come face to face with the orang'utans in this unique conservation area dedicated to preserving an entire habitat and the fantastic creatures within it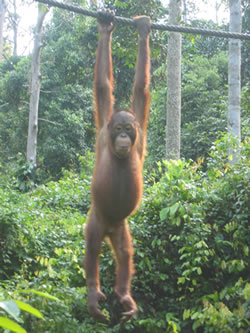 One of only four orang'utan sanctuaries in the world, the Sepilok Nature Reserve provides a truly unique day out. Tramp through the thick Borneo jungle along comfortable wooden walkways and see the orang'utans swing in from the trees for the twice daily feeding times. Large viewing platforms let you get see these beautiful red-haired apes up close and personal, especially as they are as equally curious about their visitors. During my visit, there were at least 15 orang'utans literally hanging around the feeding platform, spinning off ropes and running up and down the surrounding trees, along with occasional held poses for photographs. Sepilok provides a vital function in rehabilitating injured and orphaned apes so that they can return to the jungle – and for those that cannot go back to the wild, the sanctuary provides a safe home.
The government-run Nature Reserve is not just about looking after the orang'utans, however – it is about preserving an entire wildlife habitat, ensuring that all species great and small within the resort are protected. For nature lovers and those wanting to learn more about the incredible diversity of creatures that live on land in Sabah as well as underwater, Sepilok's staff offer fun and informative guided walks, trekking and river expeditions.
Accommodation at the nearby Sepilok Nature Resort is quite luxurious and set amongst the jungle itself, providing an unforgettable backdrop to your stay. The sturdy, spacious wooden bungalows with air conditioning and en-suite bathrooms are situated on one side of a picturesque lake, while on the other a beautiful high ceilinged dark wood open-sided restaurant provides a superb area to enjoy the views of the lake and either prepare for the day ahead or relax after an afternoon spent exploring the jungle.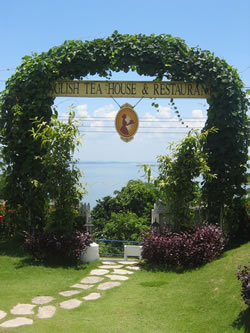 Near to Sepilok lies the bustling town of Sandakan and also a treat that no visitor to the area should miss. Visiting The English Tea House & Restaurant perched high above Sandakan with views out over the city and the ocean is like stepping back in time. A perfectly manicured lawn and privet hedges surround a gleaming white restaurant, resplendent with parquet floor, elegant rattan furniture, a highly polished gramaphone and of course, spotless table cloths. Croquet mallets and hoops wait on the lawn for those who want some pre-lunch exercise, while immaculately attired staff help you choose from the extensive menu of both Malaysian and Western cuisine. (And indeed, fusion cuisine – the genius who devised blueberry and lychee crumble deserves a pay rise). The English Tea House & Restaurant is a sublime slice of colonial luxury; indeed, most visitors wind up whiling the afternoon away within its convivial surroundings rather than just stopping for lunch. It provides a great place to unwind after the rigours of exploring Sepilok's jungle delights and a perfect location to relax on that last no-dive day of a diving holiday.
Follow the links to find out more about each Borneo destination:
Introduction – Planning your trip to Borneo
Kota Kinabalu – City life, island cruises, easy dives
Mantanani – Secluded getaway resort near the mainland
Lankayan – Eco dive resort where whale sharks visit
Mataking – Island resort ideal for learning to dive
Sepilok – Come face to face with the orang'utans
Mabul – Island resort with own reefs close to Sipadan
Kapalai – Boutique-style Reef resort near to Sipadan
Sipadan – Borneo's most magical dive destination