One of the most awe-inspiring things I've ever witnessed is watching a great white shark attack a tuna bait – the sheer power and force of a great white in motion is stunning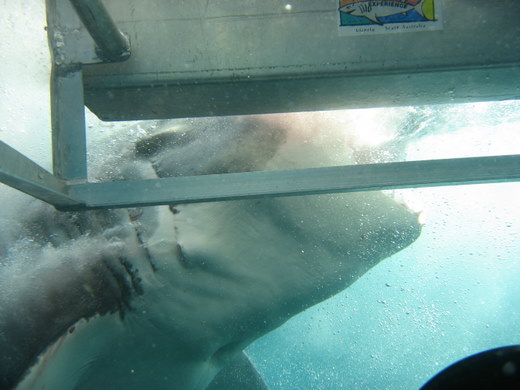 I took the sequence of photos below while cage diving with great white sharks with Rodney Fox in Australia. (The link goes to my previous articles and videos about that brilliant experience).
These photos are technically pretty awful – but as a sequence, I think they capture something of the staggering power of the great white as it comes in to attack. I took the photos in no more than 2 or 3 seconds. Usually great whites tend to circle and investigate tuna baits, very slowly and indifferently. They make no attempt to bite or contact with it, they simply move near to it and then head off. Often the great white completely disappears from view from the divers in the surface cage. When you can't see a great white shark anymore, that's usually the cue to be worried.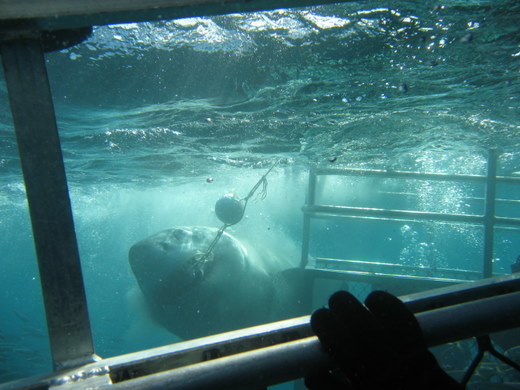 Here the great white has come out of nowhere and seized the tuna bait which is attached to a rope and buoy. Great whites tend to come at their prey from below, rocketing up to the surface with far more force than is required to utterly overwhelm their victim. This time the shark has rocketed in from the side of the bait… and it's heading straight for us in the cage without slowing down.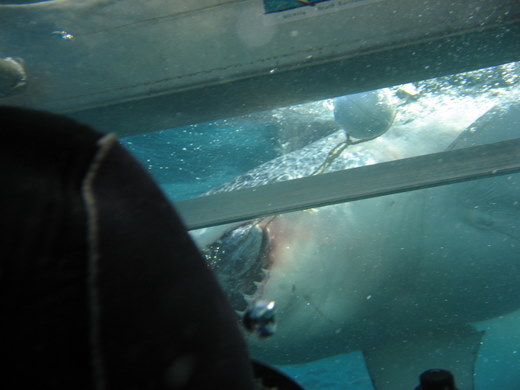 This is where the great white slammed into the cage, all one tonne of it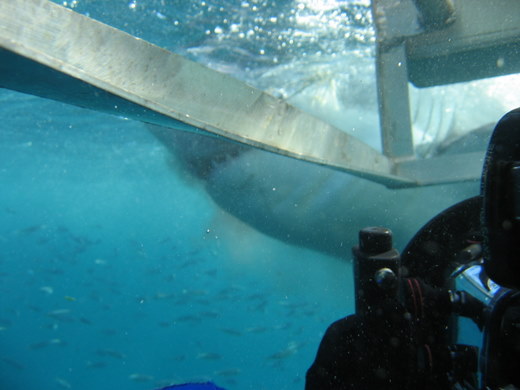 That's Julian Cohen in the foreground trying to take a photo while all of us in the cage are being thrown around.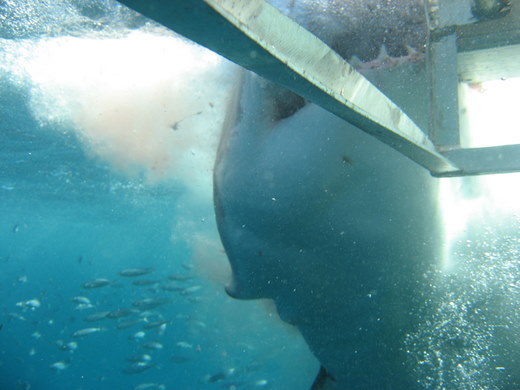 The shark keeps on with the bait, slamming it around to wrest it off the rope.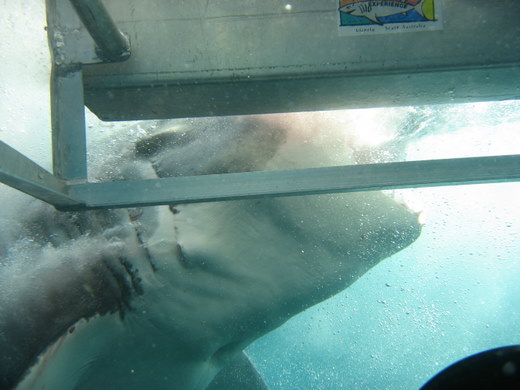 This is where I was literally knocked off my feet by the force of the shark – the great white is so intent on its prey it smashes its full weight against the cage as it wrestles with the bait.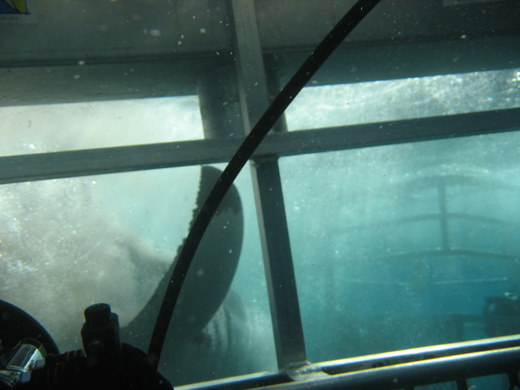 Having gained the bait, the great white plunges back down away to take its meal to the depths. That left four somewhat dazed divers in the cage, stunned by the speed and ferocity of what we'd just witnessed inches away from us.
If ever you need a demonstration of the power of Mother Nature, this would be a pretty good contender.
Read my complete account of cage diving with great white sharks with Rodney Fox in Australia.