Julian Cohen was the recent winner of FINS Magazine and ScubaCam's Photo Shootout in Lembeh Strait, Indonesia. Here he describes how he got the shot for five of his excellent pictures
Julian Cohen: This trip to Lembeh in Indonesia was organised by Scubacam, the underwater camera specialist I buy all my gear from in Singapore, along with FINS magazine. It was set up as a competition with prizes to be won at the end of the week, but it was all done with an extremely open and friendly atmosphere. [Chris note: see also my trip report on NAD Lembeh resort].
We all had the opportunity to dive with the underwater professional photographer Tony Wu and see how he works. Actually there's not a lot to see as he takes three cameras with him (however he flooded one on the first day so he was down to two) and sits in front of his chosen subject for what seems like ages shooting from every angle and strobe combination he can find. I had decided at the beginning of the trip that I wanted to shoot Lembeh in a different way. I wanted everything to have a dark or black background so that it brought out the colours of the animals.
For this trip I had just upgraded to a brand new Nikon D3 with a Subal housing and two Inon Z240 strobes. The main reason for me to upgrade was the ISO capability of the D3. It is an astonishing camera. At ISO 800 it is not possible for me to discern any grain at all. For underwater photography this allows much more depth of field, shooting at f stops that wouldn't be possible with my D200, and less strobe power needed allowing for more control of the light source.
Up until I used the Nikon D3, I rarely used ISO as a variable when composing my photos keeping to ISO 100 or 200 at a push. Now shutter speed, f stop then ISO all come in to play. The speed of the autofocusing allowed me to get mating mandarin fish shots that would have been extremely difficult before. I could see the fish rise from the coral head, aim, half depress to lock on focus and then shoot three shots all in the time it would normally take to shoot just once, if at all.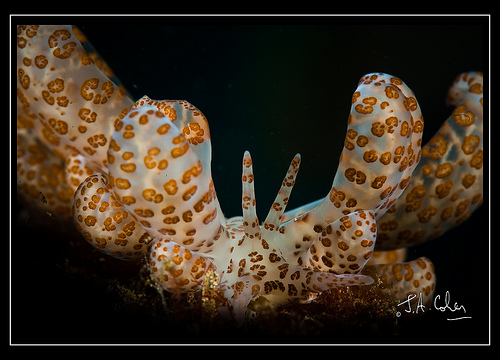 1/250 at f36 ISO 400 – All Image Sizes on Flickr
I only took nudibranch shots if I could get underneath the nudi so I could shoot up into clear water, therefore no background to obscure the composition and as little of the coral that the nudi was standing on as possible. Fastest flash sync speed to get the background as dark as possible and a small aperture to darken it some more; I allowed the flash to pick up the details of the nudi. As this nudibranch is a mass of swaying body parts, it was important to get the rhinophores clearly in view as this allows the viewer to recognise the head of the animal and I feel that is essential for the composition.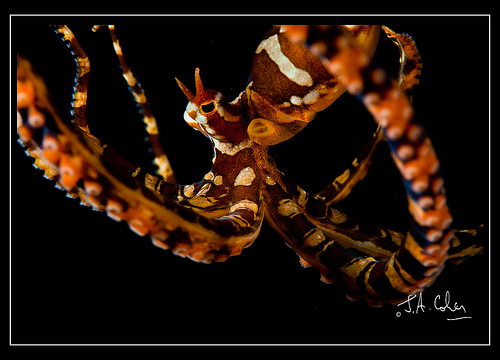 1/250 at f29 ISO 400 – All Images Sizes on Flickr
This was a night shot so it made getting the black background a lot easier. I could give you some rubbish about how I was trying to compose the shot to achieve this that or the other, but to be totally honest as the wonderpuss was floating back to the sand I was just trying to get it in focus, let alone trying to get the composition right.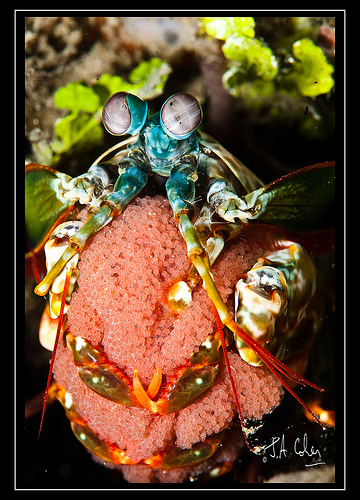 1/125 at f16 ISO 200 – All Image Sizes on Flickr
This Mantis Shrimp was a pretty big one. I could only see half her body what I could see looked to be about 10 cm long. She was absolutely overflowing with eggs. I couldn't work out how she managed to hold on to them all, her claws were barely touching. Luckily she sat nice and still for me while I took her portrait.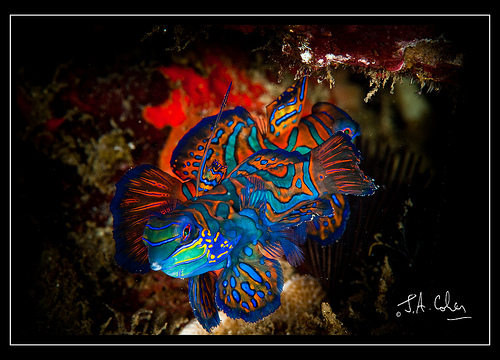 1/250 at f22 ISO 500 – All Image Sizes in Flickr
I watched these two males for twenty minutes as they ducked in and out of the staghorn coral. They were vying for mating rites and chased each other around showing themselves off in all their finery. I was looking for a shot where I could get them both with their dorsal fins extended and looking at their best. It took a while!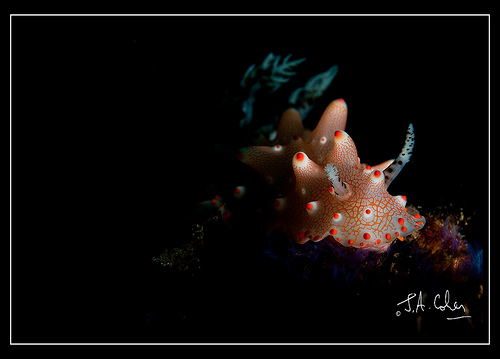 1/250 at f16 ISO 200 – All Image Sizes on Flickr
I really like this shot. There is a bit of a story to it. Tony Wu taught us his patented 1,2,3 method for shooting which I tried and loved.
1) Turn off both strobes and shoot the background to get it as you want it. Adjust the shutter speed, f stop and ISO to get the colour of the water you want to achieve: slower speed for blue, faster for black. Shooting upwards will give more ambient light so bluer water and shooting down gives darker water.
2) Turn on one strobe and shoot. When you are happy with that then –
3) Turn on the other strobe.
With some practice three shots will give you the set up for the shot and the rest is just playing with the composition. With this photo I stopped at stage 2 as I loved the way the single stobe picked out the nudi and left all the negative space black.
Browse all of Julian's Lembeh Strait photo portfolio on Flickr