My interview with scuba legend Stan Waterman has just been published in the latest issue of Scuba Diver AustralAsia, and the full version is available to read in all its glory on the SDAA website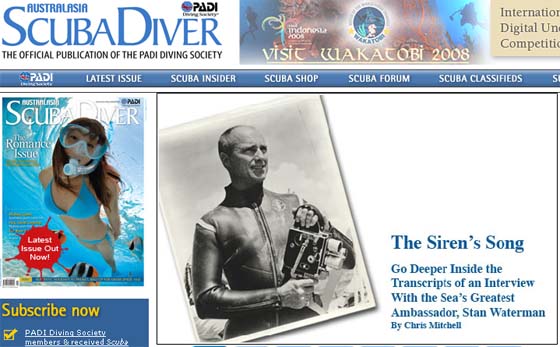 With the new issue of Scuba Diver AustralAsia comes my interview with Stan Waterman, a scuba legend who at 85 is still scuba diving. Stan experienced one of the original Aqualungs as made by Cousteau back in the 1950s, and it changed his life forever. The last 60 years of his life have been dedicated to the sea, from making award-winning documentaries about sharks in the 60s which pioneered underwater videography through to hosting aquatic film festivals today.
I had to do the interview by email, and despite Stan managing to lose my list of questions while on a liveaboard in the Solomon Islands, he still turned in some answers by my deadline. I was half expecting them to be a little perfunctory given the short time he had to get back to me before the magazine went to press, but I couldn't have been more wrong. Stan writes beautifully, with real eloquence, insight and humour, and in his responses to my questions he'd not held back in explaining his love for the sea one more time.
Stan wrote so much, in fact, that we could only fit about half of it into the space allotted in the magazine, but it seemed a real shame to lose the other half that was equally as good. I asked SDAA editor David Espinosa if we could put the full transcript of Stan's interview on the SDAA website blog, and so that's where you can find it for now.
I'd like to do something similar with the interview I did with Neville Coleman earlier this year, as he wrote some beautiful answers that I had to condense heavily and, like Stan, he's a man who has devoted himself to the ocean and provided the rest of us with a huge wealth of knowledge in the process. Getting to interview these scuba legends is a real highlight not just of my job but life in general. It's a bit different from the usual pub conversation after all…