I really don't have any luck with my scuba gear bags. I just bought my fourth scuba equipment bag in 12 months – the other three have cracked, ripped or popped at the seams after just a couple of trips each. Suggestions to stop me buying a fifth one welcome.
I'm off on a trip to the Philippines in a couple of days, and found myself having to buy yet another dive bag. Somehow I've managed to trash 3 other dive bags in the last 12 months. The previous one, a big Armorex hold-all, I could understand as I did overload it somewhat coming back from Koh Tao, and it arrived in Bangkok having popped at the seams, impressively running almost the full length of the bag. I was lucky the contents weren't distributed across the carousel. The previous bag before that however, an identical Armorex, felt apart at its base after being dragged over a beach rampway to the Koh Samui ferry. I also managed to rip an Akona mesh bag after a month of use as well. My dive gear bags do get a bit of a bashing, but then, that can't be helped. They should be able to take it. It's not like I'm running over it in a car.
Before the two Armorex's, which were relatively cheap, I had a somewhat expensive Mares TechNomad rollerbag. The name should have been a warning – could you ever introduce yourself with a straight face as a Tech Nomad? – but the build quality of it was truly awful. Seams on the zips popped after just 2 trips to Palau and Davao, and it wasn't because I'd overloaded it – it was simply shoddily made. Unfortunately through various events I didn't get to take it back to the supplier to complain, so I swallowed the cost of that one.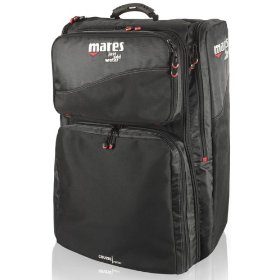 This time round, I've decided to give Mares another go with the Mares Cruise Roller. This is a very soft bag with a big gear compartment and then two big separate compartments on top for clothes etc. It also folds away completely like a jacket bag when it's empty. As I wrap my regulator and mask inside my BCD, my gear is still protected, and I wonder if it being a bit more pliable it will survive the rigours of air travel better. Certainly it's super lightweight, and even has backpack straps on the back for hefting it over short distances, which means I can avoid destroying the base dragging it over beaches, rocks etc.
I think most dive bags are built for occasional use – maybe 2 or 3 times a year. If, like me, you go diving regularly, they simply can't take the strain of being heaved around. For sure, I will be taking extra care of this one because it was expensive – 6000 Baht, which is around 110 British Pounds Sterling. But I am not that optimistic that I will still be using it this time next year.
Unfortunately, I don't have much other choice – Bangkok dive shops do not have the greatest selection of gear in stock. The thought of having to go to Singapore or Hong Kong just to buy a dive bag is a bit daft, but I'm wondering if that might be the only way to resolve it if this Mares bag falls apart too. (I'll be back down the shop waving my warranty immediately if so). One thing's for sure – I really want a dive bag that can take the knocks of frequent travel and save me the expense and hassle of having to frequently replace it. If anyone has any suggestions of tried and tested bags they can recommend, I'm all ears.