Issue 50 of Underwater Photography is now out, and included within it is my article about the sea snakes of Gunung Api in Indonesia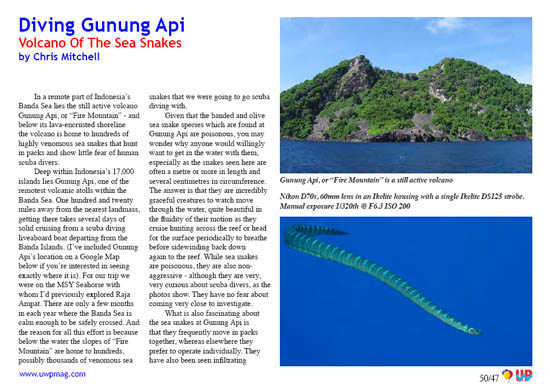 When Underwater Photography magazine first launched, the idea of a PDF only magazine was something of a novelty. But UwPMag's longevity shows that editor Peter Rowlands was right in thinking a free online magazine that you download could work – it meant that the production costs were low but the articles could still have magazine style layout and the images wouldn't suffer in size or resolution.
UwPMag is now well-respected throughout the diving world and regularly attracts articles and reviews from some of the underwater photography industry's biggest names. The magazine has just published its 50th issue and is still going strong – or maybe they've let standards slip, as I've got a piece in the current issue. It's a slight re-edit of my Gunung Api – Volcano Of The Sea Snakes story that I wrote here on Divehappy a couple of months ago. For me, the real thrill was getting the story accepted using my own photos – it's the first time my own underwater pictures have appeared next to my own words, rather than needing a photographer to come with me or, more usually, the magazine having to buy in stock images.
I don't kid myself that my photos are particularly brilliant – they're approaching competent at the moment – but when I look back on the shots I was taking just two years ago it's a vast improvement and I am deeply chuffed that Peter thought they were good enough to use in UwPMag. You can download Issue 50 of UwPMag free (along with all 49 back issues) at www.UwPMag.com
I actually owe a big debt of thanks to Mike Veitch at NAD Lembeh resort who taught me on a two day one-to-one photo course and was responsible for much of the dramatic improvement in my pictures. I've written a story about that experience too, which should be appearing in the next issue of Scuba Diver AustralAsia, which should be out at the same time as the DEMA trade show.