On sale now in the June 2008 edition of Sport Diver magazine is my article about scuba diving in Bali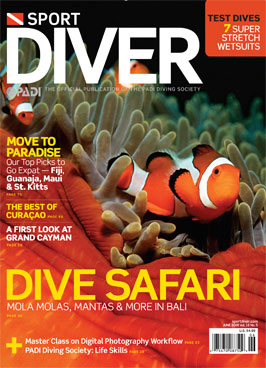 My article on diving in Bali has just been published by Sport Diver magazine in the US. The article covers diving in Bali's three key areas – the adrenaline rush of Lembongan, with cold water, big currents and big drop offs, where you can see the amazing mola mola sunfish and manta rays too; Tulamben, home of the Liberty wreck and great for macro hunting on its black volcanic sand sites; and Pemeturan, which has some spectacular macro sites too and also the stunning coral of Menjangan island. Each places deserves at least 3 days to explore and they're only a few hours drive apart, so for a two week vacation it's a pretty much perfect way of seeing the island.
I'm really pleased with how the article came out – and it's the lead story on the front cover too! The accompanying pictures by a variety of photographers look fantastic and what I wrote was left pretty much intact. If you read Sport Diver, I hope you enjoy it.