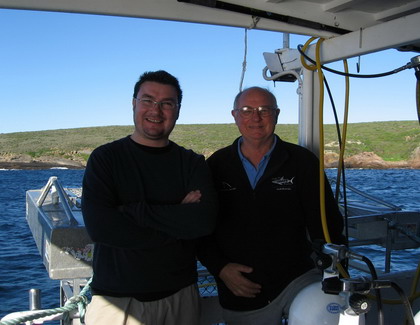 Chris Mitchell with Rodney Fox – Neptune Islands, South Australia, July 2007
Divehappy.com is a personal guide to scuba diving in South East Asia and Australia edited by me, Chris Mitchell, a freelance scuba journalist. I'm also a PADI Speciality Dive Instructor (#629614) although I don't do much instructing anymore. I'm currently based in Bangkok, Thailand.
I'm currently a Field Editor for Scuba Diver AustralAsia magazine and a regular contributor to Asian Diver magazine. I also contribute occasionally to USA dive magazines Scuba Diving and Sport Diver.
If you are a dive shop manager and interested in promoting your dive centre through a feature article in these market-leading scuba magazines and on Divehappy.com, please email me at chrismitchell [at] gmail.com
If you have a question about diving in South East Asia and can't find the answer on Divehappy, you are welcome to leave a comment below and I'll see if I can give you some useful information. There's still loads I have to learn about diving in Asia myself, but sharing info is one of the best ways of doing it.
Besides Divehappy, I also edit Travelhappy.info, a website about travel in Thailand and South East Asia and SpikeMagazine.com, a long running UK books website.