Issue 101 of Asian Diver is now out, and I have two stories in there as part of the Philippines special.

One is my account of going to Tubbataha Reef, the remote and spectacular wall off Palawan – and the other is my trip around the Visayas, visiting several of the Philippines' top spots like Moalboal, Dumaguete, Cabilao and more easily on board a liveaboard. Both stories are accompanied by beautiful photos from Yvette Lee.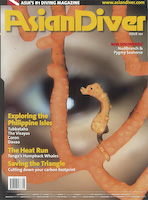 The issue also features a stunning photo portfolio from my mate Jez Tryner – you have got to see his pictures of whale sharks and manta rays over a reef – absolutely amazing.
I am already thinking of going back to Dumaguete, as Apo Island and the muck dive under the Ducomi Pier were my favourite spots on the whole Visayas trip – very few other people there and reefs in great condition.